Join Us for the Sustainability Fair on June 2!
The Stanley Center for Peace and Security invites our local community to attend the Sustainability Fair in celebration of the Grand Opening of our new home at 304 Iowa Avenue.
Friday, June 2, 2023
3-7 PM
304 Iowa Avenue, Muscatine, IA
Free and open to the public
After nearly two years of renovations at Musser Public Library's former building, the time has come to celebrate the Grand Opening of the Stanley Center's new home at 304 Iowa Avenue in Muscatine, Iowa! Every stage of the living building process was guided by our values as an organization, including advancing sustainable green practices. That is why, as part of our Grand Opening celebration, we are hosting a Sustainability Fair on the 300 block of Iowa Avenue and inviting everyone in our local community to attend.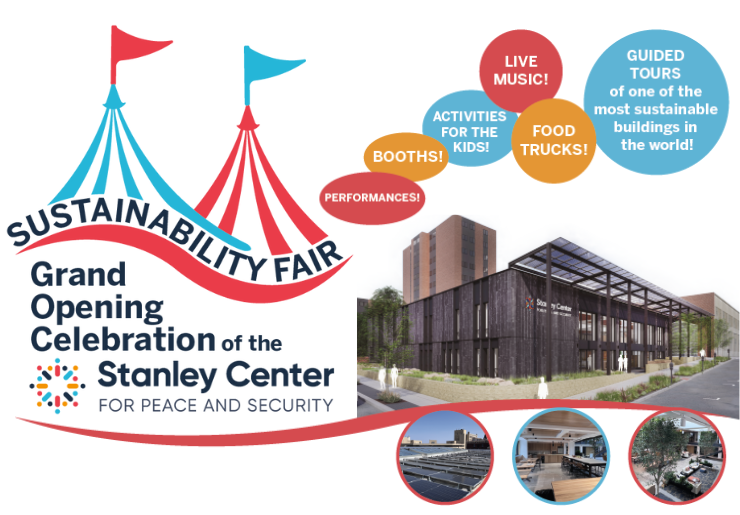 This is your opportunity to take a guided tour of one of the most sustainable buildings in the world, right here in Muscatine! As part of the Living Building Challenge, our new home at 304 Iowa Avenue will:
Produce more energy than it uses through solar power.

Acquire all water the building needs through rainwater harvesting.

Model biophilic design—skylights, trees, green walls…and more!
The Sustainability Fair will feature live music and multicultural performances. As you enjoy the shows, buy something to eat from food trucks that will be on site.
The Sustainability Fair is a family-friendly event. There will be free giveaways and engaging activities for kids.
We are excited to host 20+ organizations that will have booths at the Sustainability Fair to inform about green initiatives happening in Muscatine and across Iowa. This is a great way to connect with others in the community that are making a difference in promoting sustainable practices and find out how to get involved in ways that matter to you!
It has been a memorable journey for us at the Stanley Center as we complete our living building and move into our new home. We invite you to celebrate with us by stopping by the Sustainability Fair on Friday, June 2, 3-7 PM. Share this with your friends, too. See you there!