A Virtual Discussion with Author Imbolo Mbue
In 2020, Iowans are living in a time when the public health and economic shocks of COVID-19 are further fracturing our already polarized society. Political misinformation, xenophobia, and racism choke our collective capacities for seeing the common humanity in one another. During such times, when even the threat of political mass violence lingers over the country, Americans are reflecting on ideals such as the "American Dream" and seeking opportunities for reconciliation with our neighbors.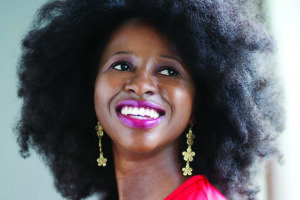 As part of the Stanley Center's work to promote empathy and global citizenship in our local Iowa community, we, with our partners, organized a virtual discussion with Imbolo Mbue, award-winning author of the New York Times Bestseller, Behold the Dreamers. A native of Limbe, Cameroon, and a graduate of Rutgers and Columbia Universities, Mbue discussed immigration and the American Dream and what her work can teach us about empathy in our relationships with others.
Many of our community members in Muscatine, Iowa (and beyond) read Mbue's book and joined us on Friday, November 13, 2020 for a virtual discussion.
This virtual discussion was organized in partnership with Eastern Iowa Community Colleges, the Community Foundation of Greater Muscatine, and the Musser Public Library.