Nuclear Weapons
Journalists take a trip to satellite imaging firm Planet Labs on sidelines of major conference
Programs
A field trip to Planet allowed participants to see mini-satellites up close and to learn how geospatial data can be combined with expert analysis to track and report on nuclear weapons developments.
What can analysts and journalists do with high-frequency satellite imagery and the datasets it can generate?
Where is this technology heading and how might these evolving tools influence the way the world controls the spread of its deadliest weapons?
How can journalists effectively interact with open-source nonproliferation experts?
How can you tell between credible open-source intelligence and spin in a "fake news" era?
These were just a few of the questions considered on a field trip the Stanley Center hosted on October 30, 2017, in collaboration with the James Martin Center for Nonproliferation Studies (CNS), as an official program of the 10th World Conference of Science Journalists.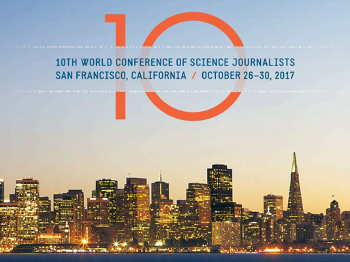 As part of the program, called "Nice Missile You Got There: New Tools for Nuclear Data Journalism at Planet," participants gained entrance into Planet's headquarters, where they saw a simulation of mission control and heard from Planet staff about the technological evolution of commercial satellite imaging technology and about new and emerging applications. Journalists learned how people outside of governments and militaries can now use this technology and other open-source tools to track, analyze, and report on nuclear weapons developments around the world.
Non-proliferation experts from CNS described how satellite imagery, 3D modeling, and data analysis can be used to track critical international security developments, and journalists shared their approaches to using this data in their reporting on nuclear-related stories.
Speakers included:
Will Marshall, Co-Founder and CEO of Planet Labs
Anna Fifield, Washington Post Tokyo Bureau Chief (Fifield is now Beijing Bureau Chief)
Jeffrey Lewis, Director of East Asia Nonproliferation Program at CNS
Melissa Hanham, Senior Research Associate in the East Asia Nonproliferation Program at CNS (Hanham is now Deputy Director of Open Nuclear Network and Director of the Datayo Project at One Earth Future Foundation)
Joe Mascaro, PhD, Planet's Director of Academic and Research Programs
Chris Biggers, Planet's Defense and Intelligence Applications Lead
Additionally, the trip featured a surprise special guest appearance from Canadian astronaut and former commander of the International Space Station, Chris Hadfield. He spoke to the group about his mind-bending experiences viewing the planet from space. His remarks served as a powerful complement to discussions about global security and nuclear weapons, which have the power to destroy the world as we know it.
You may know Chris Hadfield best from his cover of David Bowie's Space Oddity, recorded while he was on board the International Space Station.
Following the half-day of programming, participants attended a happy hour inside Planet, where they had the opportunity to talk more with Planet staff, Anna Fifield, and CNS analysts.
In the days after the program, Anna Fifield went on to write a story for the Washington Post chronicling the work of the CNS analysts she met during the field trip: With Technology, These Researchers Are Figuring out North Korea's Nuclear Secrets.
Additionally, the center commissioned reporting from field trip participant and NYC-based journalist Jeremy Hsu on the rise of commercial satellite imagery for nonproliferation: Stripping Secrecy From Nuclear Arms Development.