Mass Violence and Atrocities | Report
Guiding Principles and Inspiring Actions: Operationalizing the Resolution to Reduce Urban Violence
Download
TOP IMAGE CREDIT: © dinv/Adobe Stock
The first priority of mayors is to keep communities safe. With 80-90 percent of global violent deaths occurring in urban areas outside of conflict zones, violence is an overwhelmingly urban challenge. Many cities have recognized the severity of this problem and have committed themselves to a 50 percent reduction in urban violence by 2030 through the first of its kind global resolution to reduce urban violence.
This report examines how cities around the world have gone on to operationalize this commitment and shares key strategies that city leaders can utilize for reducing urban violence. Published by Peace in Our Cities, it provides a roadmap for how implementing evidence-based interventions, focusing resources on vulnerable populations, and coordination among government actors and civil society organizations can demonstrably build community resilience and prevent violence.
Guiding Principles and Inspiring Actions: Operationalizing the Resolution to Reduce Urban Violence
Translation: Spanish
Peace in Our Cities | Dr. Hernán Flom
By integrating the best available evidence on violence reduction with 17 examples of inspiring city initiatives from across five continents, this roadmap describes what effective policies look like, how to interrupt cycles of violence, and why partnership and buy-in from the people can help ensure successful policy implementation.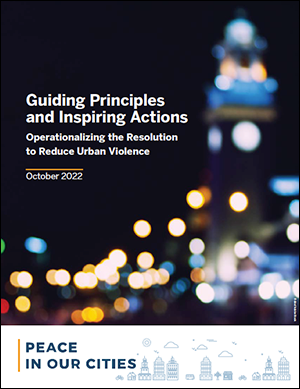 Watch the virtual launch event for the report, hosted by Peace in Our Cities, Global Parliament of Mayors, and UN Habitat.
Download
Partners