Nuclear Weapons | Analysis and New Insights
Public Open Source Analysis and Intelligence: Practice, Terminology, and Ethical Considerations
Download
Open source intelligence (OSINT) is an established discipline within the US and UK national security intelligence communities. However, the term is also regularly applied to the activities of a heterogenous ecosystem of actors in the public sphere who use information available in open sources to produce intelligence.
This paper examines the ethical implications of the use of the same term to refer to these different activities. It draws out ethically relevant differences between government intelligence practices and the practices of public open source analysts. These differences often center on the lack of accountability around public open source analysis. This paper argues for greater rigor in the use of the term "intelligence" as part of a broader effort to articulate the values and objectives of public open source analysis.
Key Recommendations
Open source practitioners should reflect on the terminology they use to describe their work.

Critical reflection could be encouraged through the process of documenting individual or organizational practices and decisions when utilizing open source data.

Practitioners could build on these reflections by publicly promulgating standards and good practices for their open source work.
TOP IMAGE CREDIT: "The Zaporizhzhia nuclear plant" © by Planet Labs PBC, used under CC BY-NC-SA 4.0 / Cropped from original.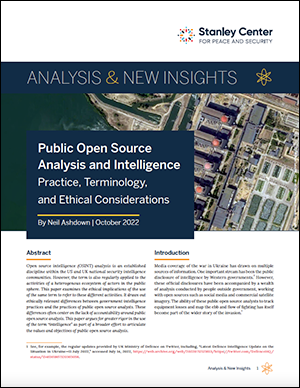 Download