Climate Change
COP27 media coverage from the ground in Sharm el-Sheikh
Reporting
Read stories published by the Climate Change Media Partnership journalism fellows, reporting from Sharm el-Sheikh, Egypt, at COP27.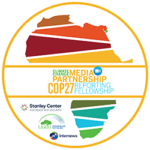 The 27th United Nations Climate Change Conference of the Parties (COP27) now taking place in Sharm el-Sheikh, Egypt, is intended to draw the world's attention to the needs of climate vulnerable countries, especially on the continent of Africa.
Twenty journalism fellows from low- and middle-income countries are reporting on location at COP27 as part of the Climate Change Media Partnership (CCMP) co-organized by Internews' Earth Journalism Network (EJN) and the Stanley Center for Peace and Security.
A major theme at this year's conference is how wealthy countries, who have contributed the most carbon emissions, are not meeting their obligations for providing climate financing to developing nations experiencing the brunt of climate impacts.
Reporters play an important role in holding leaders accountable for their decisions—or indecisions—on addressing climate change. Reporting by CCMP fellows at COP27 promotes accountability and informs their audiences back home about high-level climate negotiations that will impact over 3 billion people worldwide who live in climate vulnerable communities.
Several of the CCMP fellows participated in a discussion at COP27's Climate Education Hub about the role of media in tackling the climate emergency. In addition, fellows and trainers from the Global South reflected on what climate justice means to them while those from Africa shared their perspectives on reporting at the African COP.
Follow the CCMP COP27 fellows, virtual fellows, and trainers on Twitter, or subscribe to this Twitter list.
The UN Climate Change Conference is underway & journalists from low- & middle-income countries are reporting on location at Sharm el-Sheikh on #COP27 negotiations, part of #CCMP2022 by @earthjournalism & #StanleyCenter. 🌱

❇️ Follow them here! ⬇️https://t.co/M3kuQyUqm2 pic.twitter.com/qdKTfJfrWe

— Stanley Center for Peace and Security (@StanleyConnect) November 7, 2022
Please note that the headlines have in many cases been translated from the original reporting. Links below are to the original publications.
Read selected reporting from CCMP journalism fellows, virtual fellows, and trainers at COP27 (see full list). This list will continue to be updated as more stories are published during the conference: