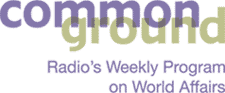 Week of October 15, 2002
Program 0242
Segments
El Salvador: Ten Years Later | Transcript | MP3
Guerilla Peace Transition | Transcript | MP3
Salvador Dance Troupe | Transcript | MP3
Foreign Policy Morality | Transcript | MP3
Princeton Lyman | Transcript | MP3
Unilateralism | Transcript | MP3
This text has been professionally transcribed. However, for timely distribution, it has not been edited or proofread against the tape.
---
Leslie Schould: You see the Salvadoran people struggling against all odds, so I think people coming down here, their minds are opened, their hearts are opened. And at the same time, the Salvadoran people grow from that situation. They learn about other struggles in the world and they also don't feel so alone against the obstacles that they are facing.
KEITH PORTER: This week on Common Ground, El Salvador, reflects on 10 years of peace.
KRISTIN MCHUGH: Plus, a former guerrilla discusses his nation's difficult transition.
DAMIAN ALEGRIA: We are people of peace. And we want to fight now politically to change the condition of life of the majority of the people of El Salvador.
MCHUGH: And El Salvador celebrates its culture through dance.
Alvaro Maldonado: I think it's a good way to show a newer face from El Salvador because usually people just think about things like war.
PORTER: These stories, coming up next.
---
El Salvador: Ten Years Later
Listen to This Segment: MP3
PORTER: Common Ground is radio's weekly program on world affairs. I'm Keith Porter.
MCHUGH: And I'm Kristin McHugh. In 1992, a 12-year-long civil war came to an end in El Salvador. As part of the peace accords, the FMLN guerrillas were officially recognized as a political party, and the military was greatly downsized.
PORTER: But a decade after the agreement was signed, some in this small Central American country say the root causes of the war have not been addressed. Chris Lehman reports from San Salvador.
CHRIS LEHMAN: It's a typical weekday afternoon in the newsroom of ARPAS, and Marguerita Diaz is preparing several stories for the evening newscast. ARPAS is a network of community radio stations, and Diaz hosts a nightly newscast using material she's gathered, along with reports from affiliate stations. On this day, she's paying close attention to the heavy rain pounding the already-soaked hillsides of San Salvador. If the deluge keeps up, mud slides and displaced families may be the lead story.
[The sound of an ARPAS radio newscast.]
LEHMAN: The news business has changed over the years in El Salvador. Journalists by and large practice their trade without fear of repression, and stories on guerrilla movements and right-wing death squads no longer dominate the headlines. Diaz says the only problem she runs into as a reporter is when sources she contacts associate her with the political left.
Marguerita Diaz: [via a translator] A lot of times when we're trying to have an interview or appointment with a public functionary, and we say that we're from ARPAS, they associate us with the community radios, and they associate the community radios with the left wing, and so they might not respond to our calls, or if we call them to an interview or something they might not show up, or they'll just sort of generally ignore us.
LEHMAN: But being ignored is a problem sometimes faced by journalists the world over. Freedom of the press enjoyed a comeback in El Salvador, and the journalists of ARPAS are eager to cover issues affecting their listeners—issues such as land distribution, a proposed free trade agreement with the United States, and the phasing in of the US dollar as the nation's official currency.
It's not just the press that has seen greater freedoms since the 1992 peace accords. Many Salvadorans as well as international observers say the right to political expression has generally returned in the nation of 6.3 million people. Miranda Buffam is the Assistant Program Coordinator for CRISPAZ, a human rights organization that's been active in El Salvador since 1984.
Miranda Buffam: You can be very open about what you say in public about, not just about politics, but about social work, justice work, peace work. Whereas during the war, those were equated with terrorism or communism or being associated with the guerrillas.
LEHMAN: While it wasn't part of the peace agreement, the 12-year civil war served in some way to elevate the role of women and women's rights. That's according to Nancy Meyerhofer, a Franciscan nun from Dubuque, Iowa. She works in a trauma clinic in the town of Suchitoto.
Nancy Meyerhofer: The women's consciousness came from the fact, at least in part, because every fourth guerrilla was a woman. And in the war they were nurses, they were cooks, they were handling the radio, they were combatants, they were bodyguards. And they found out that they were important and that they were needed, and then after the war they didn't want to go back and be second-class citizens.
LEHMAN: But through her work at the clinic, Meyerhofer has seen another side of the war's aftermath—increased rates of alcoholism, suicide, depression, and domestic violence. She says help for those who have experienced extreme physical and emotional trauma is hard to come by, especially in rural areas. Meyerhofer says she's afraid that if the trauma isn't properly dealt with, it will be repeated.
Meyerhofer: I'm not a Biblical exegete, but maybe that's part of what they mean in the Bible when they say that up to the seventh generation the children pay for the sins of the parents. It's not sins, but it's what they lived.
LEHMAN: US President George W. Bush called El Salvador "one of the bright lights of the region" during a visit there in March. But the country has had its share of problems. A pair of major earthquakes in 2001 left nearly 1,200 people dead and more than 8,000 injured. Almost 150,000 houses were destroyed in a nation roughly the size of Massachusetts. Street crime is a major problem in El Salvador, as well as kidnapping and extortion. The country has one of the highest murder rates in Latin America. Some blame the United States for deporting Salvadoran gang members from places like Los Angeles and Washington, DC. But the problem may be larger than that. Rodolfo Hernandez is coordinator of the Pastoral Center of the University of Central America in San Salvador. He says the nation's young people are suffering from a crisis of values.
Rodolfo Hernandez: [via a translator] One of the phenomena that didn't exist during the war are the bar and nude show places that well, maybe they existed during the war but they were very clandestine. And now they're legalized.
LEHMAN: [Interviewing Mr. Hernandez] Long-term, what effect might this have on development of future leaders of this country?
Hernandez: [via a translator] It's not all the youth that go to these kind of places, you know. A lot of them it's expensive to get inside, and I think there's a lot more social consciousness than there was before. So, I think that, you know, and if these places continue to go on and continue to grow I think it's very possible that there will be a reaction in the future, to, pressure to close them down.
[The sound of a guitarist playing the song, Sombrero Azul.]
LEHMAN: At the Salvadoran Association of Cultural Workers, or ASTAC, Carlos Osegueda sings what many call the unofficial national anthem of El Salvador. "The Salvadoran people's dignity is so high, they wear the sky for a hat" goes the first line of Sombrero Azul, written by the late Venezuelan poet Ali Primera.
[The sound of a guitarist playing the song, Sombrero Azul.]
LEHMAN: ASTAC was formed out of the social movement during the early years of the war. Today, the organization holds workshops on things like music, painting, theater, dance, and literature. Alvero Sermeno says the programs are a way for youth to get in touch with their culture.
Alvero Sermeno: Also, things like rescuing or conserving the environment, women's rights, children's rights, citizens' rights. These themes can be expressed through this art.
[The sound of dripping rain and croaking frogs.]
LEHMAN: High in the verdant mountains in the province of Morazan, lies the community of Segundo Montes. It's named for one of the six Jesuit priests assassinated at the University of Central America in 1989. Many of the residents lived for years in refugee camps just across the border in Honduras before returning near the end of the war to establish their village.
[The sound of the band playing a song entitled Clandestino.]
LEHMAN: In the midst of a downpour, a band of musicians gives a concert to a group of visitors.
[The sound of the band playing a song entitled Clandestino.]
LEHMAN: Grupo Morazan has been performing together for more than a decade, starting when its members were in their early teens and living in a refugee camp. Since then, they've toured Europe and the United States, and have helped start a music school for members of their community. Twenty-five year-old Adonay Hernandez Perez plays in Grupo Morazan and teaches guitar in the school.
Adonay Hernandez Perez: [via a translator] Music is like a way of healing, it's like a therapy. As you know, this area of Morazan, the north of Morazan, was a very conflictive area during the war. And so it's a way for people to help express themselves and to remember and to express what happened.
LEHMAN: Perez says Grupo Morazan's songs have taken a new turn in recent years. Instead of just looking back at events surrounding the war, the group now includes songs about women's rights, the environment, and AIDS.
Hernandez Perez: [via a translator] These are things that are important, these are things that aren't just stories, they're things that are lived here. And, for example, AIDS is a worldwide problem and now it's here. And so we have a song that's, you know, really lively and has a great rhythm, but if you pay attention it has a big message also, a very important message.
[The sound of the group playing an upbeat song about AIDS.]
LEHMAN: The long battle of the FMLN guerrillas to gain political recognition and other basic freedoms attracted the attention of human rights activists around the world. After the signing of the peace accords, some supporters of the guerrilla movement were afraid that international attention would fade, right when it was possibly needed the most. Leslie Schould came to El Salvador from the United States just after the war ended and became involved with the Center for Exchange and Solidarity, an organization that promotes grassroots organizing. She says it turns out that the ease of travel and relative safety in the post-war years have attracted far more international delegations than during the war. And Schould says most of the visitors end up learning from the Salvadorans.
Leslie Schould: You see the Salvadoran people struggling against all odds, so I think people coming down here, their minds are opened, their hearts are opened. And at the same time, the Salvadoran people grow from that situation. They learn about other struggles in the world and they also don't feel so alone against the obstacles that they are facing, knowing that other people are concerned about their situation. So it's a mutual solidarity and accompaniments.
LEHMAN: But with a steady stream of international visitors and dozens of foreign aid organizations working in El Salvador, some workers are trying to avoid creating a culture of assistance dependency—that is, the expectation of receiving aid on a continual basis. Geoff Herzog is the El Salvador Director for Voices on the Border, a Washington DC-based organization that's been active in El Salvador since 1987.
Geoff Herzog: For me, success is gauged not so much by the victories that communities have, to get the state to respond, but by the fact that people in communities embark in this process and begin to, to take note that they can't just wait for things to be given to them, that they need to become subjects of history that participate and not just sit around waiting as objects for someone to take action that somehow affects them, but to make action happen.
[The sound of congregational singing during a mass at Divinia Providencia.]
LEHMAN: Worshippers at the Sunday morning mass at the chapel of the Divine Providence Hospital spill out onto the sidewalk. On March 24, 1980, Archbishop Oscar Romero was assassinated here while preparing communion. A 1992 UN Truth Commission concluded that a former Salvadoran army general was behind the assassination, but no one was ever prosecuted for the incident. Twenty-two years after his death, the Nobel Peace Prize nominee's image is present throughout the country on posters, murals, and monuments. Miranda Buffam of the human rights organization CRISPAZ says nearly everybody knows who he is.
[Please note: Mother Theresa was Nobel Peace Prize winner in 1979.]
Buffam: It's incredible, if you go back and read his homilies, it relates incredibly well to the situation of today.
LEHMAN: Romero's homilies were broadcast on the radio, and he's often depicted behind a microphone. Many of the posters with his picture include a quotation, such as this one on a poster produced by CRISPAZ.
Buffam: [Reads the poster, translating into English.] Romero said, on the 12th of August of 1979: 'Estes el grand mal de El Salvador: La riqueza y la propriedad privada como absoluto intocable.' Which means, "This is the great evil of El Salvador: Wealth and private property is absolutely untouchable."
LEHMAN: Buffam and other human rights workers say the current peace in El Salvador won't continue if something doesn't change. They say the country's high crime rate is preventing people from enjoying a truly peaceful life. They say promised land reforms haven't come to fruition, and that the electoral process still favors the ruling party. And they're concerned about the proposed Central American Free Trade Agreement and its effect on the country's working class. But the days of armed conflict and brutal death squads are gone. And that's something they hope doesn't change anytime soon. For Common Ground, I'm Chris Lehman in San Salvador.
PORTER: A former Salvadoran guerrilla speaks out, next on Common Ground.
[Musical interlude]
---
Guerilla Peace Transition
Listen to This Segment: MP3
MCHUGH: Twelve years of Civil War in El Salvador ended with a 1992 peace agreement between the government and the FMLN guerrillas. The FMLN is now an officially recognized political party and has made significant gains in each election over the past decade. But many people still regard the FMLN as a radical leftist organization. Chris Lehman spoke with one former guerrilla who is trying to make a life for himself and his family in the capital city of San Salvador.
DAMIAN ALEGRIA: My real name is Mauricio Riviera but my war name is Damian Alegria. Most people know me like that. And I am Salvadoran, 45.
LEHMAN: [Interviewing Mr. Riviera] Could you explain why you took on a different name during the war?
ALEGRIA: Because it was very dangerous that the army or the government know your real name. So it was normal practice that if you was getting involved in an organization to fight for social change you must have another name just to protect yourself and your family. We didn't want to be guerrillas. We didn't want to be fighting with guns, because we really hated the army when we saw how the army uses the weapons against people.
LEHMAN: Your role with the FMLN took on the area of communications. You worked as a spokesman for a while.
ALEGRIA: FMLN had in 1981 a very good system of communications, using some of the high-tech radios and walkie-talkies and things like that. We had communications between different parts in the country to know how things are going. So the main commandantia knows how to manage and to handle different problems.
And in the last two years, because I proposed to work more with the journalists to explain why and how we are fighting, I was named the spokesman of the guerrillas in Guaxapa. And by this way I created a system of communications with the journalists. So, I could make interviews by radio using walkie-talkies everyday.
LEHMAN: You were captured and held for about three months in 1989?
ALEGRIA: In 1989, yes.
LEHMAN: Can you tell me how that experience affected your determination?
ALEGRIA: They applied me a very cruel torture in different ways and after that they sent me to a penitentiary center where I was with a lot of comrades that were in prison, too. Maybe what happened in this case, it was that made strongest my desire to fight, because they then proposed me to be an adviser of the government, trying to break my feeling, my thinking. They proposed me to give me a lot of money and to work, writing for the government. Because they say, "We understand your sacrifice, but you are wrong, you help your people in other ways. Help the government, and the government will help make the best for the people." I knew that it was not true. This convinced me more that we need a change in our country and make me more strong, my decision to fight.
LEHMAN: After so many years of being stigmatized by the government as being brutal guerrilla forces, how effectively have FMLN members such as yourself been able to reintegrate into society?
ALEGRIA: It's a very complicated process. Because it's not only a decision that, "I go to the mountains, I fight for a while, then I came back to see my family." Some of the guerrillas lose completely their family, some of the families lose completely their properties. In some places where the guerrillas came back, their family lived very bad, as before. And somebody say "What is the meaning of all your fight, during all these years?" And the government, it doesn't have a policy to help ex-combatants and ex-soldiers, to give them the opportunity to build a new life again.
But we are not going to receive a job in the government. We are not going to have a job in the private enterprise, because they still have in mind that we were fighting to change some of the situation that they wanted to keep before. But now, 10 years after, people know us and they know that we were fighting, but that we are persons of peace, we are people of peace. And we want to fight now politically to change the condition of life of the majority of the people of El Salvador.
MCHUGH: Damian Alegria spoke with Common Ground's Chris Lehman. Alegria runs a guest house with his wife in San Salvador.
[Musical interlude]
---
Salvador Dance Troupe
Listen to This Segment: MP3
PORTER: As El Salvador continues to recover from its brutal civil war, a group of dancers have come together to try to find a voice for the country's painful past, and its more hopeful present. The Contemporary Dance Theater of El Salvador, known by its Spanish initials as TDC, was founded in San Salvador in 1994, and it expanded to Washington, DC later that same year. Judith Smelser profiles this unique organization.
[The sound of a director talking to the show's dancers.]
JUDITH SMELSER: In a small Washington, DC, studio, six young dancers are hard at work preparing for the first performance of their season. These artists, many of them just teenagers, have the weighty task of representing El Salvador's culture and history to American audiences. Nineteen-year-old Alvaro Maldonado has been a member of the TDC since 2000. He moved to Washington last year.
Alvaro Maldonado: I think it's a good way to show a newer face from El Salvador. Because usually people just think about stuff like war and ugly things or you know, delinquents and politic things. So it's a good way to express ourselves and to bring a renewed face about El Salvador—not just bad things, you know, good things.
SMELSER: Many people assume that TDC performs only traditional and indigenous dances, but that's where the "Contemporary" part of the group's title comes in. Under the direction of Miya Hisaka Silva, who studied with the likes of Alvin Ailey and Martha Graham, the company uses the latest modern dance techniques.
[In the background the song Solo For A Heart is playing.]
SMELSER: Take for example, this piece, performed by one of three Americans in the company, Lia Kalinosky. It was choreographed by Rafael Perdomo, who at 26 is not only a dancer but a choreographer and teacher for the troupe. He's from El Salvador, but he says this dance is about universal themes.
Rafael Perdomo: It is very deep, deep feelings about yourself. It doesn't talk about war, it doesn't talk about happiness, it doesn't talk about love or many other stuff. It is just about yourself. OK, what do you feel when you're alone in your room? What are you thinking? It is about loneliness, it is about a little bit of love, a little bit of passion, a little bit of thinking, a little bit of, you know when you hurt somebody, when somebody hurts you, and many other stuff.
UNNAMED DANCER: [speaking to an audience] Then and only then, I realized that in this world, there are those who are crazy, those who are sick, and those who pretend not to be.
SMELSER: Rafael says this is the point when the character comes out of her reverie and realizes there are other people in the world. And while he doesn't say the piece is a commentary on El Salvador, it's hard to believe his background growing up during the war didn't influence the character's dark words.
Perdomo: We did suffer a lot. Because, you know, the houses in El Salvador, is like a whole, whole, whole file of houses. It's just a line of houses. So the guerrilla people start to come from the very first house, going through the walls, and walls and walls of the houses. To, in each house I mean, at the end, so to get to hiding from the soldiers. Our house, it wasn't affected. But you know, you heard the shot, you heard the people crying, you heard the people screaming, "Go for them!" and bla-bla-bla-bla [imitating the sound of gunfire]. So, it was a very weird feeling.
[The sound of a Sting song from the show, Esperanza.]
SMELSER: Those painful events are explored more fully in a 20-minute piece called And Now for Hope. Performed to music by Sting, the dance is dedicated to the tens of thousands of victims of El Salvador's civil war. The piece revolves around a couple portrayed by Rafael and 18-year-old Casey Lynn, another American member of TDC.
[The sound of a Sting song from the show, Esperanza.]
Casey Lynn: It's a very complex story, especially for the lead female dancer because she goes through so much. You know, it starts out, you know, as couples or people just in El Salvador. And then there's a second section which is a duet that the lead female and the lead male do. And they are, you know, husband and wife, and it's very emotionally, you know, disturbing because the girl is seeing her husband for the very last time before he goes off to war and, you know, it's very possible that he may die and that she may never see him again. Then in the third section there's a war scene where, you know, everybody's scared and he actually—I see him get shot. And then afterwards, you know, I see visions of him being tortured and, you know, all that, all that just incredible, you know, the torture of war. By the end, you know, the war is over. As it starts out, you know, it's just kind of telling individual stories, and then by the end, you know, the war is over and of course, you know, life goes on, life picks up.
SMELSER: Casey is thrilled to be a part of TDC, but she admits it's not easy for her to portray events that are so far from her own reality.
Lynn: My interpretations I think are very different from the other three, you know, who are from the country. Because they've been through that, they experienced that, they were there during the war, and they've been there. I've never been there. So it's kind of, it's a different interpretation. It's kind of—someone said once it was kind of like I was acting. And so it's kind of, I don't know, it's hard to say because I've never been through those things, but it's fun to try and interpret them and see how it comes out.
[The sound of a Sting song from the show, Esperanza.]
SMELSER: But watching Casey and Rafael dance, the emotions they portray seem completely genuine, and the dance is gripping even without the lights, costumes, and theatrical atmosphere their audience will experience the following night. Like all professional artists and athletes, the dancers of the TDC make it seem easy. But in reality, it's hard work.
[Sound of the show director working with the dancers.]
SMELSER: Every detail matters, and that will be even more the case next month, when the company heads to El Salvador to join the ten TDC dancers there to perform in the Central American Olympics. For dancers like Rafael and Alvero, it will be a homecoming. For those like Casey, it will be a first-time visit. But for all of them, it will be an emotional experience, as these young artists do what they can to help a struggling country overcome its past.
[The sound of a Sting song from the show, Esperanza.]
SMELSER: For Common Ground, I'm Judith Smelser in Washington.
PORTER: This is Common Ground, radio's weekly program on world affairs.
MCHUGH: I'm Kristin McHugh.
PORTER: I'm Keith Porter. Coming up this half hour on Common Ground, balancing morality and foreign policy.
JOHN WHITE: There's a very fine line between wanting to promote those values and saying, "Well, our way is the right way."
PORTER: Plus, examining the role America played in South Africa's apartheid. And growing concerns over unilateralism in Washington.
---
Foreign Policy Morality
Listen to This Segment: MP3
MCHUGH: "The axis of evil"; "The evil ones"; "A mortal threat"; "A moral case."
These are all phrases President Bush and his top officials have used to describe enemies of the US. Priscilla Huff spoke recently with a professor of politics at Catholic University about the role morality plays in foreign policy decision making.
PRISCILLA HUFF: Japan's attack on Pearl Harbor or Saddam Hussein's invasion of Kuwait in 1990—these are clear-cut examples of times during history when the physical security of the American territory or American friends were threatened. But Catholic University politics professor John White says there are other military conflicts where the motivations are different.
JOHN WHITE: We have justified, in our history, where we've gone to war, as in South Korea, we said that, in that case, it was a moral cause we were standing up for the United Nations and we were standing up to the communists and their values. And that argument worked for a while, with American public opinion, though over time, the Korean War did become increasingly unpopular.
HUFF: The battle against communism in Vietnam is also remembered as a deeply divisive time. This was a battle between democratic values against communist values in the context of the Cold War—the battle of good versus evil. Again, Professor White.
WHITE: We are a country built on certain values and so, becoming an American, doesn't mean for example, that you live here—it means that you subscribe to certain ideas and ideals, like equality of opportunity or freedom or individualism. And some people think that it's those ideals that make America great. That makes us different from other countries where simply being born on that soil makes you a citizen of that country.
HUFF: One thing the United States is famous for is its tolerance, the "I'm OK, you're OK." How does this play out on a larger scale? How do we say, "Well, I'm OK, you're OK, but your form of government is no good?"
WHITE: When it comes to overseas, I think that there's this sense that perhaps our ideology, our way of life, the idea of believing in the American dream, believing in certain American values, is a success story for a very successful, prosperous middle class, which is basically what the country is, I think. There's a very fine line between wanting to promote those values and saying, "Well, our way is the right way."
HUFF: There's an underlying question of what does threaten the American way, and how large is the threat. While few would welcome Saddam Hussein as a neighbor, given his history of horrible acts, its not clear how his regime poses a concrete, definable threat to the economy and restricting the flow of oil.
WHITE: I think what the president tried to do at the UN is to make a larger moral case, that this is a war about values. It is not just a war about safety and security. The problem is that, if it is a war about morals and values, and promoting freedom and equality of opportunity and individualism and so forth, then there are lots of countries that don't live up to those values in our own eyes.
HUFF: Professor White wonders if Iraq would be the only moral case to attack another nation, or if the Bush administration would then move onto communist China or North Korea, or places where women don't have the same freedoms as American women, or where people cannot worship as freely as Americans do. For Common Ground, I'm Priscilla Huff.
[Musical interlude]
---
Princeton Lyman
Listen to This Segment: MP3
PORTER: In 1994, Nelson Mandela became president of South Africa, marking a new beginning for the troubled nation. There is ongoing debate about the role the United States played in ending or sustaining apartheid in South Africa. One former American diplomat has written a book highlighting what he says is the untold story of the positive role played by United States in South Africa's transition to democracy. Princeton Lyman served as the US Ambassador to South Africa from 1992 to 1995. In his book, Partner to History, he begins with the roots of American involvement in the region.
PRINCETON LYMAN: It goes back to the nineteenth century, where missionaries, and particularly African-American religious leaders, were involved in South Africa, concerned about the plight of black South Africans. And then early in the twentieth century there was a considerable amount of investor interest. Indeed, part of the British expenses for the Boer War in South Africa were financed by a loan from JP Morgan. So it goes back a long way. But our involvement seriously on issues of apartheid really didn't occur till well after World War II.
PORTER: Your book is really about the positive influence that the United States had on the end of apartheid in South Africa. Summarize for us that, the positive influence that you see.
LYMAN: Well, I think first of all it's important to know that this was their negotiation. This was the South Africans. They kept it. And as I said in the book, they rejected approaches by the United States for mediation. But what we were able to do was sort of surround that negotiation with support in every way—through diplomacy, through our aid program, through our public efforts and training programs, and also with a good deal of back-and-forth brokering between parties and encouraging recalcitrant parties. So it was a very intensive effort. And it was possible because both sides in the negotiation wanted support from the international community, wanted a, affirmation, and to use international support in their own processes. So that gave us an opening.
PORTER: You know that some of this will be a tough argument to listen to for some people. Because there are many people who say that US official policy allowed apartheid to go on longer than it would have without US involvement. What do you say to those folks?
LYMAN: Well, I think as I said in one of the earlier chapters, the American involvement in the issues was very mixed and intermittent and never heavily or seriously engaged with South Africa on these issues until the seventies and eighties. And mainly that came from a relationship between the civil rights movement and the anti-apartheid movement, which fired up interest in the United States. And then the students took it on in the 1970s and began to press universities and businesses for disinvestment. And finally, the Congress in the eighties pushed for sanctions. President Carter also engaged more heavily than his predecessors on human rights grounds. But it was always a divided issue. In fact, in the 1980s it was the most divisive foreign policy issue at the time. People getting arrested in demonstrations, etcetera. Particularly over the issue of sanctions and how hard we should come down on South Africa. So it's a mixed story.
But by the 1990s all of that difference had faded away. And the US came together to make the negotiation, to help make the negotiation, a success. And that strengthened our ability to play a positive role greatly. I was real fortunate to be there at a time when our policy became united.
PORTER: Inside the State Department, inside the White House, it's sometimes hard for us to get a feel for how those folks are affected by what's happening out in the street. Tell us something about how the student protests, the civil rights movement, how all of these nongovernmental organizations influenced those of, those of you who were making policy at the time.
LYMAN: They made the issue visible. They made it dramatic. They put pressure on businesses and universities, but also on the Congress and on the administration. So that the issue couldn't be avoided. So it was a very important influence. You couldn't not deal with it. It was also an important issue to the administration, particularly in the seventies and the eighties, but there were differences of opinion. In the 1980s, under the Reagan administration, a policy called constructive engagement, there was much more of a desire to engage on strategic issues and quiet diplomacies—diplomacy—while the anti-apartheid forces were pushing for much more overt pressures and sanctions. But eventually this spilled over into the Congress and became a serious issue between the Congress and the administration.
PORTER: As you mentioned earlier, you were in South Africa during some of the most amazing moments in their recent history. Is there one sight that you remember most, or one even which made the biggest impression on you?
LYMAN: There was one tremendously emotional moment, when one of the very important leaders of the liberation movement, Chris Hani, who was very popular with the youth, he was also head of the South African Communist Party—he was assassinated on Easter morning in 1993. And it shook the whole country. Because the negotiations had been dragging on now for two years. People were becoming impatient. And this just inflamed everybody. And there was a memorial service held in the township of Soweto. And my wife and I decided to attend even though there was another one later for diplomats and other people. But we went to Soweto. And it was extraordinarily tense.
And when we got into the stadium we were not only the only diplomats in the place, but we were the only white people in the place. And we were taken down and put on the podium. It was the only time I had ever seen in the whole time I was there, Nelson Mandela almost lose a crowd. Because there was so much anger and so much, so much tension in the situation. And Mandela understood quickly he had to provide an outlet for that. And he did by calling for mass demonstrations over the next two days.
Now, the significance of what happened in the next two days in my view was extraordinary. Because where people expected tremendous amounts of violence there was really very little. And my conclusion after that was that these are a people that do not want to destroy their country. They want to change their government. They want to get rid of apartheid. But they don't want to tear down and destroy the country. And that was a very important factor in how this whole negotiation proceeded.
PORTER: Are there lessons here that we can learn for US foreign policy, from this experience, this transition experience in South Africa? What can we apply to future situations?
LYMAN: Well, there are a number of things. One of the themes of the book is the importance of facilitating a negotiation rather than mediating it. When the parties are ready to negotiate, that's the ideal situation. And what made the negotiation successful in South Africa was that the parties made the concessions, they made the compromises, they made the agreements. And there are ways to facilitate that. And what the book tries to convey is the way we can use our resources, our influence, our public diplomacy, etcetera. But you have to be staffed for it. In the last chapter of the book I talk about comparing the staff and skills and resources that we had at our disposal in South Africa with what in 10 years, 15 years later we have elsewhere because of the tremendous decline in diplomatic resources. So it takes resources, it takes skill, it takes the use of public diplomacy and private diplomacy. It takes flexibility, takes commitment, and it takes a unified US government behind the process. But it can make these negotiations far more successful and lasting if we do it.
PORTER: One last question for you. Are you optimistic about the future of South Africa and about the future of US-South African relations?
LYMAN: On the future of South Africa, yes I am. I was there earlier this year for two weeks. There are lots of problems. The growth rate has not nearly been as fast as it should be and that means the unemployment remains very high. But unlike a lot of other places in Africa and elsewhere in the developing world, they have instituted some social safety nets which provide at least some base for the poor. Second, the AIDS problem is very severe. And it's, it's one of—it's as you know, has the most infected people in any single country—nearly 5 million. And this is a devastating problem.
But what encourages me is that the democratic institutions that they established in 1994 are strong and they're viable. The government has lost several court cases in the Constitutional Court and has agreed to go with what the court says. The press remains free. The Parliament remains feisty and active. So even though there are lots of problems there it remains a very dynamic and a very democratic society, and that gives me hope.
As far as US-South Africa relations, we share so much in terms of basic values and objectives—and in my book I describe our shared values on nonproliferation and how that played out in the time I was there. There will be differences. But I think President Mbeki, the current president, wants to be a bridge between the developing and the developed countries. He's not against globalization. He wants a fair and just globalization. And I think that's something we can work with him on. So I think the relations will be good. There are no really basic differences or fault lines between us.
PORTER: Ambassador Princeton Lyman now heads the Global Interdependence Initiative at the Aspen Institute. His book is titled Partner to History: The US Role in South Africa's Transition to Democracy.
MCHUGH: You're listening to Common Ground, radio's weekly program on world affairs.
[Musical interlude]
---
Unilateralism
Listen to This Segment: MP3
MCHUGH: President George Bush's administration has been criticized by many countries for attempting to go it alone on international issues. America's allies seem increasingly unhappy with US foreign policy, accusing the White House of a unilateralist posture on the world stage.
PORTER: The US government has come into conflict with many of its traditional friends over issues like Iraq, the war on terrorism, trade, and the environment. Steve Mort reports from Washington on an administration that is gaining a reputation for being unconcerned about the views of other countries.
PRESIDENT GEORGE W. BUSH: We've been more than patient.
STEVE MORT: President Bush's speech to the United Nations was the moment countries around the world looked to the US leader to explain why he seems determined to do what he wants, when he wants, with or without the support of other nations.
PRESIDENT GEORGE W. BUSH: Saddam Hussein's regime is a grave and gathering danger.
MORT: What they got was a President that seemed to be answering his critics by promising to consult with the UN.
PRESIDENT GEORGE W. BUSH: My nation will work with the UN Security Council to meet our common challenge. If Iraq's regime defies us again, the world must move deliberately, decisively to hold Iraq to account.
MORT: But what many critics heard, was the world's most powerful leader effectively telling the UN, "It's my way, or the highway."
PRESIDENT GEORGE W. BUSH: All the world now faces a test and the United Nations a difficult and defining moment. Are Security Council resolutions to be honored and enforced or cast aside without consequence? Will the United Nations serve the purpose of its founding, or will it be irrelevant?
MORT: The concerns of the world community are easy to see.
UN SECRETARY GENERAL Kofi Annan: For any one state, large or small, choosing to reject or follow the multilateral path, must not be a simple matter of political convenience.
MORT: Those concerns have been articulated on a number of occasions by the UN Secretary General Kofi Annan.
SECRETARY GENERAL Annan: When states decide to use force to deal with broader threats to international peace and security, there is no substitute for the unique legitimacy provided by the United Nations.
MORT: Anthony Cordesman is strategy chairman for the Center for Strategic and International studies. He says President Bush's unilateralist approach could prove to be disastrous.
Anthony Cordesman: We will face a bitter crisis if we go into this without having had quiet consultations with Iraq's Arab neighbors, without having talked informally with Iran, and without a clear plan to work with Turkey. It may be too late, but we need to be prepared immediately as part of our diplomacy to seek assistance from Arab states and Turkey in help with the nation-building process.
MORT: The relationship between the US and its allies around the world, particularly in Europe, began to turn sour long before the latest situation with Iraq and the start of the war against terrorism. Last year, the issue of the Kyoto protocol on greenhouse gas emissions caused a furious row between the US and most other industrialized nations. Then there were issues such as the death penalty, the decision to pull out of the Anti-Ballistic Missile Treaty with Russia, the US refusal to participate in the International Criminal Court, and American steel tariffs imposed by the US on all imports, which appalled many nations. But Stuart Holliday, Coordinator of International Information Programs at the US State Department says much of the hostility toward America is based on misperceptions. He says opponents usually change their view of US policy when they enter into direct talks with US officials.
Stuart Holliday: The best and most effective programs are when people actually get together and meet and exchange views with an American. In many cases we find that their stereotypes of what they think Americans are like are dispelled. I think listening is a very important facet of public diplomacy.
MORT: And the United States also has its supporters in the international community. None has been more willing to standby President Bush than British Prime Minister Tony Blair. He rejects claims the American leader isn't interested in the views of other nations.
BRITISH PRIME MINISTER TONY BLAIR: I've read the criticisms sometimes about George Bush and unilateralism. All I can say is that I have found him extremely open and easy to deal with throughout the time I've been Prime Minister.
MORT: The Bush administration denies it's failing to consult with its allies on key global issues. And there was guarded praise for the president when he finally took his concerns about Iraq to the United Nations. But the ultimate White House action on Iraq still has the potential to give opponents of Mr. Bush around the world more ammunition to attack his Presidency as unilateralist and destructive to America's reputation overseas. For Common Ground, I'm Steve Mort in Washington.
MCHUGH: What do you think? Is America damaging its relationships with friends and allies around the world? E-mail us your thoughts and we may use them on the air. Our e-mail address is [email protected].
PORTER: In a recent program, we asked if the US needs the world's permission to invade Iraq.
MCHUGH: Listener, Janice says no. She strongly believes the US does not need the world's approval in deciding whether to go to war with Iraq. She writes, "Other countries don't have America's best interest at heart. A lot of them are third world countries where their own people don't have rights." She continues, "I pray President Bush does not wait on these countries for their approval."
PORTER: Listener Torrey went beyond the question to say: "What no one mentions is attacking Iraq is just what bin Laden would want: war and destabilization." He continues, "Looks like Bush is walking America into a box canyon where bin Laden may win in the end."
MCHUGH: And finally, listener Nancy wrote to answer yes, the US should seek world approval. She writes, "This is a world crisis. President Bush said it eloquently. 'We need to work together to make the world more peaceful.'"
Our theme music was created by B.J. Leiderman. Common Ground was produced and funded by the Stanley Foundation.
Copyright © Stanley Center for Peace and Security