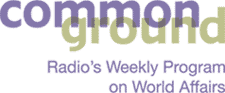 Week of August 26, 2003
Program 0334
Segments
Mexican Elections Update | Transcript | MP3
Basque Conflict | Transcript | MP3
China's Returning Elite | Transcript | MP3
Iran Appearances | Transcript | MP3
Progressive Government | Transcript | MP3
UNESCO | Transcript | MP3
DNA Anniversary | Transcript | MP3
Scotland Trade | Transcript | MP3
This text has been professionally transcribed. However, for timely distribution, it has not been edited or proofread against the tape.
---
ZEFERINO TORREBLANCAL: We need to try to come together around the common denominators of the different political forces' proposals and show results to the people of Mexico.
KEITH PORTER: This week on Common Ground, Mexico's changing political mood.
KRISTIN MCHUGH: Plus, Spain's crackdown on terrorism.
LEOPOLDO BARREDA: The experience of Spain in the fight against terrorism in the Basque country is important in all of Europe and for the success of all democracies. The Spanish are fighting terrorism united, regardless of political party views.
MCHUGH: And Iranian women under the scalpel.
ATENA: [via a translator] Because only our faces are shown outside of our scarves, nose surgery is common today. Just a few people may get surgery done for their cheeks or lips, but nose surgery is more common.
PORTER: These stories—coming up next.
[Musical interlude]
---
Mexican Elections Update
Listen to This Segment: MP3
PORTER: Common Ground is radio's weekly program on world affairs. I'm Keith Porter.
MCHUGH: And I'm Kristin McHugh. Mexican President Vicente Fox's conservative National Action Party, or PAN, recently suffered a major defeat in Congressional and state races. While the results expressed popular discontent with the direction of Fox's government, analysts say a low voter turnout suggests that the Mexican electorate is losing faith with politicians and political parties of all stripes. The shifting mood comes at a delicate moment in Mexico's democratic transition. Kent Paterson has this report.
[The sound of someone speaking in Spanish at an outdoor political rally.]
PATERSON: At a rally in Acapulco, Rosario Robles, the national president of the Party of the Democratic Revolution—PRD—proclaims that the hour has arrived. The center-left PRD has lots to celebrate after this summer's Congressional election nearly doubled the party's seats in the lower house of the Congress at the expense of President Fox's conservative PAN party. At the same time, the former long-ruling PRI party will maintain a relative majority in the new Congress but can be outvoted by five other parties. It's a situation that portends more of the political gridlock which has characterized the last three years.
[The sound of dramatic music at an outdoor political rally.]
PATERSON: Numerous Mexican political analysts consider abstentionism the real winner. Nearly six out of ten registered voters did not turn out to cast a vote, and some even mutilated ballots to protest what they decried as an overly expensive campaign lacking any real substance. Like Aguascalientes janitorial worker Araceli, many Mexicans say they are tired of promises and want politicians to finally address the nation's major problems.
ARACELI: [via a translator] Public safety is very important, because it's a difficult situation right now. And salaries, too, because many jobs pay very little.
[The sound of a music jingle from a political campaign.]
PATERSON: Widespread criticism was leveled at campaign advertising that reduced the political discourse to sound-bites. Television ads like this one projected happy faces in a bid to win over crucial youth and women's votes, and one party even engaged in an updated, subtle version of vote buying by running a TV raffle for a computer. Rolando Galindo is a retired journalist in Aguascalientes.
ROLANDO GALINDO: [via a translator] The spots are really just publicity, because they lack content. They don't have any proposals and just have a subliminal message that contains the image of the party and its colors. Also, they've been reduced to charges and countercharges that highlight the errors of one side or the other. It's the big parties that have generally engaged in this, but some of the smaller ones, too.
PATERSON: Discontent with big parties encouraged the development of new forces like the Mexico Possible Party, whose platform provoked controversies with the conservative and powerful Roman Catholic hierarchy over longstanding issues. Rafael Trejo ran unsuccessfully for Congress on the Mexico Possible ticket. Formed by many people who had previously identified with the PRD, the party advocates the decriminalization of marijuana use, legal abortion, gay rights, and full equality for indigenous people and other marginalized sectors. Trejo says these and other vital issues are being ignored by major parties like the PRD.
RAFAEL TREJO: [via a translator] The PRD has gone over to the side of the light and pretty parties of decent people who get scared at the words condom, abortion, and marijuana. But all this is part of our reality and somebody needs to pick up on it and it has to be the affected people themselves. The Mexico Possible Party is an alternative, an open space for debate and discussion for these different sectors.
[Sounds from a campaign rally.]
PORTER: While Mexico Possible did not win any Congressional seats on its first go around, the party's emergence against a backdrop of major party fragmentation and voter disgust shows that no one single force predominates in today's political landscape, thus lending a new volatility to Mexican politics.
[The sound of Zeferino Torreblanca speaking in Spanish.]
PATERSON: Zeferino Torreblanca is an ex-mayor of Acapulco who ran for Congress on the PRD ticket. He says the public must regain confidence again in the meaning of politics, and compromises will have to be reached.
ZEFERINO TORREBLANCAL: [via a translator] We have the obligation to try to reach major agreements around concerns like the federal labor law, energy, greater resources for municipalities, health, and women's issues. We need to try to come together around the common denominators of the different political forces' proposals and show results to the people of Mexico.
[The sound of a political rally.]
PATERSON: Showing those results will be an uphill battle as the Fox administration and the new Congress attempt to create jobs , bring corruption and crime under control, and reach an immigration accord for Mexican workers laboring in the United States. For Common Ground, I'm Kent Paterson reporting from Mexico.
[Musical interlude]
---
Basque Conflict
Listen to This Segment: MP3
PORTER: Spanish officials say Americans can learn important lessons about fighting terrorism based on their recent crackdown on Basque separatists. Critics say, however, the Spanish government has engaged in serious human rights violations and uses authoritarian methods, making it more difficult to reach a political solution. Reese Erlich reports from the Basque country in Spain.
[The sound of someone walking down a street, with music
in the background]
REESE ERLICH: On the surface Bilbao is a modern and trendy Spanish city. Street musicians can play Bach or a Basque folk song.
[The sound of Basque folk music.]
ERLICH: But Bilbao is also a center of support for ETA, a Basque separatist group that has killed an estimated 800 people since 1968. ETA has assassinated political party leaders and planted bombs in civilian shopping areas. In recent months authorities have cracked down hard on ETA. Leopoldo Barreda, a leader of the center-right Popular Party in the Basque parliament, says the success comes from police arrests and banning organizations associated with ETA, such as Batasuna.
LEOPOLDO Barreda: [via a translator] Batasuna collaborates with terrorism. That's why it was banned.
ERLICH: The national government accuses Batasuna, a party which polls about 10 percent of the vote in the Basque region, of being a front group for ETA. Barreda says the political crackdown, combined with tough police action, has dealt a serious blow to ETA and reduced the level of violence.
BARREDA: [via a translator] The experience of Spain in the fight against terrorism in the Basque Country is important in all of Europe and for the success of all democracies. The Spanish are fighting terrorism united, regardless of political party views. Opposition to government policy should be at the ballot box. It is possible to struggle democratically.
ERLICH: Most Basque nationalist parties and unions strongly criticize the government crackdown, however. About 10 percent of Basques cast void ballots in Spain's May 25th local elections as a way to support Batasuna. And 30,000 Basques marched through the streets of Bilbao protesting the banning of Batasuna and demanding the right to vote for the party of their choice.
[The sound of chants at a large street demonstration.]
ERLICH: At a recent demonstration, union leader Danny Gomez says the Basque region's union federation condemns the banning of Batasuna because it disenfranchises a sizeable number of Basque voters.
DANNY GOMEZ: [via a translator] The union doesn't have any links to or support a particular party, but we support democracy. We support the rights of parties to participate in elections and defend their ideas.
[Sounds of protest, followed by traffic sounds from a San Sebastian street.]
JOSEBA ALVAREZ: [via a translator] We're in the old town of San Sebastian. The city dates back hundreds of years.
ERLICH: Batasuna leader Joseba Alvarez walks through the city of San Sebastian, located on Spain's Atlantic coast. He's a member of the Basque regional Parliament, which was created 23 years ago to give greater autonomy to Basques. He argues, however, that autonomy is not enough. He says that Basques, who have a long history as a people, should have their own nation.
ALVAREZ: [via a translator] Our Basque language predates Latin and other European languages. Long before there were nation-states in Europe, the Basques were here.
ERLICH: Alvarez notes the relative prosperity of the Basque country, one of the most developed in all Spain. He argues that the desire for a separate homeland flows logically from the fact that local people want to control their own resources.
ALVAREZ: [via a translator] This is a good country with a good standard of living. The first industry, the first bank, the first railroad, the first union—were all here in the Basque country. It's a rich country.
ERLICH: Basque separatists claim that continued oppression by Spain justifies armed actions by ETA. Alvarez argues that when democracy doesn't work, people are justified in turning to violence.
ALVAREZ: [via a translator] ETA's history goes back 40 years. It arose during the rule of Franco's dictatorship. It wasn't possible to have a solution without violence because there was no political space. ETA has continued to exist for these 40 years because the government won't allow a political solution to the problem.
ERLICH: Alvarez refuses to comment, however, on the terrorist attacks on civilians and low-level political party officials that have so outraged people throughout Spain. But he did demonstrate why the government is having such a hard time stamping out ETA.
[The sound of music playing and people talking in a bar.]
ERLICH: Here at a San Sebastian bar, young people dressed in leather drink beer and listen to hard rock. It's one of 140 bars that the government says funnel money to ETA. Then Alvarez points to the wall directly behind the barman.
ALVAREZ: [via a translator] Those are photos of political prisoners from this town. They want people to write to the prisoners. One, two, three, four…. There are now 14 political prisoners from this town.
ERLICH: Alvarez says Basque nationalists have evolved a deeply rooted culture of sports clubs, community organizations, bars, and restaurants that can't be uprooted by police crackdowns. He says there must be a political solution for Basque nationalism, not a military one. Batasuna demands that the government hold a referendum on independence for the Basque country. For Popular Party leader Leopoldo Barrera, such a referendum would be ridiculous because, he says, the Basque country is part of Spain.
BARREDA: [via a translator] No state in the world recognizes the right of self-determination for its own people. Self-determination applies to human rights violations or in colonial situations. It doesn't apply to the Basque country. The Basques don't have any more right to self-determination than the people of New York or Idaho or Washington. We are called Spanish. Spain recognizes equal rights for all.
ERLICH: Many Basques say that Spain's president Jose Maria Aznar used the terrorism issue in an attempt to win votes in the May 25th nationwide municipal and regional elections. Shortly before the elections, Aznar visited Washington and it was announced that the US had put Batasuna on a list of terrorist organizations. Emilio Olabarria, a member of parliament from the moderate Basque Nationalist Party, says Aznar hoped to take people's attention away from his extremely unpopular support of the Iraq war by focusing on Basque terrorism.
EMILIO OLABARRIA: It's not possible to support a war that the majority of Spaniards oppose. You can't support an illegal war because you want Batasuna put on the terrorist list. It's not a legitimate political transaction. It's illegitimate and immoral in my opinion.
ERLICH: Aznar's tactics seemed to have backfired here in the Basque country, where the Popular Party lost votes in the election, and moderate nationalists picked up seats in city halls. Ms. Begonia Lasagabaster, a member of the Spanish parliament from the center left Basque Solidarity Party, says most Basques want an end to violence, followed by a referendum on the Basque country's status with Spain.
BEGONIA LASAGABASTER: I think ETA has to stop violence. And we have to have an agreement that would be ratified obviously by the population. And, on the second side, the Spanish government should respect the right of this nation to decide in the future, what they want to do. And afterwards the material content of how is going to be our regime or the relations with Spain, that would be the result of the agreement based in these two principles.
ERLICH: The Aznar government has rejected calls for a referendum, however, and plans to continue its campaign of arrests and suppression of groups associated with ETA. Absent a political settlement, most Basques expect the cycle of repression and violent ETA attacks to continue for some time. For Common Ground, I'm Reese Erlich in Bilbao, the Basque Country, Spain.
[The sound of Basque folk music.]
MCHUGH: China's returnees, next on Common Ground.
[Musical interlude]
---
China's Returning Elite
Listen to This Segment: MP3
MCHUGH: In China, increasing prosperity and relative political stability has lead many overseas Chinese to make the choice to return to their homeland. As Celia Hatton reports from Beijing, many returnees are the lucky ones who are increasingly able to reap the benefits of the Communist country's growing relationship with capitalism.
[The sound of children playing at a playground.]
CELIA HATTON: In China, they call them "turtles." In Mandarin, it's a homonym for the word that describes Chinese nationals who migrated to the West to work or study and then—in a decision that was unheard of 15 years ago—decided to return to live in China. Today, most of the kids running around on the playground outside this luxury apartment complex are not the offspring of highly-paid traditional expats, but the children of wealthy returnees.
[The sound of children playing at a playground.]
HATTON: In China, turtles are no longer a rare breed. In fact, they are seen by many as the rising stars of China's booming economy. Highly educated, fluent in both Chinese and English, and most importantly, comfortable with both Western and Chinese business practices, they are the toast of China's business community. Jinjin Zhang is one of these returnees. She left China in 1996 to study in the US and returned five years later to work at an investment bank in Beijing.
JINJIN ZHANG: I think in the bottom of my heart, I thought I would come back. It's sort of my country, and my family's here—my parents, my brother. And I think also China provides much more opportunities for us than in the US.
HATTON: Jinjin also believes that her career received a major boost when she returned to China.
JINJIN ZHANG: Maybe if I worked in the States for like 20 years, I might have got that opportunity, but right now I have the opportunity in China. So, it's really much more meaningful for me in terms of my career.
HATTON: Jinjin's husband, Haipeng, is also a returnee. After completing his MBA degree in the US, he was recruited by a major international consulting firm to work as a manager in Beijing. Like Jinjin, he also felt a desire to live in his home country.
HAIPENG: No matter how beautiful America is, you know, it's other people's country and it's a friendly place, I can live there, but you know, I cannot totally enjoy myself there.
HATTON: Jinjin and Haipeng represent a growing number of well-educated employees who have given up comfortable lives in the US to return to China. Although the majority of Chinese nationals still choose to stay overseas once they leave the country, China's Ministry of Education says that the number of returnees has risen 13 percent every year since 1998. Emre Demokan, a Beijing-based recruitment consultant at BMI Consulting, says that returnees are immensely valuable to China's rapidly expanding professional workforce.
EMRE DEMOKAN: Well, with regards to returnees, I do believe that there is a definite and growing trend to the number of people that will be taking up high-level positions in China and those employees will be very valuable to the future developments of the Chinese economy.
HATTON: Chinese leaders recognize the value of overseas Chinese and have been doing everything they can to lure returnees back to the mainland. In 1990, the government launched a national fund that allows returnees to conduct their own research. Some provinces have set up preferential policies to help returnees start their own businesses, enroll their children in top local schools, and pay fewer taxes. In short, the life of a returnee is a comfortable one. Jinjin thinks that her Chinese friends who have chosen to stay in the US don't realize what they are giving up.
JINJIN ZHANG: All my friends, they come back for a vacation, they come to our apartment. They say "Wow, it's great. If this is the life I'm going to have in China, I definitely want to move back!"
HATTON: Nonetheless, Emre Demokan still envisions a place for traditional expats in foreign companies in China. He says that they are more likely to enforce the wishes of the company headquarters than a returnee.
DEMOKAN: A returnee may not follow the company's guidelines as closely as an expatriate would because simply they may think, "This does not work in China. This is China and things work differently here." When you start using that type of attitude, then any objection can be answered with a "This is China. We do things differently here." So, really an expatriate can be very valuable in, you know, in solidifying the systems used, especially early on when a company is set up here.
[The sound of a busy cafeteria.]
HATTON: As many office workers eat lunch in this busy cafeteria in central Beijing, it's easy to see that China is home to many highly educated professionals. Although it's unlikely that traditional expats will completely disappear from the Chinese workforce, it is becoming more and more likely that returnees will be the ones at the forefront of China's economic revolution. As Haipeng Zhang sees it, his Chinese friends who choose to live a comfortable life in US will someday realize what they're missing.
HAIPENG: Some of my friends who are in the States, who have, you know, who bought a house, you know, who have a basement, they have a ping-pong table in their basement. After, maybe after 20 years, 30 years, when they think back, they may feel regret.
HATTON: For Common Ground, I'm Celia Hatton in Beijing.
---
Iran Appearances
Listen to This Segment: MP3
PORTER: In recent years, many Iranian women have been helping transform their society. As more and more women attend universities, they're earning important positions in the workplace and battling for more equal rights with men. At the same time, many Iranian women are using other tools—makeup, hair, and clothes that challenge the rules and norms of the Islamic Republic. As Roxana Saberi reports from Tehran, these women are trying to defy boundaries set for them by using their appearances.
ROXANA SABERI: Iranian women have a saying: "Kill me, but make me beautiful."
[The sound of a woman speaking Farsi.]
SABERI: Words to keep in mind if you ever try "threading," a method Iran's salons use for removing women's facial hair from its roots. Here at Padideh No Salon in northern Tehran, a beautician uses a heavy string to grasp the hairs of a customer and pull them out. Any facial hair other than eyebrows and eyelashes fall victim to Zahra's thread.
ZAHRA: [via a translator] Iranians like to pay attention to the way they look. Women like to put on makeup and do their hair. They like to look nice at parties, and they don't like to have hair on their faces. They like to be neat.
SABERI: Many Iranian women say they've always cared for their appearances. But they also say they began to care much more after Iran's Islamic Revolution in 1979. Since then, one of the most persistent battles over the control of public space has been over the way women look.
UNNAMED IRANIAN RESEARCHER: The Koran says women should wear veils around their head, covering the hair and their entire body from the sight and from the viewing of outsiders.
SABERI: This Iranian researcher of women's studies, who preferred not to be identified, says there have been many interpretations of the Koranic verses about the issue of veiling. Some say it was a commandment exclusive to prophets' wives. Others, disagree.
UNNAMED IRANIAN RESEARCHER: Some say that no, it was a permanent commandment that should be observed throughout the times and by all Muslim women. But the practice in Muslim countries shows that the second interpretation has been accepted.
SABERI: The second interpretation became the law in the Islamic Republic of Iran, which requires women to observe good "hejab" by concealing the shape of their bodies and covering their hair. But this hasn't stopped women from wanting to look good. When they're indoors, their scarves can come off in front of other women, small children, and close family members, though in practice some women do so in front of others as well. This means hair is still quite important.
[The sound of someone cutting hair.]
SABERI: Indeed, as Zahra the beautician points out, many clients are visiting Padideh No Salon to get the latest hair style.
ZAHRA: [via a translator] We color their hair—light and dark, blond, olive. Did you see that old lady? She is about 70 or 80 years old and came here to curl her hair.
SABERI: It is true that many Iranian women wear veiling not because of the law, but because they are Muslim. But it's also evident some women are trying to resist the rules of the Islamic Republic in various ways. When they're outdoors, some have mastered a gravity-defying trick by wearing their scarves as far back as possible without falling entirely off their heads. And many women say the required hejab has just made them pay more attention to their faces. Many women in Tehran wear plenty of makeup. At one cosmetics shop in Tehran, shopkeeper Roshanak says business is running strong.
ROSHANAK: [via a translator] I think that may be because women cannot attract attention in another way. Only by putting on makeup can they do so because they can only show their faces.
SABERI: Which might explain why another business in Iran is booming—facial cosmetic surgery.
[The sound of busy Tehran streets.]
SABERI: It's common to see women—and men—walking on the streets with white bandages plastered on their noses. The style seems to be either slightly upturned or if anything, always a bit smaller.
ATENA: [via a translator] Because only our faces are shown outside of our scarves, nose surgery is common today. Just a few people may get surgery done for their cheeks or lips, but nose surgery is more common. The first part of the face that people see is the nose.
SABERI: 20-year-old Atena paid about $600 to have her nose done. Some of her friends have had nose jobs as well.
ATENA: [via a translator] It has become usual or like a fashion for the young generation. It depends on the doctor. If the form of the nose improves, it gives a person self confidence. Fortunately because my doctor did a good job, I am satisfied. I think that my appearance has become better.
SABERI: This evolution of women's attention to appearances has gained pace since Reformist president Mohammad Khatami was elected in 1997. Since then, the Islamic Republic has tolerated a relaxation of the hair and dress code. While many women prefer to wear long, black chadors, others sport manteaux—or jackets or coats—that have gradually become shorter, tighter and brighter. But some of Iran's hard-line ruling clerics are trying to smother this rebellion. Morals police have stepped up their street patrols, and some shops and restaurants have been told to bar women who don't respect the dress code. In May, Iranian authorities issued an order calling for an end to the manufacture and sale of see-through headscarves and short, tight-fitting jackets.
[Sounds from a busy shopping center.]
SABERI: The call is drawing criticism from women like Elmira, shopping at a mall in western Tehran.
ELMIRA: [via a translator] It's not good . They should not do this. You know that it's summer and it is hot. Just imagine—wearing long trousers and a manteaux will do away with us!
SABERI: This resistance is adding pressure to the tug of war between President Khatami's Reformist camp and hardliners. While the president does not promote getting rid of the hejab, he believes women should not be forced to wear it, or at least not be punished if they don't. Many women waging their battle with hairstyles, makeup, and clothing, agree. They say what they want is the right to choose for themselves. For Common Ground, I'm Roxana Saberi in Tehran.
MCHUGH: This is Common Ground, radio's weekly program on world affairs.
[Musical interlude]
KRISTIN MCHUGH: I'm Kristin McHugh.
KEITH PORTER: And I'm Keith Porter. Coming up this half hour on Common Ground, world leaders discuss a new political ideology.
BRITISH PRIME MINISTER TONY BLAIR: It is our job to try and find the way of combining economic efficiency, a well functioning economy with proper fiscal monetary discipline, and, at the same time, social justice.
PORTER: Plus, the United States prepares to rejoin UNESCO. And, promoting Scotland's tourism plan.
---
Progressive Government
Listen to This Segment: MP3
MCHUGH: Heads of government from 14 countries gathered in Britain this summer to discuss policy initiatives and so-called "progressive governance." The group traveled from around the world to meet because they believe they have similar political ideologies. What began in the 1990s as a "special friendship" between Bill Clinton and Tony Blair is now recognized as the "third way" of governing. Suzanne Chislett recently attended a three-day meeting to learn more.
[Sounds from a busy conference.]
SUZANNE CHISLETT: The leaders who met in Surrey, south of London, represent a social-democratic viewpoint, known as the "third way." It's a form of governing first noted when Tony Blair and Bill Clinton began meeting in the late 1990s but it's grown into a new political ideology.
BRITISH PRIME MINISTER TONY BLAIR: It is our job to try and find the way of combining economic efficiency, a well-functioning economy with proper fiscal monetary discipline and at the same time social justice with proper systems of support and welfare that can help people through an era of massive global and technological change.
CHISLETT: Tony Blair hosted this latest summit at a five-star hotel south of London. The "third way" has caught on and 13 world leaders were invited to attend from Europe, Africa, the Americas, and New Zealand. Though Bill Clinton was merely an honorary guest this time—the US no longer represented how the Bush administration is in charge. The discussions focused on the war against terror, the global economy, and most importantly, as far as South African president Thabo Mbeki was concerned, on trade.
SOUTH AFRICAN PRESIDENT THABO MBEKI: We need their support. For instance, negotiations on the World Trade Organization which have got to do with matters about which Africa is very interested— market access for agricultural products, affordable drugs and medicines. These matters are going to be discussed in Mexico in September and all of these people are very, very key to the decisions that will come out of that. So, it becomes possible to say to them, "These are the issues we face as Africans and this is the kind of support that we need." And indeed they pledged that support. It becomes possible to follow up.
CHISLETT: With the next round of World Trade talks looming, the African nations, in particular, are keen to ensure problems in developing countries are considered. Ethiopia's Prime Minister Meles Zinawi, who also attended the talks, was keen to stress that although the world market is unlikely to change, he believes more can be done to make it work in Africa's favor.
ETHIOPIAN PRIME MINISTER MELES ZINAWI: Globalization is here to stay, that's the first part. Globalization as it is currently structured may not be conducive to Africa's development. But it can be reformed.
CHISLETT: But with New Zealand, too, using the talks to discuss trade issues—this time with the European Union—it could be argued that the conference and meetings have become little more than talking shops. A chance for leaders to meet, but not really take any action. But New Zealand Prime Minister Helen Clark insists that is not the case.
NEW ZEALAND PRIME MINISTER HELEN CLARK: This whole progressive governance network came out of initial discussions between Tony Blair and Bill Clinton. Then they widened the discussion out to include other leaders. I came on board a couple of years into that process. The group will be dynamic. Politicians come, politicians go. But what is absolutely consistent is that there are always social democrats, there are always social democratic parties in government, and one way or another there is a place for a network like this.
[Sounds from a busy conference.]
CHISLETT: Since the first meeting of political leaders who share the "third way" ideology countries from around the world have joined the progressive governance summits. Every time the leaders meet new nations are represented, bringing new ideas to the discussions. And even though Bill Clinton, very much a founder of the formal talks, is no longer a major player there are no signs that the group won't continue to expand and gather. For Common Ground, I'm Suzanne Chislett in London.
[Musical interlude]
---
UNESCO
Listen to This Segment: MP3
PORTER: Later this year, Congress is expected to pass a measure that would allow the United States to rejoin the United Nations Educational, Scientific, and Cultural Organization after a 19-year hiatus. America withdrew from UNESCO in 1984, citing financial mismanagement and a strong pro-Soviet bias. But now, President Bush wants back in—a position that's earned him praise from many in Congress but has raised eyebrows in conservative circles. Judith Smelser reports.
[The sound of Afghan children at school.]
JUDITH SMELSER: In a makeshift classroom in Afghanistan children recite their lessons. UNESCO's presence is felt here. The agency is helping to print textbooks and rebuild school libraries across the country. The agency also stepped up earlier this year when looters walked away with ancient artifacts from Iraq's National Museum. In response to an outcry from the international cultural community, UNESCO organized major conferences of archaeological experts and sent its own team to Baghdad to assess the damage. But for the past 19 years, UNESCO has been doing these kinds of projects without funding or advice from the United States. Washington pulled out of the agency at a time when the US felt it was trampling on press freedom and leaning too heavily towards the Soviet point of view, not to mention the questions of financial mismanagement that were swirling at the time. But some, like Republican Congressman Jim Leach of Iowa, think there may have been another reason as well.
US REPRESENTATIVE JIM LEACH, REPUBLICAN, IOWA: There was an ideological slant in government in the 1980s which was designed to somehow embarrass the UN system and that that was the basic background. There was a looking for some symbolic organization to withdraw from and so UNESCO was chosen.
SMELSER: Congressman Leach opposed the withdrawal at the time, and he's been working to get the US back into UNESCO ever since. Last September, in a speech to the United Nations General Assembly, President George Bush finally took that step.
PRESIDENT GEORGE W. BUSH: [speaking to the UN General Assembly] As a symbol of our commitment to human dignity, the United States will return to UNESCO. [Applause] This organization has been reformed and America will participate fully in its mission to advance human rights and tolerance and learning.
SMELSER: The announcement got very little attention at the time, since the rest of the President's speech focused on the rising tensions with Iraq. But some conservative organizations did take note and started to voice their concerns. Austin Ruse is the President of the Catholic Family and Human Rights Institute. While his organization doesn't have a major problem with UNESCO, he is concerned about the agency's partnerships with other UN bodies that he finds more objectionable.
AUSTIN RUSE: There is a great move over the last several years at the United Nations that UN agencies and parts of the UN family work together. Therefore, UNESCO has been supportive of certain things, like the promotion of abortion, like the promotion of homosexual rights, though I do not believe that it is their primary work.
SMELSER: Social conservatives don't like the fact that some UN agencies include abortion as an option in their family planning initiatives. And some groups on the far right want the US out of the United Nations altogether. But Congressman Leach argues that America will be better able to influence world opinion if it comes to the table than if it stays outside the room. He says it's especially important for the US to have a voice now, when America's popularity is at a low point.
REPRESENTATIVE LEACH: When one is being criticized, a great question should be asked, are you better off hiding out from international institutions or attempting to lead them? And my view is, leadership is a far better way to exert one's will than simply ducking. And the duck-and-run diplomacy pattern to me was highly irrational.
SMELSER: So Leach is pleased with the Bush Administration's move back into UNESCO. But the decision may have some Bush watchers scratching their heads. The Republican president does not have a record of favoring multilateralism. On the contrary, he has aroused international anger by pulling out of the Kyoto treaty on global warming, refusing to recognize the new International Criminal Court, and, most recently, invading Iraq without UN approval. But in fact, the UNESCO move may have been an attempt to ease some of that anger. Austin Ruse with the Catholic Family Human Rights Institute.
RUSE: I think it's important that the United States appear to be multilateral; it certainly is multilateral; this is a way to show the world that it's multilateral.
SMELSER: The Bush administration may also see the UN's cultural and educational arm as a potential tool to help spread American values, or at least to stem the spread of anti-American sentiment in schools and other grass roots institutions around the world. Jim Leach agrees.
REPRESENTATIVE LEACH: There are a lot of issues in international education and culture and others want a slant against America. And I think America's gotta stand up for our culture and our values and also for our way of influencing the world. And if you leave the principal international cultural and educational institution, you leave a great part of world diplomacy to others.
SMELSER: Congress is expected to complete the process of reentering UNESCO in the fall, by approving the necessary $71 million in the new budget. For Common Ground, I'm Judith Smelser in Washington.
MCHUGH: Coming up next, the Scottish tourism industry.
[Musical interlude]
---
DNA Anniversary
Listen to This Segment: MP3
MCHUGH: Deoxyribonucleic Acid—DNA. It's the secret of life. And its discovery 50 years ago revolutionized modern medicine. It all began in a bar in Cambridge, England, when two scientists, Englishman Francis Crick and American James Watson, worked out the now familiar double helix structure of DNA. Half a century later, what does the future hold for the science? Alastair Wanklyn reports, from Cambridge.
ALASTAIR WANKLYN: [Interviewing a genetic scientist] What are we looking at?
PROFESSOR MICHAEL AKAM: So this is the Eagle, this is the pub that it is said that Watson and Crick would come to chat about their results, to discuss. I have to say it's the pub where we come whenever we'd had something to celebrate. We still come in here and sit in the same pub.
WANKLYN: This is Professor Michael Akam, of Cambridge University. Akam, a geneticist, continues the work that James Watson and Francis Crick first brainstormed in this bar 50 years ago. Watson and Crick determined that DNA—the code for an individual's traits—has a spiral shape, a double helix that makes it easy to copy.
AKAM: Knowing that information allowed us to begin to dissect this wonderful mysterious process of an egg turning into a complex organism, an animal. And in the last 20 or 30 years—I guess this enterprise really took off for animals in the late 1970s when it became possible to isolate and sequence individual genes from complex organisms. From that time on we have begun to take apart the mystery of building embryos and instead to get to the point where we might build animals in a computer, actually write a program that would allow an organism to develop.
WANKLYN: If biologists can reduce a living creature to a mathematical explanation, whether critics like it or not there may be further shocks ahead. James Watson is still working in science. He recalled his study of DNA when he visited Cambridge for the 50th anniversary of the double helix. He believes before long it may be common for people to look at their own DNA for beneficial or even less beneficial traits.
JAMES WATSON: What'll interest most people will be studying human variability. That is, there is all this variability, some of it is in so-called junk sequences it doesn't affect our lives, but much of it really is responsible for why we all look different in this room and our predispositions to disease, to violence, to a sense of humor.
WANKLYN: Biologist Sidney Brenner of the Salk Institute for disease research in San Diego agrees with that prediction. He predicts that art and science will converge, when people realize that mankind is not unique.
SIDNEY BRENNER: I think we'll see the birth of the human sciences and I think that people will go to university and will be able to have an integrated education in the human sciences—biology, sociology—just all the aspects of man, history, archaeology. It's all linked together now, I think, through our knowledge of the biology of man.
WANKLYN: Science, art, and religion may be linked in the minds of some of our greatest living biologists, but that doesn't make it morally right according to critics of research into the human blueprint. From contraception to cloning there are vocal opponents around the world. In a previous age there was the same skepticism for astronomers who claimed there may be other worlds beyond ours. Back at Cambridge University, Michael Akam says the weight of debate is now shifted onto biologists.
PROFESSOR AKAM: I think this understanding of living organisms as complex chemical machines, this is a continuation of a debate between society and science that has been going on for a very long time. There's another issue which is the issue of power and the ability to manipulate. And I think this is really an area where, which biologists have not been very concerned with previously. It's been something that the physicists and chemists have had to deal with. But it's really only been with the advent of tools of genetic manipulation that the biologists have begun to recreate the world around them in the same way that the hard physical sciences have been doing for many years.
WANKLYN: The genetic revolution didn't start 50 years ago—it's been underway since long before Charles Darwin said weak genes lose out in the struggle of life. But 50 years ago in Cambridge when the shape of DNA was identified, it seems the revolution got a boost and with cloning now a reality the revolution may be all but complete. Alastair Wanklyn for Common Ground in Cambridge, United Kingdom.
PORTER: Coming up next on Common Ground, the US relationship with UNESCO. You're listening to Common Ground, radio's weekly program on world affairs.
[Musical interlude]
---
Scotland Trade
Listen to This Segment: MP3
MCHUGH: Haggis, golf, whiskey, and kilts—these are just some of the images for which Scotland is famous. Scottish Minister of Tourism, Culture, and Sport Frank McAveety is on a tricky mission to challenge some of the stereotypes and woo American visitors to Scotland. Nina-Maria Potts recently caught up with the Scottish minister—dressed in his kilt—in Washington, DC.
NINA-MARIE POTTS: What are the challenges in promoting Scotland to different markets across the globe?
SCOTTISH MINISTER OF TOURISM, CULTURE AND SPORT, FRANK MCAVEETY: I think what we have to offer in Scotland is a very unique contribution in terms of culture, history, and traditions, and we've got a kind of iconic brand in terms of both the tartan and the natural history of Scotland. And I think those are things we can promote internationally. Obviously in the likes of America and North America, because of the Diaspora Scots over the last couple of centuries, we have a ready-made opportunity to make the links between many of the people living in North America and their ancestors back in Scotland.
POTTS: It seems to me that there's a practical problem in terms of selling any country. One would want to focus on the kind of modern images, but really it's the old images that sell. How do you overcome that practical problem?
MCAVEETY: I think you can do both. I would say that that kind of iconic imagery is the entry point for Scotland, and what we have to demonstrate is how we build on that history, heritage, and culture, to demonstrate that that is still quite living and vibrant in a contemporary way, and also to demonstrate that we are a much more, kind of open and inclusive type of Scotland.
POTTS: We've seen over the last few years a really vibrant Scottish film industry. There seems to be a tradition of 'grungier' films, from Trainspotting to Sweet Sixteen, and yet most people know Scotland through, say, films like Braveheart. How does Scotland feel about that?
MCAVEETY: I think again, there's a variety of film makers. Obviously it's not a surprise that gritty social realism would be a feature of some Scottish film makers. But equally Local Hero, that was made in the early '80s, with Bill Forsythe, was a kind of more lyrical invocation of Scotland, an evocation of Scotland. And it's really, it's getting that balance right. I mean, think sometimes it's kind of a daft question, because nobody would say that Scorsese's portrayal of New York was the singular view of New York, and gritty realism isn't the only singular view of Scottish film.
POTTS: If you're trying to sell Scotland as a separate entity from England or Wales or Ireland, what's Scotland got that's so different?
MCAVEETY: Well, undoubtedly, a much more varied and better landscape. I think its cities are also quite compact, quite close, so you can actually experience more of the cities very, very quickly. And I think there're also a kind of unique characteristics of hospitality and friendship.
POTTS: Why do you think Ireland has had so much success in marketing itself in countries like America and Australia, when a large number of Scots also migrated to those countries?
MCAVEETY: Well, I think the Irish Diaspora and the Scottish Diaspora have been quite similar. But I think the integration of Scots much more quickly into American society, probably ensured that there was less obvious identification with Scotland than perhaps the Irish have had in recent years.
POTTS: Do you think fundamentally you can change people's stereotypes?
MCAVEETY: I think, you know, people have a view of all nation-states based on maybe the rudimentary understanding of their history or culture. And I think what we want to do is use that entry point but then build on that to maybe perhaps reject some of the obvious stereotypes and see that these kind of iconic images have got relevance in the contemporary age. If you look at those who are making kilts, it's not just traditional kilts they're making, they've modernized the design to reflect younger people who now want to wear the kilt for many social occasions. And I think that's mixing the contemporary with the past, but creating something new.
POTTS: Going back to the question of the Diaspora. I know in the Greek context for example, because the Greeks also have a large Diaspora, if you have any Greek blood at all, you're Greek. In the Scottish context, do you consider second and third generation migrants to be Scottish? What is a Scot?
MCAVEETY: Well it's interesting that there's a link with Appalachia. The amount of individuals from Appalachia who trace their roots back proudly to either the Scots or the Irish, and their very, very strong sense that they see themselves as having an affinity with Scotland. And in fact I think in Carolina, South Carolina there's the strongest identification in terms of identity from Americans living in Carolina, is with their Scottish ancestry. That's a very important element, and that's why again, we have showcased over here the genealogy—to identify the roots of individuals so they can see the links that they've had. Because the reality is there's been probably over ten million Scots have immigrated to America and Canada in the last 200 years. That's a hell of a lot of people with second and third generation families. We need to try and touch into that, and demonstrate that those links that they have, in terms of genealogy, could also be celebrated by also coming over and experiencing Scotland for real.
MCHUGH: Frank McAveety is the Scottish Minister for Tourism, Culture and Sport. He spoke with Nina Maria Potts in Washington DC.
Our theme music was created by B.J. Leiderman. Common Ground was produced and funded by the Stanley Foundation.
Copyright © Stanley Center for Peace and Security