Mass Violence and Atrocities
Hundreds of journalists and peacebuilders gather at The Times Center for day-long media symposium
Programs
At War Stories, Peace Stories: Peace, Conflict, and The Media symposium, discussions focused on how the media can better balance conflict and crisis reporting with stories of peace and resilience.
What's the right way to cover conflict in today's changing global media environment? How does the focus of reporting frame the way the public and policymakers think about violent conflict and possible responses?  Can telling a wider range of stories build more pathways to peace?
These were some of the questions explored over a full day of discussions and storytelling at the international media symposium War Stories Peace Stories: Peace, Conflict, and the Media held on April 11, 2018, at The Times Center in New York City. The Stanley Center, formerly the Stanley Foundation, collaborated with Spectrum Media to conceptualize and co-organize the event, along with a variety of media, peacebuilding, and other partner organizations, including the Pulitzer Center for Crisis Reporting, Peace Direct, and Humanity United.
.@devonterrill: #WSPStories is one way we can empower journalists, editors, and other storytellers to embrace their influential role in shaping perceptions, and to open the door to possible alternatives to violent #conflict. @WarStoriesPeace pic.twitter.com/gwPnOXhrgZ

— Stanley Foundation (@StanleyFound) April 11, 2018
It is generally agreed that the media plays a role in shaping and reinforcing perceptions of violent conflict, just as it also influences how the public and policymakers imagine ways to prevent, respond and recover from it.  But as journalists and media outlets document details of an unfolding crisis and focus attention on immediate impacts and risks, what stories outside the epicenter of conflict are left untold?
War Stories Peace Stories featured many views on that central question, gathering an audience of more than 350 people –award-winning journalists, early-career reporters, editors, photojournalists, multimedia storytellers, leaders of nonprofit news organizations, and journalism students, along with peacebuilders, peace and security funders, researchers, and policy and peace advocate — to share reflections on the state of conflict reporting today and how reporting approaches might adapt to challenges and opportunities in today's media landscape.
Speakers and symposium participants from more than a dozen countries grappled with what it means to capture the full picture of crisis and response – including nonmilitary responses, peaceful resistance, examples of resilience, innovative policies, and de-escalatory cooperation at the local level and across governments and civil society—and how to weave solutions journalism into the more dominant crisis-focused media narrative.
Excellent case made by @HebaJournalist about value of local journalists. She also challenged assumption that "bang bang" stories are only ones that sell, noting that pieces that challenge stereotypes can be popular. Room for more sophistication of narratives. #WSPStories pic.twitter.com/oXVByWBHF6

— Jacqueline O'Neill (@jacqui_oneill) April 11, 2018
"Peacebuilders show a path to peace where everybody else sees rubble," says Melanie Greenberg. Can journalists apply this lens too? #WSPStories @AfPeacebuilding pic.twitter.com/1WmmZUW26d

— Marie O'Reilly (@Marie_O_R) April 11, 2018
What went on throughout the day?
The symposium included three moderated panels examining how journalism and the media interacts with the work of peacebuilding, the role of women and local voices, challenges and opportunities in newsgathering and consumption trends, and issues of safety for conflict reporters—especially for a growing number of freelancers.
When women are included in the discussion on peacebuilding, they broaden the scope of what is discussed. Let's use the evidence to show women's efforts to resolve conflict are successful, and that their stories are read. #WSPStories #peacebuilding #AllFemalePanel pic.twitter.com/PznD7Wl9tr

— Peace Direct (@peacedirect) April 11, 2018
Woven into the program were other storytelling elements, including a conversation with Alexis Okeowo, a staff writer at The New Yorker, who talked about her experiences capturing the stories in her debut book, "A Moonless, Starless Sky: Ordinary Women and Men Fighting Extremism In Africa," which won a 2018 PEN America Literary Award. In addition, there were three, five-minute interstitials featuring peacebuilders from Sudan, the Central African Republic, and Pakistan who shared first-person stories of turning their own experiences with conflict and violence into action to foster peace. There was also a live pitching session from the three winners of the Pulitzer Center's Pitching for Peace competition with a panel of judges from Vox, Buzzfeed, The Intercept, and Aware Girls weighing in with questions and feedback.
It's a journalist's job to do the least harm when reporting on stories. Part of mitigating that is being open & in close consultation with your subjects, says @alexis_ok. #WSPStories #peacereporting pic.twitter.com/XpD01Mxhjg

— Search4CommonGround (@SFCG_) April 11, 2018
Rounding out the symposium was a keynote from journalist Sebastian Junger, an internationally-acclaimed war correspondent and best-selling author of Tribe and WAR and director of the Academy Award-nominated documentary Restrepo. While sharing personal reflections on his long career covering conflicts and international news stories in Kosovo, Liberia, Sierra Leone, and Afghanistan, he also underscored the sometimes detrimental allure of the 'hero' story in conflict settings and for the journalists capturing those stories on the ground.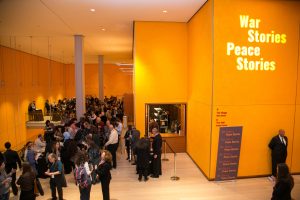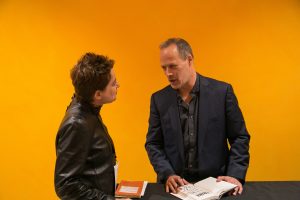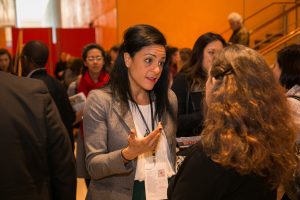 Then what?
As conflicts around the world persist and evolve, and as traditional media models continue to be disrupted, symposium participants expressed a clear desire to improve longstanding conflict reporting conventions and to consider new approaches that include a wider variety of responses, including stories of resilience, cooperation, and peace.
New nonprofit news orgs are disrupting the traditional media model that only pays for narrow stories. This allows for new and deeper stories from many voices — @FullerProject @ProPublica @MarshallProj – says @ChristinaAsquit at #WSPStories pic.twitter.com/eQrp7AN8VD

— J.E. Peirce (@jenpeirce) April 11, 2018
Takeaways from @WarStoriesPeace: covering #peace means nuanced reporting; local perspectives&journalists are critical; stories focused on women key to peace&security. Journalists covering conflict-affected counties need support ($+more). Non-profit journalism a +trend #WSPStories

— Jessica Berns (@jessicabberns) April 12, 2018