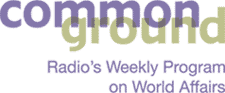 Week of May 13, 2003
Program 0319
Segments
El Salvador Food Fest | Transcript | MP3
El Salvador Dance | Transcript | MP3
Mexico's Dirty War | Transcript | MP3
Angola's Economy | Transcript | MP3
Senegal's Storytelling Songs | Transcript | MP3
International Book Fair | Transcript | MP3
This text has been professionally transcribed. However, for timely distribution, it has not been edited or proofread against the tape.
---
CLARK BOYD: Every Saturday and Sunday, Juayúa's main square literally sizzles with activity, as a group of 25 vendors put on a festival gastronomica—a food festival.
KRISTIN MCHUGH: This week on Common Ground, El Salvador weathers the global coffee crisis with celebration.
KEITH PORTER: And El Salvador honors its culture through dance.
Rafael Perdomo: It is very deep, deep feelings about yourself. It doesn't talk about war, it doesn't talk about happiness, it doesn't talk about love or many other stuff. It is just about yourself.
PORTER: Plus, victims of Mexico's so-called "Dirty War" seek justice.
CELIA PIEDRA: [via a translator] My children were very young. They were hugging the legs of their father and crying for the police not to take him. But they violently took him away. He has never come back since that day.
MCHUGH: These stories—coming up next.
PORTER: Common Ground is radio's weekly program on world affairs. I'm Keith Porter.
---
El Salvador Food Fest
Listen to This Segment: MP3
MCHUGH: And I'm Kristin McHugh. The international coffee market is facing one of the worst crises ever in its history. Global prices for the precious beans have fallen at least 50 percent in the past three years, putting the world's coffee farmers in jeopardy.
PORTER: One of the hardest hit countries is the Central American nation of El Salvador, where UNICEF estimates that at least 40,000 families have been hit by the coffee crisis. Many can no longer afford staple foods. The Salvadoran government is promising help, but many think it might be too little, too late. One community in the heart of El Salvador's coffee country is taking things into its own hands. Clark Boyd reports from the town of Juayúa.
CLARK BOYD: Roberto Larín lives in a sprawling house just off of Juayúa's main square. It's a testament to the money historically generated by coffee in this part of El Salvador.
[The sound of a gurgling, splashing fountain.]
BOYD: The 80-year-old Larin sits near a garden fountain in his courtyard. He sips some of the gourmet coffee that he grows, and says things have never been so bad for the region's coffee farmers.
ROBERTO LARÍN: [via a translator] Coffee prices are like the waves—they go up and down. But now they've gone down too far. People can't meet their costs. We've had almost 60 to 70 years of good prices, but now, we're in the lean years.
BOYD: Larín's coffee operation lies about five miles out of Juayúa. Employee Douglas Mendoza is busy checking the equipment that sorts the coffee beans.
[The sound of people talking while they sort coffee beans.]
BOYD: Mendoza's spent 20 years working in the coffee business—and so, he says, have most of the 100,000 people that make up the town of Juayúa and the surrounding region.
DOUGLAS MENDOZA: [via a translator] In this area, 95 percent of us depend on coffee. There isn't any other product on the same level. All this is coffee—this direction, that direction—everything is coffee.
BOYD: Across El Salvador, the story is the same. Coffee prices have plummeted, and the small communities dependent on the beans are now facing economic ruin. Aid workers here say some families may even be facing starvation. Many are waiting on the government for help, but not in Juayúa. Here, they've decided to take matters into their own hands by putting lots of food on the table.
[The sound of sizzling meat, and the sound of a food festival.]
BOYD: Every Saturday and Sunday, Juayúa's main square literally sizzles with activity, as a group of 25 vendors put on a festival gastronomica—a food festival. Salvadoran specialties mix with T-bone steaks, pasta primavera—even chicken chow mein. The festival owes its existence to Juayúa native Jaime Salgado. He brought back the idea after a four year stint in Australia. While there, he noticed that little Australian towns were boosting their economic prospects by throwing food fairs. Salgado says that he decided his Salvadoran hometown could do the same.
JAIME SALGADO: [via a translator] We did the first fair in December, 1998. It was so successful, we decided to do four more the next year. Then in 2000, we decided to make the fair permanent, to do it every weekend. And it's been growing and improving, with new vendors and new dishes.
BOYD: It wasn't long before people from all four corners of El Salvador were driving to Juayúa to check out the food and the ambiance. These days, between 1,500 and 2,000 show up every weekend. It's gotten so big that El Salvador's largest beer company sometimes officially sponsors the festival on certain weekends. Many of the food vendors used to work solely in coffee. Now the festival nets them about them about $300 to $400 every weekend—not bad in a country where many people still live on less than $2 a day. And it's not just the food vendors who are profiting.
[The sound of trolley bells.]
BOYD: Gilberto Avilez is Juayúa's latest coffee farmer turned entrepreneur. So many visitors were coming to town, that he decided to use an idea he'd gotten on a visit to Mexico. He bought a miniature trolley, and now gives tours through the streets of Juayúa. Avilez admits that not everyone in town has made the leap so easily.
GILBERTO AVILEZ: [via a translator] There are a lot of people who don't agree with the festival. It's been a big change, because they've left coffee and now we're investing and working in tourism, so it's been a pretty abrupt change. People were always saying, "coffee, coffee, coffee." So now with the tourism maybe it's been a question of raising their consciousness and waking them up.
BOYD: Juayúa's local government is investing in tourism as well. City Hall assists the food vendors by providing equipment, cleaning services, and—a true rarity in El Salvador—public restrooms. Raul Magaña is Juayua's mayor. He says that the town can't become complacent with the festival, like it did with coffee.
RAUL MAGAÑA: [via a translator] Specifically, we need to develop a market potential here, to offer the tourist more goods and services. We need artisans, people to grow ornamental plants, fruits, vegetables—everything that will make the tourist happier, and our town stronger.
BOYD: But that development doesn't come overnight here in El Salvador, where bad roads, a lack of accommodations and rampant crime deter many from venturing out of their homes. Juayúa, for example, currently only has two small tourist hostels, not nearly enough to accommodate all those wanting to stay the night. Still, Juayúa appears to be on the right path, says Katie Kelel, who serves as a US Peace Corps volunteer in the mayor's office here.
KATIE KELEL: I do think the fair presents a good model, and it's a new approach that people need to understand. It's organized, it's hygienic, and there are rules. The members of the association who organize the fair have to follow certain standards, and I think that's what gets people coming back. They're happy and they're always satisfied. It takes a bit to get there, but it's paid off.
[Sounds from the festival.]
BOYD: Since the festival began, city officials from throughout El Salvador have visited, to see how they might adopt Juayua's model to their towns. And there's international interest as well. Coffee growers from Guatemala recently stopped by to check things out. Local tourist officials say that visitors from as far away as Israel and Japan have found their way up to Juayúa just to sample the local fare.
[The sounds of cooking food at the festival.]
BOYD: After a tasty beer-marinated pork chop, visitors can buy a souvenir to take home. Locals have taken to carving wooden toys to sell. They're made from the coffee trees that are worth more chopped down. For Common Ground, this is Clark Boyd in Juayúa, El Salvador.
[The sounds of cooking food at the festival.]
---
El Salvador Dance
Listen to This Segment: MP3
MCHUGH: As El Salvador continues to recover from its brutal civil war, a group of dancers have come together to try to find a voice for the country's painful past and its more hopeful present. The Contemporary Dance Theatre of El Salvador, known by its Spanish initials, TDC, was founded in San Salvador in 1994 and it expanded to Washington, DC, later that same year. Judith Smelser originally profiled this unique organization last October.
[The sound of a director talking to the show's dancers.]
JUDITH SMELSER: In a small Washington, DC studio, six young dancers are hard at work preparing for the first performance of their season. These artists, many of them just teenagers, have the weighty task of representing El Salvador's culture and history to American audiences. Nineteen-year-old Alvaro Maldonado has been a member of the TDC since 2000. He moved to Washington last year.
Alvaro Maldonado: I think it's a good way to show a newer face from El Salvador. Because usually people just think about stuff like war and ugly things or you know, delinquents and politic things. So it's a good way to express ourselves and to bring a renewed face about El Salvador—not just bad things, you know, good things.
SMELSER: Many people assume that TDC performs only traditional and indigenous dances, but that's where the Contemporary part of the group's title comes in. Under the direction of Miya Hisaka Silva, who studied with the likes of Alvin Ailey and Martha Graham, the company uses the latest modern dance techniques.
[In the background the song Solo For A Heart is playing.]
SMELSER: Take for example, this piece, performed by one of three Americans in the company, Lia Kalinosky. It was choreographed by Rafael Perdomo, who at 26 is not only a dancer but a choreographer and teacher for the troupe. He's from El Salvador, but he says this dance is about universal themes.
Rafael Perdomo: It is very deep, deep feelings about yourself. It doesn't talk about war, it doesn't talk about happiness, it doesn't talk about love or many other stuff. It is just about yourself. OK, what do you feel when you're alone in your room? What are you thinking? It is about loneliness, it is about a little bit of love, a little bit of passion, a little bit of thinking, a little bit of, you know when you hurt somebody, when somebody hurts you, and many other stuff.
UNNAMED DANCER: [speaking to an audience] Then and only then, I realized that in this world, there are those who are crazy, those who are sick, and those who pretend not to be.
SMELSER: Rafael says this is the point when the character comes out of her reverie and realizes there are other people in the world. And while he doesn't say the piece is a commentary on El Salvador, it's hard to believe his background growing up during the war didn't influence the character's dark words.
Perdomo: We did suffer a lot. Because, you know, the houses in El Salvador, is like a whole, whole, whole file of houses. It's just a line of houses. So the guerrilla people start to come from the very first house, going through the walls, and walls and walls of the houses. To, in each house I mean, at the end, so to get to hiding from the soldiers. Our house, it wasn't affected. But you know, you heard the shot, you heard the people crying, you heard the people screaming, Go for them! and bla-bla-bla-bla [imitating the sound of gunfire]. So, it was a very weird feeling.
[The sound of a Sting song from the show, Esperanza.]
SMELSER: Those painful events are explored more fully in a 20-minute piece called And Now for Hope. Performed to music by Sting, the dance is dedicated to the tens of thousands of victims of El Salvador's civil war. The piece revolves around a couple portrayed by Rafael and 18-year-old Casey Lynn, another American member of TDC.
[The sound of a Sting song from the show, Esperanza.]
Casey Lynn: It's a very complex story, especially for the lead female dancer because she goes through so much. You know, it starts out, you know, as couples or people just in El Salvador. And then there's a second section which is a duet that the lead female and the lead male do. And they are, you know, husband and wife, and it's very emotionally, you know, disturbing because the girl is seeing her husband for the very last time before he goes off to war and, you know, it's very possible that he may die and that she may never see him again. Then in the third section there's a war scene where, you know, everybody's scared and he actually—I see him get shot. And then afterwards, you know, I see visions of him being tortured and, you know, all that, all that just incredible, you know, the torture of war. By the end, you know, the war is over. As it starts out, you know, it's just kind of telling individual stories, and then by the end, you know, the war is over and of course, you know, life goes on, life picks up.
SMELSER: Casey is thrilled to be a part of TDC, but she admits it's not easy for her to portray events that are so far from her own reality.
Lynn: My interpretations, I think, are very different from the other three, you know, who are from the country. Because they've been through that, they experienced that, they were there during the war, and they've been there. I've never been there. So it's kind of, it's a different interpretation. It's kind of—someone said once it was kind of like I was acting. And so it's kind of, I don't know, it's hard to say because I've never been through those things, but it's fun to try and interpret them and see how it comes out.
[The sound of a Sting song from the show, Esperanza.]
SMELSER: But watching Casey and Rafael dance, the emotions they portray seem completely genuine, and the dance is gripping even without the lights, costumes, and theatrical atmosphere their audience will experience the following night. Like all professional artists and athletes, the dancers of the TDC make it seem easy. But in reality, it's hard work.
[Sound of the show director working with the dancers.]
SMELSER: Every detail matters, and that will be even more the case next month, when the company heads to El Salvador to join the ten TDC dancers there to perform in the Central American Olympics. For dancers like Rafael and Alvero, it will be a homecoming. For those like Casey, it will be a first-time visit. But for all of them, it will be an emotional experience, as these young artists do what they can to help a struggling country overcome its past.
[The sound of a Sting song from the show, Esperanza.]
SMELSER: For Common Ground, I'm Judith Smelser in Washington.
MCHUGH: The fallout from Mexico's "Dirty War"—next on Common Ground.
[Musical interlude]
---
Mexico's Dirty War
Listen to This Segment: MP3
PORTER: One of the unresolved issues facing Mexico has to do with the so-called "Dirty War" of the 1970s. That was when the Mexican government, attempting to crush a growing guerrilla movement and political opposition, apparently got rid of hundreds of suspected opponents. Mexican President Vicente Fox has promised justice and appointed a special prosecutor to examine these cases known as the disappeared. But in the third year of his presidency, relatives and human rights activists question whether justice will see the light of day. Kent Paterson reports.
[The sound of a funeral in Mexico.]
KENT PATERSON: Led by a young woman, a crowd moves through the streets of Atoyac de Alvarez in the southern Mexican state of Guerrero. Chanting political slogans, the procession escorts an urn containing the bones of Lucio Cabanas. A guerrilla leader from the 1970's, Cabanas was slain 29 years ago by Mexican soldiers, who buried him in an unmarked grave. Modern DNA testing allowed the rebel leader's body to be identified, and for the first time, family members and supporters are giving him an official burial. Almost 30 years after his death, many consider Cabanas a hero, just like Emiliano Zapata and Pancho Villa.
[The sound of Hilda Flores speaking in Spanish.]
PATERSON: Professor Hilda Flores once worked with Lucio Cabanas. As school teachers, Cabanas and Flores organized students, parents, and farmers in a variety of causes ranging from educational access to logging abuses. Flores says she was the first person to hide Cabanas after he fled a 1967 massacre of protesters in Atoyac de Alvarez by state police. With a sliver of sorrow, Flores recalls those turbulent years.
HILDA FLORES: [via a translator] To me, Lucio's struggle was open and plural. He had these ideals that there had to be a total change in the government, in the whole country. He already had these plans in mind, and he was looking for the right political conditions to get to that point.
[The sound of a protest at Cabanas's funeral.]
PATERSON: Retreating to the mountains, Cabanas organized the Poor Peoples Party and began attacking Mexican government troops. For the next seven years, a guerrilla war simmered in the mountains of Guerrero. Meanwhile, in other parts of Mexico, similar groups organized and began battling the Mexican government in the cities and countryside. Following classic counterinsurgency strategies employed throughout Latin America, the Mexican army razed some villages, limited the movement of citizens and supplies, and detained hundreds of suspects, whether they were guerrillas or not. Many never returned to their families.
[The sound of Celia Piedra speaking in Spanish.]
PATERSON: Celia Piedra is the wife of Jacobo Najera, a school teacher from the town of San Jeronimo, who was picked up by federal police on September 2, 1974.
CELIA PIEDRA: [via a translator] When I arrived to the house, the police had just entered. They wanted to hit my husband. My children were very young. They were hugging the legs of their father and crying for the police not to take him. But they violently took him away. He's never come back since that day. Later on, when the prosecutor in Mexico City pulled out his reports on the disappeared, a report appeared that claimed Jacobo had died together with Lucio Cabanas in El Ototal. But my husband was never there. They took him from inside our home.
[The sound of vehicle traffic in a busy central plaza.]
PATERSON: Traffic moves by the town plaza of Acapulco. Normally, the zocalo here is decorated with balloons and frequented by clowns who make children laugh and giggle. But on this day, stark black and white portraits of young men and women stare down from the kiosk at passersby. Sporting the long-haired look of the seventies, they are the teenage and twenty-something faces of youths who rose up against their government and then paid a high price. Carlos Benavidez Alcocer, Teresa Torres, Alicia de Los Rios Merino, Jesus Piedra—just a few of as many as 700 people who never came back from that era.
[The sound of Dona Rosario speaking.]
PATERSON: Dona Rosario Ibarra is the founder of Comite Eureka and considered Mexico's moral voice for the mothers of the disappeared. Dona Rosario and other members of Comite Eureka tour Mexico regularly pressing the cases of their missing relatives. A former federal deputy and presidential candidate, Dona Rosario is the mother of a guerrilla militant who was picked up by police in 1975 in the northern state of Nuevo Leon and then allegedly taken to an army base in Mexico City. Like numerous others, Jesus Piedra vanished into history.
DONA ROSARIO: [via a translator] There are even soldiers within the ranks of the disappeared. We have Lt. Miguel Orlando Munoz Guzman who is disappeared. We have police, policemen from Sinaloa who are missing. We defend them, we defend everyone. It doesn't matter to us if they are from the police or the army. We say this crime has to stop. We want to do away with this terrible crime of forced disappeared, and torture too.
PATERSON: Promising to clear up the cases of the disappeared, President Vicente Fox appointed last year a special prosecutor. But Ibarra, who has filed charges for years against government officials for the disappearance of her son, discounts this move. She cites contradictory political decisions, and the cases of two Mexican generals charged with drug trafficking and the murder of more than 140 suspects during the dirty war.
[The sound of Dona Rosario speaking.]
DONA ROSARIO: [via a translator] Fox asked the Mexican Senate to ratify the Inter-American Convention on Forced Disappearance, which it did and with a condition that no member of the military could be tried by a civilian court. This will take all the guilt away from them. Another condition attached was that no case could be brought up that happened before the ratification of the convention. If this was ratified last year, then everything before it is going to remain in impunity. So Generals Acosta Chaparro and Quiroz Hermosillo, who are in prison on drug charges, are going to be charged with killing people, a crime that has a statute of limitations. In two years, this pair of bandits from the army is going to be free. On the other hand, forced disappearance is a crime against humanity, a continuous crime that has no statute of limitations. That's why they pulled this trick of ratifying the convention.
PATERSON: Located in the Costa Grande of Guerrero state, the town of Coyuca de Benitez serves as the market center for the impoverished rural area. It was here back in 1974, that Hilda Navarette's home was invaded by Mexican troops early one morning. Soldiers ransacked the family home, destroyed property and forced the family into the town plaza. Later becoming a prominent human rights activist, Navarette lived an experience that gives credence to longstanding but still officially unacknowledged accounts of US military advisers participating in the counterinsurgency operations.
HILDA NAVARETTE: [via a translator] I remember very clearly that the person who was in charge of this operation was someone who looked like a gringo. I'd like very much to know who was responsible for disrupting our peace and quiet on that morning. This would be very important for me in finding closure to these wounds to our family from the past.
PATERSON: Today Navarette advocates airing all sides of the truth about the Dirty War, declaring a general amnesty for most of the participants and then moving on.
NAVARETTE: [via a translator] Of course, I want these incidents clarified and the responsible parties punished in accordance with the law. But I'd also like to see civil society look at paths toward peace and building different relationships in the social struggle. I'd also like to see the truth come out about what the other side did too, with the same clarity that demands accountability from the state, and find out who was responsible for the robberies, kidnappings, and ambushes against the Mexican Army. Independent of their uniform, these soldiers are human beings too; they have families and children. I think if we quit categorizing soldiers and guerrillas and see them as human beings, we could find a way that allows us not to repeat the same type of incidents.
[The sound of singing.]
PATERSON: In many ways, the dirty war never really ended. Although forced disappearances have become less common, serious conflicts still exist in the mountains of Guerrero and other states. Temporarily defeated by the Mexican army in the 1970s, the followers of Lucio Cabanas eventually regrouped into a stronger military force and began launching new attacks during the 1990s. While maintaining a de facto truce with the Fox government, at least six armed groups are known to be still active in Guerrero state alone. One of their central demands is that the fate of the disappeared from decades ago be truthfully revealed.
[The sound of Carlos Montemayor speaking.]
PATERSON: Political analyst and novelist Carlos Montemayor is the author of The War of Paradise, an acclaimed book about the Dirty War of the 1970s in Guerrero state. Montemayor is skeptical about the Fox government's current approach of probing the Dirty War through a special prosecutor and military tribunal. Instead, he favors a truth commission somewhat along the lines of the one that investigated state crimes in South Africa during the apartheid era.
CARLOS MONTEMAYOR: [via a translator] In his campaign, President Fox proposed the formation of a truth commission. These commissions have the advantage of acting quicker and with more resources and investigative capacity than does a special prosecutor. A special prosecutor can only use elements that are useful in the prosecution of legal cases, that have legal validity. A truth commission, on the other hand, has greater flexibility in handling the different evidence, because the goal is not simply to discover the guilty parties. Instead, its goal is to clear up the historical record, which is essential for all peoples. If the special prosecutor fails in his task, and if the public demands it, President Fox still has the option of approving a truth commission. If both of these fail, I believe that we will have severe social tension in this country during the coming years.
[The sound of a protest at Cabanas's funeral.]
PATERSON: So far President Fox's special prosecutor has called in numerous witnesses to testify about the dirty war, including usually untouchable figures like former President Luis Echeverria, who ruled the country at the height of the repression. Aside from the Mexican army's own charges against generals Acosta Chaparro and Quiroz Hermosillo for murdering suspected guerrillas, no other indictments have been issued. But the special prosecutor's office says charges against unnamed individuals will be announced later this spring. For Common Ground, I am Kent Paterson.
MCHUGH: This is Common Ground, radio's weekly program on world affairs.
[Musical interlude]
KEITH PORTER: I'm Keith Porter.
KRISTIN MCHUGH: And I'm Kristin McHugh. Coming up this half hour on Common Ground, Angola struggles to rebuild its economy after years of civil war.
WALTER KANSTEINER: We are working with them on how do you attract agribusiness to come back in. You start with—you gotta de-mine. Be it for the subsistence farmer or the sugar planter, you know, mines in the ground pretty much stop your business plan.
MCHUGH: Plus, Senegal's musical storytelling tradition, and selections from London's Book Fair.
ALASTAIR WANKLYN: In two vast halls in central London, 1,700 publishers are talking business. Those present range from the giants that publish the Harry Potter series, to publishers from developing nations such as Sri Lanka, trying to break into the lucrative European market.
---
Angola's Economy
Listen to This Segment: MP3
PORTER: One year after the end of Angola's long and bloody civil war, the country is doing relatively well politically. The former rebel group UNITA has transformed itself into a political party, and plans are underway for new elections. But as Catherine Drew reports, economically this has been a disappointing year for Angola.
CATHERINE DREW: One year ago, many observers would have predicted a much different path for Angola than the one that country has actually taken in its first year of peace. Those observers thought the big challenge would be in the political realm, and that economically, Angola's rich natural resources would finally begin to benefit the country's development instead of fueling its civil war. But in fact, Angola's economy is in crisis, with inflation running over 100 percent. Relations with the World Bank and International Monetary Fund have soured because those institutions believe Angola has not done enough to increase transparency and end corruption. An internal IMF report last year said $4 billion US dollars had disappeared from the state's finances over the past five years. That's added to accusations that much of the wealth from the country's multi-million dollar oil industry ends up in the pockets of government officials. But observers say Angola is committed to reform, however slow that process may seem. Dr. Whitney Schneidman, formerly of the Clinton administration, now runs a Washington-based, Africa-focused business development and advisory company.
WHITNEY SCHNEIDMAN: It's misleading to take a monolithic view of the Angolan economy and write it off as hopelessly opaque. True, as one senior development economist put it to me recently, the issue of transparency is paramount. However, I think it's equally important to acknowledge that the process of economic reform in Angola is underway.
DREW: As evidence, Schneidman points to the new economic team that Angolan President Jose Eduardo dos Santos has put in place. Late last year, the president sacked the Finance Minister and in his place appointed a former member of the IMF's Executive Board. Schneidman expects the new economic team to take steps towards increasing the transparency of the state-run oil company, Sonangol. Some nongovernmental watchdog groups have called on international oil corporations to publish exactly what they pay the Angolan government in their multi-million-dollar development contracts. The US Assistant Secretary of State for Africa, Walter Kansteiner, says that wouldn't get to the heart of the problem.
US ASSISTANT SECRETARY OF STATE FOR AFRICA WALTER KANSTEINER: Ultimately what it's trying to get at is where's this money going? How's it being spent? And that ultimately gonna go back to the government. You know? Exon Mobil's not gonna tell you where it's gonna get spent; they don't know. It will be beholden eventually for the governments to, in a more transparent way, describe how their budgetary process works.
DREW: There's no doubt that Angola's oil production—which is expected to double over the next five years—will be crucial to its economic growth. But the country's agricultural sector also has a great deal of potential. Angola once had successful coffee and sugar farming businesses, and Kansteiner says the US is helping the country redevelop its farm economy.
KANSTEINER: And in fact, we are working with them on how do you attract agribusiness to come back in. It's pretty rudimentary, I think. You start with—you gotta de-mine, you know. Be it for the subsistence farmer or the sugar planter, you know, mines in the ground pretty much stop your business plan.
DREW: Many areas of the country were heavily mined during the 27-year civil war. And de-mining is just one of the reconstruction and rehabilitation tasks now facing Angola. The country wants to convene an international donor conference where countries would pledge funds to help with that mammoth undertaking. But the United Nations Special Advisor on Africa, Ibrahim Gambari, says Angolan officials understand the value of waiting until the time is right.
UNITED NATIONS SPECIAL ADVISOR ON AFRICA, IBRAHIM GAMBARI: [speaking at a conference] The Angolans put a lot of premium on this and they want it as soon as possible but they don't want to rush. They want a donors' conference where people will actually donate [laughter], which means that all the obstacles to a successful donor conference have to be attacked. Including better relations with the IMF and the Pretoria institutions, accountability, transparency.
DREW: One problem, he says, is that many countries look at Angola's oil wealth and categorize the country as a rich nation that doesn't need international help. But Angola's Ambassador to the United States, Josefina Pitra Diakité, says the international community has a responsibility to her country because outside powers were heavily involved in the civil war itself. Angola was in part a victim of the Cold War, with the US backing the UNITA rebels against the Marxist-leaning government.
ANGOLAN AMBASSADOR JOSEFINA PITRA DIAKITÉ: Although Angola is rich—has a lot of resources—it's important that if we could have money to feed the war we should have also money from abroad, international money to rebuild the country and secure the peace.
CATHERINE DREW: But even with international assistance, Angola has a lot of housecleaning to do when it comes to economic reform. Whitney Schneidman has a laundry list of tasks the country will need to address in the coming year.
SCHNEIDMAN: The government will try to lower the inflation rate to the 60-70 percent range, down from 100 percent. And the government also hopes to lower its budget deficit from 8.5 percent to about 5-6 percent. And most importantly, the government will try to eliminate all extra-budgetary expenditures.
DREW: None of those tasks will be easy, but the government's ability to rescue Angola's economy will ultimately decide the success or failure of the country's long quest for peace and stability. For Common Ground, I'm Catherine Drew.
[Musical interlude]
---
Senegal's Storytelling Songs
Listen to This Segment: MP3
MCHUGH: Morikeba Kouyate is a seventh generation musical storyteller from Senegal who now lives in Chicago. Known as Griots the storytellers pass on a lineage of tales and history through songs. The Griots are so important to their culture, when one dies it's been compared to a library burning down. Ed Hoke has more.
[The sound of Mr. Kouyate playing the Kora begins to play in the background.]
HOKE: Kouyate is known throughout his country of Senegal and other parts of West Africa for his virtuosity with the Kora, a 22-string West African lute harp. His job as a Kora player meant that he was made available to play at many social functions, including parties, weddings, funerals, and initiation ceremonies. While being brought up in his native village he received training from his father, who in turn was one of the links to the other Griot ancestors in his family. It was during this time in his life, from the age of eight, until his coming out concert at age 14, that Mr. Kouyate learned how to honor chiefs and visiting dignitaries with his artistry. By way of performing circumstances, Morikeba Kouyate became stranded in Chicago with $45 in his pocket in 1995. Like so many other talented artists before him who found their way to the US, he was here with only a small bag of clothes and his instrument on his back. This is his story.
MORIKEBA KOUYATE: Griots means a storyteller and some people call it a working library. And then some people call it ugali(?) in our language, because Griots is a French word. So an English word, probably storyteller. What we do is not just only story tell. We have a lot of things to do beside talking the story to the people. There is a role for the entire family of the Griots; what we represent is a lot.
HOKE: Morrie's father was a Kora player, as was his grandfather, on down the ancestral line. To the Griot, and generally most people of West Africa, music and daily life are inseparable. Music is an integral part of social activities and even helps people to energize while they're working. In this sense, music serves the purpose of a kind of functional art that values and honors any activity. For Morrie Kaba, it's always there.
MORIKEBA KOUYATE: (??) in life all the time. The first day you came to visit your family, and they heard "Edward came," it's my job to take my Kora to come say hello to you, to play something for you. Oh, you will get a lot of respect from people after I leave. It's something you cannot tell them by yourself. When I tell them that, then they will believe it. So that's our job.
HOKE: The Griot makes his livelihood by singing about everything from generations-old moral tales to new pieces about village chiefs or perhaps the host of a party who's hired them.
MORIKEBA KOUYATE: The original songs, most of them not dancing song. The Kora was not that type of instrument. So all of them have their own Kora player. Always they are to play the tekerio(?). Everything you need in your life. You want a wife—they were the ones who is responsible to go find a wife for you. Anything you need. You need kids. Or your kids' clothes and yours. Everything. They are responsible for that. Your job was just to stay at their house in the compound, to play music for them and learn their story up for them when their great, great fathers come in. So you gonna pass that story to your kids.
It was in my mind, "I want to come to United States." I always thinking about going to Paris, because I have for more than 50 fans in my hometown. We all know each other, we all grown up together. They all live in Paris know. So they be talking, we be writing letters together. So finally I get to Poland, because all my best friends, they all left.
HOKE: By chance he met the daughter of a dance company director who just so happened to be looking for a Kora player for an upcoming Stateside tour. Passing an audition with flying colors, Kouyatethe Griot was shortly on his way to his first US tour.
MORIKEBA KOUYATE: After we finished working over the Chicago concert center, it was great. And then we do a Chicago public school program here for six months. After that, those people was not good people for us. This is the reason we all stay here. We cannot leave because after nine months work here in the United States, for 20 people and the people who were managing the group, they pay us $45 each.
HOKE: [now interviewing Mr. Kouyate] So the company director was paying you guys $45 each?
MORIKEBA KOUYATE: Yes. To save their money, because they pay a lot of beers, a lot of telephone things; communication, flyers, the transportation to go town to town. Bring all those beers. Finally there is no money. With the food. So we have $45 for, to the contract brought us here, that's what we make. So we cannot go nowhere. We stay involuntarily. We cannot go nowhere with the $45.
HOKE: Morikeba Kouyate had a challenging time after being stranded in a big Midwestern city with brutal winters. Trying to make ends meet he took a variety of low-paying service jobs, but communicating in English was a problem.
MORIKEBA KOUYATE: But finally I say, "Okay, since I'm here, you know, the best thing you do, you don't have no choice, to learn English." Cause that's what everybody speak. So we start learning, and listen some cassette, watching the comedians on the TVs all the time. So we become speaking to the people. Finally I say, "Okay, so I like Chicago, so I'm gonna stay here." We like it. We have some friends and then people like us. You know, bringing us some coats, some boots to wear. So finally we became a family of African people in Chicago. I feel like it's home here now. Yeah.
HOKE: The base of the Kora is made of a large calabash gourd, coming from the squash family. Think of it as a flesh-colored butternut squash the size of a fat pumpkin. The calabash after being sun dried and hollowed out has been used for centuries in West Africa to carry liquids and grains, and also for a variety of instruments, including the Kora.
HOKE: [now interviewing Mr. Key-Ah-Tay] Why don't you tell me a little bit about what we're looking at here.
MORIKEBA KOUYATE: This is an African harp. You can call the Kora an African harp. Yeah, because this is the only instrument similar to the harp in Africa. And the strings are nylon, used to be skin. Now we use nylon for the strings. And then it's a long pole called kano(?). That was a manikolonga(?). It's a very strong wood.
HOKE: To watch Morikeba Kouyate play his Kora, it's as if you've been transported to Senegal—the market close at hand, bustle of the streets, the smell of the ocean. He plays the instrument with his hard-as-steel thumbnails while holding five-inch long wooden pegs placed on either side of the bridge of the instrument. Morikeba Kouyate's expression while his thumbs pluck out a soul-touching song is one of peace and exhilaration. His eyes closed, the music comes out of his hands as an extension of his life.
[Mr. Kouyate plays and sings.]
MORIKEBA KOUYATE: Certain people love each other like a family, must love each other like a fan. We must love each other in this world. So that's what this song is about.
HOKE: Our guest today has been Kora master and Chicago resident MORIKEBA KOUYATE. For Common Ground Radio, I'm Edward Hoke.
MCHUGH: Coming up next, the trials and tribulations of Third World book publishing. You're listening to Common Ground, radio's weekly program on world affairs.
[Musical interlude]
---
International Book Fair
Listen to This Segment: MP3
PORTER: In the US we take for granted the rich range of books offered online or by the average bookstore. But the reading public in poorer nations can often only dream of such a selection. Literary rights are often tied up by US and European publishing houses, who will introduce a novel to a new audience only if it can be sure of comfortable financial returns. So how great a challenge is it for publishers in the developing world both to acquire rights to works, and to push their own products in lucrative western markets? Alastair Wanklyn spoke with some of them at the recent London Book Fair.
[The sound of a large convention.]
ALASTAIR WANKLYN: It's one of the largest annual gatherings of publishers worldwide. In two vast halls in central London, 1,700 publishers are talking business. Those present range from the giants that publish the Harry Potter series, to publishers from developing nations such as Sri Lanka, trying to break into the lucrative European market.
VIJITHA YAPA: We have a lot of titles which can actually be sold in UK but the thing is to find somebody who will take it on.
WANKLYN: This is Vijitha Yapa, president of the Sri Lankan Booksellers Association. It's the first year he's taken a stall at the London Book Fair, and has brought with him from Colombo 200 different books to try to interest trade buyers.
YAPA: It is challenging because usually from the West or even from India itself, they want to sell books to us. But they don't want to buy our books. So it's basically a one-way traffic.
WANKLYN: The Sri Lankan published books include political histories, wildlife picture books, even a glossy book on tea. But the stall that Vijitha Yapa has taken is in a far corner of the hall: it's cheaper than one center stage, and few people are stopping to look. Yapa thinks even the book on tea would sell well, if someone would pick it up.
YAPA: The printing is very good and it can be comparable to anything that can be produced in the West.
[The sound of a large convention.]
WANKLYN: There's a different complaint voiced at a stall nearby at the London Book Fair, that of the Estonian Publisher's Association. Its director, Asta Trummel, says Estonian publishers are trying to bid for rights to popular western books, such as the children's novels, to be translated into Estonian. But Trummel says the rates for rights are often too expensive.
ASTA TRUMMEL: Estonia is such a small country. We have slightly over 700,000 readers who read in Estonian, so that is a very, very small, a tiny market and it can't be compared to Germany or English-language world at all, so it is usually very hard for Estonian publishers to convince the agents or the publishers that they are not selling even 3,000 or 5,000 copies but they are selling, probably, the print run is 1,000.
WANKLYN: Like the Sri Lankans, Asta Trummel has brought some Estonian books to London to show potential buyers. She has a novel suggestion—that publishers barter, and proposes trading the rights to an Estonian author for a popular western one.
ASTA TRUMMEL: Why not? I mean, this would be a great opportunity. And there are so many very well known Estonian authors that are well published in Finland, for example, and to be published in Sweden that I can't see why not.
WANKLYN: If barter works in Estonia, what does a major world publisher think of the idea? I asked Harper Collins if it would do the swap. President, Jane Friedman, wasn't eager.
JANE FRIEDMAN: I would like to say that's realistic but I'm afraid that's a bit of a pipe dream. Money talks. We certainly understand the economics of other countries. We also understand the economics in our own country. But it is our intention to bring the words of the author to the broadest public possible. With that in mind, our rights directors will put together deals that will work both for us and for the foreign publishers.
WANKLYN: Visitors to the London Book Fair are almost all here on business. Rights deals are clinched and printing deals signed during this three-day event. The fair's visitors from Sri Lanka and Estonia may feel the big bucks are out of their reach just now. But there is one sector on show here that's surprisingly low-budget and successful. This is the sale of school and college text books in the developing world. Britain has historic links to English-speaking former colonies such as India and South Africa, so it shouldn't be a surprise that UK publishers are big suppliers of English-language textbooks. But the extent by which they dominate is surprising. Britain exports more schoolbooks than does the US each year, according to Ian Taylor, Director of the UK Publisher's Association.
TAYLOR: US publishers, I don't think, have really got behind English-language teaching at all. I'm rather glad they haven't. UK publishers, they visit a fantastic number of countries. I mean they visit markets like Trinidad, which is really a market, and they really work hard at selling a little in a large number of places. Now with educational books, particularly if you get established in a market it can be quite profitable. It's not—I mean, many people I think would, if you looked at it independently, would judge there must be easier ways to make a living.
WANKLYN: And since more and more colleges worldwide are adopting a British or American higher education curriculum, it's British publishers who may continue to reap the benefits. British publishers apparently have no qualms about printing their products in American English, if that's what the target country wants. Alastair Wanklyn for Common Ground in London.
Our theme music was created by B.J. Leiderman. Common Ground was produced and funded by the Stanley Foundation.
Copyright © Stanley Center for Peace and Security