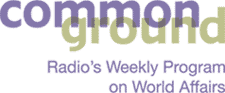 Week of March 16, 2004
Program 0411
Segments
Ailing Chinatown | Transcript | MP3
Chinese Herbal Remedies | Transcript | MP3
UN Reform Series: Nafis Sadik | Transcript | MP3
Sudan Peace | Transcript | MP3
UK Health Reform | Transcript | MP3
Global Citizen: James Wolfensohn< | Transcript | MP3
Battle of the Books | Transcript | MP3
This text has been professionally transcribed. However, for timely distribution, it has not been edited or proofread against the tape.
---
STEVEN TIN: We've been promoting all this kind of cultural stuff in Chinatown to help people more aware of Chinatown and for the tourists and for the community people from outside Chinatown to come down into Chinatown.
KEITH PORTER: This week on Common Ground, breathing new life into New York's Chinatown.
KRISTIN MCHUGH: Plus, the popularity of Chinese herbal medicine.
KATHERINE CHOW: Even you have a very serious illness after operation, you need this ginseng to recover it.
MCHUGH: And, Sudan's long road to peace.
GERARD GALLUCI: Change could therefore take the form of a gradual evolution towards a democratic Sudan. This makes the peace process in and of itself a positive development. A more essential, perhaps fundamental benefit from the peace process is that the peace agreement will allow an end to the war.
PORTER: These stories—coming up next.
---
Ailing Chinatown
Listen to This Segment: MP3
MCHUGH: Common Ground is radio's weekly program on world affairs. I'm Kristin McHugh.
PORTER: And I'm Keith Porter. A large-scale effort is underway to bring back much needed tourism to New York's Chinatown. The district in Lower Manhattan was heavily impacted by the events of September 11, 2001 because of its proximity to the World Trade Center. Now, struggling to get the local economy back on its feet, business and city leaders are stepping up the battle to bring one of America's oldest Asian communities back to life. Steve Mort files this report from Mott Street—the commercial heart of New York's Chinatown.
[Sounds from a Chinatown fish shop]
STEVE MORT: Store owners in New York's Chinatown—part of the rich yet checkered history of this Lower Manhattan community. Now years after the September 11th terrorist attack against the World Trade Center this area is still suffering, even though, the economy back in China is booming. Traders say there is little sign of an improvement with tourists staying away and bus routes that used to bring New Yorkers to Chinatown, diverted away.
PAUL LEE: I'm only one of four businesses that has closed on this end of Mott Street. And that's telling you we were able to stay open for two years, two-and-a-half years. But now we're, you know, they just can't hang on. And I couldn't hang on.
MORT: Paul Lee used to run the Mott Street General Store. Open for more than a hundred years, it acted as a mail drop for immigrants in the early 20th century and has been a tourist attraction for generations. But all that is no more. Mr. Lee says not enough is being done to address the community's economic woes since it was effectively shut down following 9/11.
LEE: I'm talking about the city government. I don't know why they've turned their back on Chinatown. But like little grants and that kind of stuff is not enough. We need the streets open. We have some very simple requests. You know, it's all in the name of security but when the cure is more toxic than the disease it's a definite problem.
MORT: In response to growing calls from business leaders like Paul Lee, officials here say they're taking action. The Lower Manhattan Development Corporation recently announced what it brands a large scale tourism and marketing campaign for Chinatown. Financed by the September 11th Fund, the LMDC says it will form a special Chinatown Tourism Committee.
STEVEN TIN: We've been promoting all this kind of cultural stuff in Chinatown to help people more aware of Chinatown and for the tourists and for the community people from outside Chinatown to come down into Chinatown.
MORT: Steven Tin is one of Chinatown's highest profile leaders, running business and community organizations, including the Better Chinatown Association. He says steps are being taken to stimulate the area.
TIN: Basically, Wall Street and Lower Manhattan have been picking up a lot of government help and corporation help. So Chinatown is slowly, slowly get back on its feet. But, you know, it could be better, but right now there is a lot of effort in the community to promote Chinatown better with the mainstream city governments and city agencies. So, and the kids, the younger youth have been coming back, slowly.
[The sound of young Chinese Americans dancing the lion dance]
MORT: An example of young Chinese Americans becoming involved once again in the cultural life of New York's Chinatown can be found at the Hung Sing Choy Lee Fut Kung Fu Club on the Lower East side. Here, young people gather to practice the ancient Chinese tradition of lion dancing.
RICKY WAI KITCHENG: We usually practice every Saturday and if there's more work needed to be finished, accomplished we usually come every other day of the week.
MORT: Ricky Wai Kitcheng is part of a group of lion dancers who put their skills on show at events all over the city, including Chinatown's New Years celebrations every January. He says it's all about promoting Chinatown.
RICKY WAI KITCHENG: People see what we do in the streets and they're attracted by what we do. And you know, pretty much it's just advertising just like that.
MORT: But finding new recruits is hard, especially ones cut out for lion dancing in the first place.
RICKY WAI KITCHENG: Stamina and endurance is really important, especially when the lion head is about 30 pounds, including the tail is like 20, so you're lugging around about 50 pounds of equipment and you're jumping around.
[The sound of young Chinese Americans dancing the lion dance]
MORT: But these young men are helping preserve and enrich Chinese traditions in this area which has seen many of its original residents relocate to the suburbs As New York ramps up efforts to help Chinatown regain its former glory, all agree the best way to help guarantee the future is by respecting the past. For Common Ground, I'm Steve Mort in Chinatown, New York.
---
Chinese Herbal Remedies
Listen to This Segment: MP3
MCHUGH: When faced with difficult to solve medical problems, increasing numbers of Americans are experimenting with Chinese traditional medicine such as acupuncture and herbal remedies. But are they really effective? Correspondent Reese Erlich has a nagging cough, which western medicine can't cure. He decided to visit some herbal medicine doctors in Singapore to see if they could help. The results of his odyssey might surprise you.
[The sound of Mr. Erlich speaking with the shop keeper and buying medicine at a Chinese herbal store]
KATHERINE CHOW: My name is Katherine Chow. On Tai Ginseng Medical Hall, Traditional Medical Hall, is located in Chinatown of Singapore.
REESE ERLICH: Chow demonstrates both a healthy knowledge of Chinese herbs and good salesmanship. She welcomes me with a glass of hot tea.
CHOW: This is herbal tea or so, made of 24 leaf herbs. It's good for cool down your body system. You try?
ERLICH: [answering Ms. Chow] Well, that sounds very appropriate. It sounds like a good idea.
ERLICH: [now again narrating the story] We walk over to the shelves displaying more types of ginseng than I ever knew existed.
CHOW: This one specially for people who have heart problems and people who have cancer diseases. Even you have a very serious illness after operation, you need this ginseng to recover it.
ERLICH: Then she points to a very gnarled ginseng sprouting dozens of thin roots, carefully laid on a velvet cloth and wrapped in a special box.
CHOW: This ginseng is about 30 over years old. The older age the more expensive. And this was ginseng not cultivated by man. Not planed one. It is found in the high mountains in China. This box will cost about $10,000 dollars [Singapore dollars].
ERLICH: That's nearly $6,000 US. I sure hope the cure for my nagging cough is a bit cheaper.
CHOW: [asking Mr. Erlich about his symptoms] How long is your cough?
ERLICH: I have had the cough about a year. Sometimes I get it, sometimes I don't.
CHOW: On and off. Yeah. On and off.
ERLICH: And the doctors gave me a nasal spray and that helps. But it hasn't stopped the problem.
CHOW: Okay, Johnson Yan, he is the Chinese physician. Maybe later I ask him to check for you for the past and he will give you the medicine.
[Sounds from the medicine hall and Ms. Chow describing the problem to Mr. Yan in Chinese]
JOHNSON YAN: I'm Johnson Yan. I practice about 20 years. I take your pulse. You have a little bit cough?
ERLICH: Yeah.
JOHNSON YAN: How long in this cough?
ERLICH: Well, maybe even a year, but not, but not constant. Like I haven't been coughing today for example.
JOHNSON YAN: Oh, yeah.
ERLICH: What herb will you recommend? For me?
JOHNSON YAN: Yeah, we have the natural herbs. One is the cordycep, chuan bei, and hwai san.
ERLICH: Now I must tell you that I'm reluctant to take prescription medicine even in the US. So I certainly wasn't ready to swallow Dr. Yan's brew of unfamiliar herbs. I decided to visit Dr. Koh Hwee Ling, who teaches at the Department of Pharmacy at the National University of Singapore. Dr. Koh uses western scientific techniques to study traditional medicine.
DR. KOH HWEE LING: Traditional Chinese medicine is a totally different medical system compared to western medicine, a more holistic approach as with many other complementary alternative medicines.
ERLICH: Dr. Koh says some double blind studies have shown beneficial effects for ginseng. But scientists can't explain how it works. She says the medical profession needs a lot more studies to figure which herbal medicines work and which ones only appear to work because of the placebo effect. I asked what kind of medicine she recommends for her own family.
DR. LING: I will bring them to the western doctor first and most of the time that would help. Then, and after a certain diagnosis has been done, perhaps then they can seek complementary and alternative medicine. Or if they have tried western medicine and it doesn't work for them, then yes.
ERLICH: Well [coughing] what about my occasional dry cough? I tell Dr. Koh all the ingredients suggested by the On Tai herb shop. Dr. Koh pulls a huge book off the shelf.
[A thump from the pharmacy book hitting her desk]
DR. LING: It lists all traditional Chinese herbs, conveniently indexed in both English and Chinese.
DR. LING: Cordyceps senensis, or dong chew chow, is actually a combination of a fungus and a worm. All right? [laughs]
ERLICH: A worm that crawls around? Like an earth worm?
DR. LING: Yes, yes. And it's very expensive. It's normally available in the dry form. You can still see the shape of the worm, with something sticking out. And it's, there are many claims. One of that claims is that it's for respiratory conditions, and good for asthma, good for cough.
ERLICH: So, professor, should I take this stuff?
DR. LING: Well, since you have seek the opinion, you know, of the Chinese physician, I think there's no harm in trying it, and perhaps you can tell the listeners whether they work.
ERLICH: Hmmmm. Well, I wasn't satisfied yet. I wanted another doctor's opinion. In the US, you might find a Chinese herbalist on a side street in Chinatown. But here in Singapore, Chinese medicine is mainstream. So I headed to the People's Park Shopping Center, which sports an entire floor of herbalists and other traditional Chinese medical practitioners.
[Sounds from a busy mall, followed by the sound of a door being opened]
ERLICH: Hello. Dr. Zhang?
DR. ZHANG LEI: Hello, nice to meet you.
ERLICH: Dr. Zhang Lei studied traditional medicine in China and then got his masters from the National University of Singapore. I laid my wrist on his desk, and he took my pulse.
ERLICH: [now speaking directly to Dr. Lei] It's not everyday, all the time. Is there anything that you could do?
DR. LEI: Oh, for this case, we don't do anything [laughs].
ERLICH: Oh great. A Chinese doctor who thinks he's Rodney Dangerfield. I asked Dr. Zheng about those strange ingredients prescribed by the herb shop. Ultimately, Dr. Zheng approved of the other doctor's prescription, so it's back to the herb shop.
[Sounds from the herb shop]
ERLICH: Dr. Johnson Yan has selected the herbs to treat my cough and is drying them in what looks like a toaster oven. That's because it is a toaster oven.
[The toaster oven's timer dings, indicating the herbs are dry, followed by the sound of Mr. Yan pouring the herbs into mixer. Then the mixer starts up.]
JOHNSON YAN: I am grinding the powder for the many herbs.
ERLICH: After numerous trips through a grinder, my herbs are mixed into a fine powder. Shop owner Katherine Chow, like any good pharmacist, gives me instructions.
CHOW: Just one full spoon, little bit of hot or warm water, just eat and drink. If you cough very seriously, you can take at least three times a day. If you are not coughing, you take once a day. You keep away the food that I told you—like chicken, oranges, eggs, and tea or so. You can recover very fast.
ERLICH: And do you take credit cards?
CHOW: Yes, no problem.
ERLICH: Okay. And how much is this again?
CHOW: This one, we are charging you $60. Actually, for my customer, I am charging at least $80.
ERLICH: So, not only do I get herbal cough medicine, I get such a deal! I pay 60 Singapore dollars, about $35 US, and head out the door.
ERLICH: Later I heat some water and mix in the powder as instructed.
[The sound of a boiling tea kittle followed by the sound of Mr. Erlich stirring the herbs into his cup of hot water.]
ERLICH: Ugh! It's kind of chalky tasking. Not the most pleasant taste in the world. But I slurp it all down and did so daily for two weeks. Did the herbs, including the expensive fungus and dried worms, actually cure my cough? Tune in to Common Ground next week to find out. I'm Reese Erlich, Singapore.
---
UN Reform Series: Nafis Sadik
Listen to This Segment: MP3
PORTER: The latest UN effort to reform itself, next on Common Ground.
[Musical interlude]
PORTER: Late last year, United Nations Secretary General Kofi Annan appointed a high level panel to examine threats to international peace and security in the 21st century. More importantly the group will examine how the United Nations can address those threats. Work is underway, with a report expected by the end of the year. In the first of a three part series on the UN in the 21st century, Common Ground's Cliff Brockman asked panel member Nafis Sadik what the group's main concerns should be in reforming the UN to confront today's security concerns.
NAFIS SADIK: Well, I think the first thing that the panel has to do is to identify what these threats are and the threats that need collective action are what we need to identify. Not try to make a difference between what are called hard threats and soft threats but really list them all and show the connections between the two and demonstrate how collective action would be necessary in order to deal with them.
CLIFF BROCKMAN: For our listeners, what is the difference between a hard and a soft threat?
SADIK: Well, for example the hard threats are, I listed them as weapons of mass destruction, terrorism. And the soft threats are those for example in the health area, like HIV/AIDS, poverty, water, sanitation, migration issues. But when you really start to analyze them they're all linked to one another.
BROCKMAN: Like most organizations the UN can be and is a very political organization. What are some of the likely politics that the panel will have to consider when they formulate their recommendations?
SADIK: The thing is of course that there have been so many studies and reports about the UN and about the role of the international community on many of these issues. They've been discussed but not necessarily implemented. I think the Brahimi Report was one of the reports that got a lot of attention and a certain amount of implementation because it was very focused on implementation and the role of the UN. So it was, you know, much more limited in its scope. But many other reports on the UN as such, reform, have been very wide ranging. The result, that for one reason the other some group has then tended to block the recommendations that they didn't move forward. It was not that they didn't get attention; they all got attention. But not attention in the sense of an active action to implement them. I think the challenge to us is to find a process that gets the different groups to buy into the recommendations and therefore a vision on how the implementation of the recommendations should be charted.
BROCKMAN: As you said there have been many reports that have been done on UN reform and not implemented except perhaps with the one exception that you mentioned. And you said your panel must find some way to make sure that doesn't happen. What could you possibly do or what could this panel possibly do that would keep this report from just gathering dust somewhere?
SADIK: Well, I think first of all we really are trying to find a way to cater to all the different groups at the UN. I think before the report is finalized you have to find some key partners that will try to forge the consensus within the international community without being seen as being partisan to any particular country. But you know, there are countries that play a leadership role. Many countries are offering to host, you know, discussions and meetings on topics. Also to bring together groups of the membership. I think all that will be part of the process of developing the recommendations and the final say. Secondly the Secretary General has to do a good job of selling this report. I think if it just goes into the UN normative processes I don't think it will have a great chance for success. So I think the SG has to raise the level of those to whom the reports, the report will be addressed. That is like heads of state, state foreign secretaries, foreign ministers and other ministers.
BROCKMAN: So it sounds like you're saying, too, that once this report comes out from the panel there's going to be a lot of follow-up that's going to be necessary to make this go forward.
SADIK: No doubt about that. I think that's the first part of the work of the Secretary General. I think that there has to be a lot of work during the process in my opinion, of getting people engaged somehow on the—you know, not putting out the recommendations but on the issues and having views on the issues from all groups. But once the report is out then even more work will have to be done on getting the countries on board, the various institutions on board, getting the buy in, making some adjustments. Then having a long-term commitment. You still have to have follow up, monitoring, and that's a long process.
BROCKMAN: There has been some criticism. UNWire columnist Barbara Crossett has written about some criticism about the makeup of this special panel. She said the panel was highly anticipated but some critics say that—and with all due respect to you—the panel is mostly experienced senior figures and it needs to be balanced with some younger voices. How will you make sure, how will the panel make sure that some of these other voices are heard?
SADIK: I think that that's a very good comment because we're really talking about the future. What we have thought about is to bring in the regional hearings, to bring voices of young people in the discussion and to engage with youth organizations, youth groups in the discussion. I think that she is right that we need to have some younger views and views that are untainted by political overtones. I think if that what she means by younger voices I think that that's quite important. And I think young people are unbridled and they think, you know, openly and without any hang-ups of the past and we need to hear some of those voices. But you know we obviously can't discuss what we are going to say publicly but I think we need to find a way to have the discussion out there with the public.
BROCKMAN: Nafis Sadik is one of 16 people serving on the UN's High Level Panel on Threats, Challenges and Change. Next week I'll talk to two leading experts on the UN's humanitarian challenges in the 21st century. For Common Ground, I'm Cliff Brockman.
[Musical interlude]
---
Sudan Peace
Listen to This Segment: MP3
MCHUGH: After decades of civil war, Sudan appears to be finally on the road to peace. Sudan itself is a land of contrasts. The north, bordering Egypt, is mostly desert and the people who live there are mostly Muslim. The south, stretching to lush Central Africa, is hilly and fertile, and its people are Christian. Now Sudan is emerging as a major exporter of oil, even though it may be best known as the temporary home for Osama bin Laden after he was expelled from his birthplace in Saudi Arabia. The United States has been taking a special interest in Sudan and experts in Washington are eyeing ways to foster the still tentative peace in the African nation. Priscilla Huff has more.
PRISCILLA HUFF: Sudan's most recent civil war began two decades ago, after years of fighting rooted in Sudan's bid for independence, starting in 1956. But US interest in peace for Sudan is rooted in a modern threat.
GERARD GALLUCI: One, that Sudan not be a terrorist threat, I think that's an essential bedrock.
HUFF: Gerard Galluci heads the recently reopened US Mission in Khartoum, Sudan's capital city.
GALLUCI: We're now in the post 9/11 environment and the United States for one—but not just the United States—entered into a global struggle against terrorism and this too became an element of the environment in which events in the Sudan played out.
HUFF: Osama bin Laden moved his family to Sudan for several years before finding refuge with the Taliban in Afghanistan. As important as that factor is, the Bush administration has more generally recognized that poverty and civil strife are the perfect environment to breed terrorists. Which may be why the US wants to make sure the peace process continues to move forward. Another reason is that the people of Sudan are divided along religious lines. The Sudanese of north mostly believe in Islam while in the south Christianity dominates. Gerard Galluci.
GALLUCI: Second, that there be no return to war in the south. and this is an important one to keep in mind because if the peace process breaks down, the next question becomes, how does the divorce get finalized? Through further war or peacefully? And I think the US interest will remain that whatever happens there be no return to war in the south.
HUFF: And even if the Muslims of Sudan's north and the Christians of Sudan's south agree to disagree on how they should live together, the US does believe certain lines in the sand should not be crossed.
GALLUCI: And I think the third interest is to preserve to the extent possible, colonial borders. Now this is important for anybody who's ever worked on Africa because the fiction which has been reality over the past decades since the independence movement has been we don't mess with the colonial borders because if you do that, then the Pandora's box is opened.
HUFF: Sudan gained independence from Egypt and the United Kingdom in 1956. The Bush administration envisions a democratic society when peace finally arrives.
GALLUCI: Change could therefore take the form of a gradual evolution towards a democratic Sudan. This makes the peace process in and of itself a positive development. A more essential, perhaps fundamental benefit from the peace process is that the peace agreement will allow an end to the war. Simply ending the war will ensure some level of change. But here is where you get to all of the questions.
HUFF: While fears abound about the prospects for peace in Sudan, there are also some very pragmatic concerns. Jok Madut Jok is a Sudanese scholar, currently at the Woodrow Wilson International Center for Scholars.
JOK MADUT JOK: But, even more important is the post-war period, which requires that certain mechanisms be built into the agreement that make the peace deal sustainable. In a post-war Sudan, you face problems of the reconstruction, the repatriation and rehabilitation of refugees and IDPs. And you know that there are over a half million refugees in the neighboring countries and 4.5 million internally displaced persons.
HUFF: Over 20 years of war, millions of Sudanese have been driven from their homes—thousands of whom will never return home, caught in the cross-fire. Dislocation and disruption have contributed to grinding poverty. Along with the basics of food, shelter, water, and clothing, the future of Sudan could run afoul of its citizens' beliefs. Some, in the Muslim-dominated north, want to live under shari'a, the often-literal interpretation of Islam based in the Quran. But that's unlikely to be palatable in the Christian-majority south. In contrast, if northern and southern Sudan can learn to govern together, and the neighbors don't get involved, some will want to move beyond peace to justice. After decades of horrific battles, justice may be sought, perhaps through war crimes tribunals, but the Bush administration doesn't want to press the issue. American diplomat Gerard Galluci.
GALLUCI: War crimes is a big a big issue and I think in the end is something that the Sudanese are going to have to talk about amongst themselves. I've worked in Africa and also Latin America. I know that the question of revisiting crimes of the past has been one that has never been easy to deal with. There have been societies which have decided for the good of the future to put questions like this aside, at least for a while, but these are questions for the Sudanese.
HUFF: Observers say, however, war crimes are usually prosecuted when one side wins, not when there's a negotiated compromise. John Prendergast says, what may be in Sudan's future is a truth and reconciliation commission, rather than a war crimes tribunal.
JOHN PRENDERGAST: One could critique this as a huge miscarriage of justice on the one hand, but on the other hand, how would it be an even bigger miscarriage of injustice for the war to continue because neither side would ever agree to having war crimes trials of itself. So it's a trade-off and often this is one where its probably more glaring than anywhere on the continent.
HUFF: Economic development, resettlement of refugees, faith, justice, and diplomacy all will play into the future of peace for Sudan, but the US does have a bottom line, says diplomat Gerard Galluci.
GALLUCI: I don't think that we view it as positive if Sudan were to breakup, because the fear is, that if the Sudan were to break north south, it might not stop there.
HUFF: That's the fear for the future. If peace does not truly take root in Sudan, it could be the seed for future unrest and civil war as Africa continues to remerge from decades of fighting in the post-colonial era. For Common Ground, I'm Priscilla Huff.
PORTER: This is Common Ground, radio's weekly program on world affairs.
[Musical interlude]
KRISTIN MCHUGH: I'm Kristin McHugh.
KEITH PORTER: And I'm Keith Porter. Coming up this half hour on Common Ground, Britain's National Health Service partners with private healthcare firms.
DR. RICHARD FRIEDLAND: We'll be treating 44,000 patients in very, very large, sophisticated pantechnicons that are mobile theatres, wards, and outpatients. It's a novel approach to healthcare and we're hoping that this is a new paradigm shift.
PORTER: Plus, this week's global citizen profile. And, a book battle may help shape American foreign policy.
GEORGE SOROS: I am not opposed to the use of military force. I advocated it in the case of Bosnia and Kosovo. But I drew the line on the unilateral action against Iraq.
RICHARD PERLE: Unless the UN is re-oriented and reformed we are going to find ourselves in difficulty with the United Nations.
---
UK Health Reform
Listen to This Segment: MP3
MCHUGH: Many people in Britain are proud of their National Health Service. It's a cradle-to-grave service funded by the state, offering every citizen—including many visitors to Britain—total healthcare at no cost. But the system that was devised early last century is now under strain. It still treats people for free, but patients often find they have to wait several months for major surgery. So the British government is breaking with tradition and is inviting private companies to expand the capacity of state hospitals. As Alastair Wanklyn reports from London, the plan has its critics.
ALASTAIR WANKLYN: A hip replacement or cancer surgery won't cost you anything in Britain but you might have to wait several months for the operation. So to reduce surgery waiting lists, Britain's government is hiring private healthcare firms to increase capacity.
[The sound of a television report announcing a medical team from South Africa has entered the country to help the National Health Service]
WANKLYN: What's controversial is that the private firms can undercut state hospital fees. The private contractors will build and run operating facilities, and charge the state for surgery carried out.
[The sound of an advertisement for private hospitals]
WANKLYN: Private firms are bidding for contracts for the lucrative work.
[The sound of an advertisement for private hospitals]
WANKLYN: This firm, Netcare UK, has won a contract to do state-funded eye cataract operations. It will take mobile operating clinics to parts of Britain with the longest cataract waiting lists. CEO of Netcare UK, Dr. Richard Friedland, says his firm offers the private-sector dynamism lacking in state organizations.
DR. RICHARD FRIEDLAND: We'll be treating 44,000 patients in very, very large, sophisticated pantechnicons that are mobile theatres, wards, and outpatients. It's a novel approach to healthcare, and we're hoping that this is a new paradigm shift. It's a new modality of trying to treat people, taking care to people as opposed to vice versa.
WANKLYN: Under current plans, Britain will spend almost $four billion on surgery that the state cannot handle. The government says the private sector's share could rise over time to $16 billion. That's about 15 percent of the UK National Health Service budget. Critics say it's a wasteful band-aid approach. They argue the British government would do better to address the problem of long-term healthcare capacity and spend the cash building new hospitals. But some analysts say using private-sector capacity does expand choices.
DAVID MCDAID: Whatever the political framework the partnership with the private sector is here to stay.
WANKLYN: At the London School of Economics healthcare economist David McDaid says it pays to expand the range of ways to treat a patient.
MCDAID: So this may be treatments in different parts of the country, under the NHS; it may be treatment paid for by the NHS in other countries—some patients have gone to Belgium and France for instance; or it may be by having contracts with the private sector.
[The sound of a Netcare promotional video]
WANKLYN: Promotional material such as this video from Netcare suggests this firm is confident of bidding for more jobs in future. But some observers say there's room to reverse the sell-off if it's found not to work. David McDaid says the first few years will be watched closely.
MCDAID: It's really going to take probably two or three years to really genuinely evaluate that properly both in terms of clinical outcomes—because you have to look at the patients who were treated over a period of time following treatments—and also in terms of the throughputs, the number of people treated. So, but nobody really knows how, how strong those concerns actually are. So really it's going to take two or three years to properly evaluate this. But it's important to actually do that process and it's important to actually have these companies here to actually see how successful they can be.
WANKLYN: For now the British government says it sees no drawbacks to hiring private firms to do state-funded work. And just a year away from elections in Britain, the policy might also be a vote-winner. Because private sector firms can often move fast when money comes their way, the government can promise a rapid reduction in surgery waiting lists. For Common Ground I'm Alastair Wanklyn in London.
[Musical interlude]
---
Global Citizen: James Wolfensohn
Listen to This Segment: MP3
PORTER: James Wolfensohn is serving his second term as President of the World Bank. Born an Australian he's now a naturalized American. James Wolfensohn began his career as an international investment banker, but always had a keen interest in development issues. He's traveled to 120 countries along the way. As part of our occasional global citizen profiles, Wolfensohn spoke to Nina-Maria Potts about the real meaning of "globalization."
NINA-MARIA POTTS: What does the term "global citizenship" mean to you?
JAMES WOLFENSOHN: It means to participate with your thinking and your actions beyond national boundaries and I think that it is something which all of us are going to have to become used to because being a citizen of the United States or being a citizen of Australia or China is a description of some part of your identity, but the notion of being a citizen of the planet is something that's becoming much more relevant. It implies responsibility, it implies opportunity, it implies education, it implies understanding. We're not yet, so far as I believe not yet at a point where most people recognize the global aspect of their lives as compared to the more near term and more nearly visible local aspects.
POTTS: To what extent do you consider yourself a global citizen?
WOLFENSOHN: I hope I'm a prototype. [laughs] I was born in Australia, I am an American citizen, and I've visited 120 countries and I try every day to be open to the challenges and opportunities and responsibilities of global citizenship.
POTTS: Does the Australian flag move you? Does the American flag move you?
WOLFENSOHN: As symbols they remind me of what each stands for, but I wouldn't say they are emotionally very important to me. I respect them of course, but many other aspects bring home to me the United States and Australia more than the flag.
POTTS: The term "global village" and the idea that the electronic age was going to change everything, is it a surprise to you that nation states have so stubbornly stuck around?
WOLFENSOHN: No, I think it's important to have nation states. I don't always think the nation states reflect the cultures and the differences that you might logically think of nation states. I think of Africa for example which is divided up in sort of a crazy way relative to culture. I think the same is true of central Asia in what was done by some earlier Russian masters in breaking up the states. But in general I think that continuity of a state and its culture is an important thing. So I'm not, I don't think we should do away with the pillars of the national framework. But I do believe that it's important to talk about commonalities, about things that link us, that transcend national boundaries.
NINA-MARIA POTTS: Do you feel less or more optimistic about the state of the world today than you did say 30 years ago?
WOLFENSOHN: I think we're going through a difficult moment now, a difficult moment of adjustment in terms of the wealthy countries. We see a split in the G-7 that we've not seen before. We see a challenge to the trans-Atlantic alliance which we've not seen before. We see a split of the world in terms of Islam and some other more fundamentalist movements in the world. I think we need to adjust to the emerging power of China and of India. So that I think there are challenges to stability, coming through challenges to poverty and challenges posed by poverty and challenges to the equity. And I find this very difficult. And I also find very difficult today the new moves to expressing one's feelings through terror and through organized crime. So I think there are plenty of things to worry about. But having said that, in the last 50 years we've improved life expectancy 20 years, we have basically increased the number of people that are out of poverty rather than in poverty. We have improved maternal mortality figures, we've improved child mortality figures. It's not that we've done nothing. Indeed in many ways, we are better off today than we were 20 years ago or 30 years ago. But it is a daunting complex world today and one where as you said before, communications does make a difference because everybody now knows what is going on. So I think we have our hands full and it's certainly a time for global leadership.
POTTS: In a speech in September, your Dubai speech, you talked about the fact that it's false to talk about a wall between the haves and the have-nots. What did you mean by that?
WOLFENSOHN: My parents used to tell me, "You have to eat everything on your plate because of the starving people in India and the starving people in Africa," and I had these sorts of images of linkage, but it never seemed very real to me. On September 11th all of a sudden the problems of Afghanistan and of some aspects of fundamentalism destroyed the World Trade Center and attacked the Pentagon. And I think to most people in the United States, we all felt there was a wall around this country against those issues. One could be interested in them, but they were never going to come and effect us. And then all of a sudden you see on television this wall collapsing in the sense of the World Trade Center collapsing. And so I think more and more people now understand that there is no way that one can avoid being affected by things in the developing world—whether it be on the environment, on trade, on finance, on crime, on drugs, on terror.
POTTS: What do you regard personally as your biggest personal achievement with the Bank so far?
WOLFENSOHN: Well, I think it is that we now have a cohesive team built from people all of whom had their own ideals to come here, an extraordinarily talented team of nearly 12,000 people from probably a 160 nationalities. I think the biggest achievement I have is to try and have a common thrust which is based on the impact you have on people, on humanity if you like, to affirm the importance of difference, to affirm the importance of culture, and to measure our results in terms of people not statistics. I think if I've done anything here I think I have helped unlock the human instincts in the organization to speak more emotionally about the human challenge that we face. That may not sound like much to you, but I think for me it's perhaps the most important thing I've done.
POTTS: My last question is to do with the shape of the Bank in the future, but it's specifically to do with Iraq. What sort of a role do you think the World Bank should play in post-war Iraq.
WOLFENSOHN: Well, the Bank as you know was started as the International Bank for Reconstruction and Development after World War II. So the idea of reconstruction is not something new. It is something that we were formed to do. So we will be engaged in the issue of reconstruction and on the issue hopefully of supporting the Iraqi people to achieve what the Iraqi's want to do. I am glad to see that there is a coherence between that objective and what Ambassador Bremer and others are looking to do, which is to pass the authority through to the Iraqis as quickly as possible. We will come into force, most importantly, when we join over the next five or ten years with Iraq—which is by the way a member of the ownership group of the Bank. We're owned by 184 countries. We support them in doing everything from building their infrastructure to their social programs to their governance and working with Iraqis in support of their objectives. That is a big job, it is a long-term job, and it's an important job because a strong Iraq I think will be a very important factor in a stable Middle East.
PORTER: Nina-Maria Potts spoke with James Wolfensohn at the World Bank's headquarters in Washington, DC.
[Musical interlude]
MCHUGH: Coming up next, two new books highlight differing views on US foreign policy. You're listening to Common Ground, radio's weekly program on world affairs.
[Musical interlude]
---
Battle of the Books
Listen to This Segment: MP3
MCHUGH: When voters go to the polls in November, they'll be helping to set the direction of US foreign policy for another four years. The battle of ideas is already well underway—in print. For example, two new books lay out competing visions for the future of America's role in the world. Malcolm Brown reports.
MALCOLM BROWN: At its most basic, the foreign policy choice facing voters is whether to back President Bush's approach or listen to the those who say it's a disaster.
GEORGE SOROS: 2004 is not an ordinary election; it is a referendum on the Bush doctrine. The future of the world hangs in the balance.
BROWN: Financier and philanthropist George Soros has made the removal of the Bush administration and the rejection of its policies his central project this year. The billionaire is putting his money where his mouth is by giving millions of dollars to anti-Bush groups.
SOROS: If we re-elect Bush in 2004 we endorse the Bush doctrine and we will have to live with the consequences. We shall be regarded with widespread hostility and terrorists will be able to count on many sympathizers throughout the world.
BROWN: In a book, titled The Bubble of American Supremacy, the Hungarian-born American demands that what he calls the "Bush Doctrine" be replaced with a more cooperative approach. George Soros is highly critical of the war in Iraq and the doctrine of pre-emptive action which underpinned it.
SOROS: Underlying the Bush doctrine is the belief that international relations are relations of power not law and that international law merely serves to ratify what the use of power has wrought.
BROWN: So, the Soros book demands a profound reconsideration. It calls for a collective approach to security without embracing what is described as uncritical multilateralism. George Soros argues that the US should use force only when all other options have failed.
SOROS: I am not opposed to the use of military force. I advocated it in the case of Bosnia and Kosovo. I supported the invasion of Afghanistan. But I drew the line on the unilateral action against Iraq. Military force should be used as a last resort and not as a means of asserting our supremacy and imposing our will on the world.
BROWN: But, somewhere toward the other end of the political spectrum are those who strongly support the Bush administration's foreign policy and want it extended.
DAVID FRUM: We regard the evil of terrorism as a challenge for this generation in a way that fascism and communism were challenges for the generation before.
BROWN: David Frum is a former speechwriter for President Bush, who's co-written a book called An End To Evil. His co-author is the hawkish Richard Perle, who's often portrayed as the leading light of the so-called neoconservative movement. Their book sets out a blueprint for the next stage of the war on terror. Internationally, the authors call for the US to consider withdrawing from the United Nations. They also strongly support the doctrine of preemption. Richard Perle says the UN must update its charter, to enshrine the right of a nation to take military action in the face of an imminent terrorist threat.
RICHARD PERLE: Unless the UN is re-oriented and reformed to comprehend and appreciate the necessity of acting in a timely fashion we are going to find ourselves in difficulty with the United Nations.
BROWN: Citing the danger of terrorist-implicated states acquiring nuclear weapons, Frum and Perle single out Iran and North Korea. They argue that the US should help Iranians to get rid of their government. On the Korean peninsula, they say that if Pyongyang can't be persuaded to give up its nuclear program, then it should be blockaded and American troops put on a war footing.
PERLE: I don't see how we can possibly rule out the use of force to deprive them of a nuclear weapon that might otherwise one day be detonated on our territory.
BROWN: According to Richard Perle, the US should also reassess some old alliances, such as those with France and Saudi Arabia.
PERLE: It's time that we begin to think of countries that have been our allies in a more detached and objective way. Some of them we can work with and should work with, but there are others that I think we have to be properly critical of.
BROWN: Of course, the coming election will not be a referendum on these two books. But they do provide a foretaste of foreign policy debates to come when the campaign proper gets underway. For Common Ground, I'm Malcolm Brown in Washington.
Our theme music was created by B.J. Leiderman. Common Ground was produced and funded by the Stanley Foundation.
Copyright © Stanley Center for Peace and Security
---