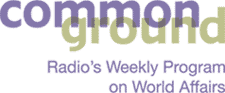 Week of July 16, 2002
Program 0229
Segments
Plan Columbia | Transcript | MP3
Fulbright Scholars | Transcript | MP3
Sudan Sanctions | Transcript | MP3
American Backlash | Transcript | MP3
Assessing Human Rights | Transcript | MP3
Queen's Jubilee | Transcript | MP3
This text has been professionally transcribed. However, for timely distribution, it has not been edited or proofread against the tape.
---
SANTIAGO TANGUILA: [via a
translator] This liquid comes out and covers everything. It's drifting over
from the Colombian side. It wrecks our agriculture. It affects everything we
grow.
KRISTIN MCHUGH: This
week on Common Ground, the pitfalls
of South America's war on drugs.
KEITH PORTER: And
Fulbright scholars share their American experiences.
IRINA PETROVSKA: We couldn't see a
single person and then we talked to our host and she says, "Well, people you
can find in the malls."
PORTER: Plus,
searching for peace in Sudan.
MRS. AWUT DENG ACUIL: I would like
to appeal to the people that the 11 September incident that has happened in
America. This is the life of Southern Sudanese people that they experience
every day.
MCHUGH: More
after this.
---
Plan Columbia
Listen to This Segment: MP3
PORTER: Common Ground is radio's weekly program
on world affairs. I'm Keith Porter.
MCHUGH: And I'm
Kristin McHugh. Columbia's war on drugs is sometimes lost amid the country's
bloody and much larger civil conflict. And now, the effort to wipe out
Columbia's drug crop is causing an uproar in neighboring Ecuador.
PORTER: Ecuadorian
farmers who say they are victims of aerial spraying designed to eradicate
cocaine production in Colombia. As our focus on South America series continues,
Reese Erlich investigates these allegations. He begins his report from the
small village of San Francisco Dos in eastern Ecuador, just one mile from the
Colombian border.
SANTIAGO TANGUILA: [via a
translator] The indigenous cooperative of San Francisco Dos has 25 houses.
ERLICH: With some
pride, Santiago Tanguila points to the accomplishments of his small cooperative
village. The residents are all Kichwa Indians, Ecuador's largest indigenous
group.
TANGUILA: [via a translator]
There's the community sports field. We have a school and a kitchen that's owned
by the community. We have electricity. The only thing we don't have is drinking
water piped into our homes. Before the aerial spraying we had a lot of roosters,
cows, everything.
ERLICH: A lot of
things have been dying lately in San Francisco Dos—plants, trees, and farm
animals. People have gotten violently ill. At US insistence, the Colombian
government is spraying herbicides on coca plants inside Colombia in an effort
to eradicate cocaine production. But Ecuadoran peasants, who aren't growing
coca, say winds blow the aerial spray across the border.
[The sound of someone walking in the countryside.]
ERLICH: Tanguila
takes me on a walk through the lush, green forest, past an occasional withered
mango tree and dead coffee plant.
TANGUILA: [via a translator] The
planes doing the spraying don't make any noise. We only hear the helicopters
accompanying them. Then we know there's aerial spraying going on. This liquid
comes out and covers everything. It's drifting over from the Colombian side. It
wrecks our agriculture. It effects everything we grow.
ERLICH: The
Colombian military is spraying Roundup Ultra, an herbicide manufactured by
Monsanto. Contacted at corporate headquarters in St. Louis, a Monsanto
spokeswoman declined to be interviewed on tape. However, she says Roundup
Ultra, when properly applied, is safe both for humans and plants. Someone hit
by aerial spraying, at worst, would feel temporary eye and skin irritation, she
argues. That's not what the Kichwa peasants like Tanguila say.
TANGUILA: [via a translator] The
herbicide companies say nothing is happening. They say it's no more dangerous
than taking a vitamin pill. That's a lie. These "vitamins" are not fit for
human consumption. They kill our crops. Little kids suffer stomach infections,
headaches, and vomiting. That's permanent around here. The Red Cross came by.
We went to local clinics. They weren't familiar with this kind of illness. So
they didn't do anything. Then we tried our local, indigenous medicines. Those
worked and gave us some relief.
[The sound of dogs barking and a man speaking to a woman.]
SANTIAGO: [via a translator] Here's
a sick woman. She's been in the hospital.
ERLICH: Tanguila
introduces Judith Rodriguez, another Kichwa peasant farmer. She says nobody
around here is growing coca, but her little farm has been hit with misty clouds
of chemicals numerous times, most recently in January.
JUDITH RODRIGUEZ: [via a
translator] I got sick with a kind of fever. I have body aches. I have intense
headaches. My stomach hurts so bad sometimes I just want to die. I was short of
breath. At first I had a rash on my skin. The doctors say the problems are
caused by the aerial spraying.
[The sound of a machete digging up yucca and then cutting it
open.]
ERLICH: Farmer
Vincente Calapucha uses his machete to dig up a yucca plant. He says Ecuador
has gone through an economic crisis ever since it defaulted on its
international debt last year and made the US dollar the official currency. So
farmers depend even more on their land for survival. Now, he says, the aerial
spraying—part of the US-backed $7 billion "Plan Colombia"—is making things a
lot worse.
VINCENTE CALAPUCHA: [via
a translator] We can't afford to buy a lot things right now. So we live off the
vegetables and other things on our land. Plan Colombia is hurting us a lot.
ERLICH: Calapucha
slices open the yucca with one quick cut. Yucca is a tuber eaten like potatoes
here. But this one has an ugly, mottled brown center.
CALAPUCHA: [via a translator] It
should be completely white. But it's spotted and discolored. No one will buy
these. One or two years ago, before the spraying, he had the most beautiful
yucca you can imagine. I've lived here for 27 years and never had any problems.
Our crops have been good. Because of Plan Colombia, our crops have died or
shrunk in size. Coffee production is way down. The same for plantains.
ERLICH: But
there's a problem with Calapucha's tale of woe. According to government
scientists, herbicide spraying can kill plants but won't simply discolor them
or reduce their size. Those problems are probably caused by micro organisms.
Melania Yanez, an official with the Ecuadoran Environment Ministry, says
farmers tend to blame the aerial spraying for all their problems.
MELANIA YANEZ: [via a translator]
When people see and hear the crop dusters, they get sore eyes and have breathing
problems. But we don't have scientific evidence that their problems are caused
by the spraying. We need scientific studies with specialized laboratories,
trained technicians, and doctors. We need the same studies in Colombia.
Unfortunately, we can't afford to do such studies.
ERLICH: Yanez
says some of the farmer's health complaints are consistent with herbicide
poisoning. Maximo Abad, mayor of Nueva Loja, the largest city in the area, says
he has received dozens of complaints about the spraying.
MAXIMO ABAD: [via a translator]
There's a big psychological impact. The spraying is done with airplanes guarded
by helicopters. They are violating Ecuadoran air space and scaring children in
school. Last December about 14 helicopters crossed into our territory over
Puerto Nuevo. The Colombian government never gave an explanation. There's a lot
of fear, a lot of uncertainty. People are asking, "Where is this going?"
[The sounds from a small store, with radio on and the cash
register ringing.]
ERLICH: Anselmo Salazar,
vice president of a Kichwa Indian organization in Nueva Loja, says people of
this impoverished region have taken some steps to fight poverty. His
organization, for example, has a pharmacy with lower priced drugs for members.
ANSELMO SALAZAR: [via a translator]
We work directly with the pharmaceutical labs. They give us a big discount. So
we can provide the medicine much more cheaply to people.
ERLICH: Salazar
says, however, that Plan Colombia has slowed some of that progress because it
hits the Kichwas particularly hard.
SALAZAR: [via a translator] The
indigenous communities along the river are used to living off the land. They
fish in the rivers. The aerial spraying has a huge impact because it poisons
the water. It affects everyone who lives in this river valley—indigenous people
and Ecuadorans. But Plan Colombia and the aerial spraying make things much
worse for Indians. We've lived off this land for centuries. We eat the meat and
fish here. So we're the people most affected in our natural environment. The
fumigation hits indigenous people much more intensely.
ERLICH: Environment
ministry official Yanez says the Ecuadoran government has raised complaints to
the Colombians. In fact, she attended a special conference in Bogota in which
the Colombian military officials said they strictly adhere to a 10-kilometer
buffer zone where they don't spray herbicides.
YANEZ: [via a translator] They
acted surprised when I told them how the herbicide drifts across our border.
They insisted they maintain this 10-kilometer buffer zone. But our Ecuadoran
peasants have seen with their own eyes planes cross the frontier into our
territory. But the Colombians don't accept these reports. They say it's
absolutely impossible that it was their planes. They say maybe it was the
guerrillas.
ERLICH: Yanez
notes wryly that the guerrillas don't have planes that spray herbicides, or any
other planes, for that matter. Yanez says there is a simple way to prevent the
herbicide from affecting local farmers. Ecuador has asked the Colombian
government to guarantee in writing that it won't spray within 10 kilometers of
the border.
YANEZ: [via a translator] What we
want now from Colombia is a written guarantee because we need a mechanism to
verify if this buffer zone is real. We want the United Nations International
Drug Control Program to guarantee that the Colombians won't cross this 10-kilometer
zone.
ERLICH: Colombian
officials failed to respond to repeated phone calls asking for comment on this
and other issues raised in this story.
[The sound of school children saying "Good day" to Mr.
Erlich in Spanish, then Mr. Erlich replies back, and the children resume
reciting their school lessons.]
ERLICH: Back in
San Francisco Dos, elementary school children eagerly practice their lessons
before class starts. Some of these children were sickened by the spraying, says
Santiago Tanguila, but most are better now. Tanguila says local residents want
compensation for all the problems caused by Plan Colombia.
TANGUILA: [via a translator] We're
making demands on the company that makes those chemicals and the company that
does the spraying. We want them and the US government to pay us for our damaged
crops and health problems caused by the spraying here along the Ecuadoran
border. We want money for the losses suffered by each family—lost animals, lost
crops. How can else can we recoup our losses?
ERLICH: The
European company supplying Colombia with Cosmoflux, a chemical used to make the
Roundup herbicide stick to plants, has refused to supply more product for
aerial spraying because the issue has become too controversial. The Colombian
government has announced it will substitute chemicals from local manufacturers
and continue the spraying. For Common
Ground, I'm Reese Erlich in San Francisco Dos, along the
Colombian-Ecuadoran border.
MCHUGH: The
valuable lessons of culture shock, next on Common
Ground.
---
Fulbright Scholars
Listen to This Segment: MP3
MCHUGH: Every
year hundreds of students, academics, and professionals from around the world
participate in educational exchanges sponsored by the Fulbright Program. The
program, administered by the US State Department, places US scholars in foreign
institutions and brings academics from around the world to study in America.
[The sound of a large, busy conference]
PORTER: Over 100
scholars from some 60 countries have come together for three days of meetings.
The official part of the gathering was put on by the US State Department's
Bureau of Educational and Cultural Affairs—a lesser-known arm of an agency
that's best known for hard-hitting diplomacy and policy making. Patricia
Harrison heads up that bureau, and in an address to the Fulbright conference,
she tells the scholars that they themselves are diplomats.
PATRICIA HARRISON: Because
you're ambassadors working to increase mutual respect through education and
through relationship building, you are replacing ignorance and fear with
understanding and knowledge. And I believe you do start as ambassadors the
minute you begin your Fulbright program, and you start coming in contact with
people in your host country—people who may not understand your culture or your
language.
PORTER: The
scholars have also become acquainted with American culture, and they all plan
to take some part of it back with them to their home countries.
IRINA PETROVSKA: I have no words to
explain how much I can transfer of my experience to my students.
PORTER: Irina
Petrovska is an English professor at a university in Macedonia. For this school
year, she's been at Kirkwood Community College in Cedar Rapids, Iowa.
PETROVSKA: On the one side, I have
my official research; on the other side, I have my family with me, which puts
me in a position to do even unofficial research in middle school education,
elementary education, even the job that my husband got here, I was even
involved in that field of research.
PORTER: Irina is
studying ways to bring culture into the curriculum when she teaches English
back in Macedonia, and she says she's already learned a lot about American
culture. When she and her husband and two children first arrived in small town
America they were immediately taken aback.
PETROVSKA: We went, the first
weekend, downtown, you know, to enjoy people and activities. We were amazed. We
couldn't see a single person! Couple of joggers, bicycle riders, and that was
all! "Where are the people?" we kept on asking ourselves. And then we talked to
our host and she said, "Well, people in Cedar Rapids or cities similar like
that, you can find in the malls."
[The sound of a lunch conversation.]
PORTER: Over
lunch, Irina compared notes on the travails of getting around Washington and on
other aspects of her American experience with Fulbright scholars from all over
the world. This is the personal part of the conference, when Fulbrighters have
the chance to get to know each other and compare their experiences. Michael
Nabofa from Nigeria, says when he first came to the US he found himself
confronted with a myriad of American stereotypes about Africa.
MICHAEL NABOFA: People tend to
think that we Africans are monkeys, we don't have roots, we live on top of
trees. In fact there was a student who asked me whether had a car, whether I
even have a house. [laughing] So I just laughed at him. Then today they were
asking me whether I have a wife, how many children do I have. And I deceived
him—I told him that I have 10 wives, 25 children, and 50 grandchildren!
[laughing]
PORTER: Michael
is using his Fulbright grant to teach courses in African religions at John
Carroll University in Ohio. He keeps his sense of humor as he battles his
students' preconceptions, but he has some sober words for what he sees as
American arrogance on the international stage.
NABOFA: The Americans are fond of
saying, "We are the greatest." We are big, we are intelligent, and we are all
that." So in fact, somebody told me that when a person opens his mouth too
much, flies will enter the person's mouth. That Americans open their mouth too
much and flies flew into their mouth on 9/11.
PORTER: The
September 11 attacks were not far from anyone's mind at the conference, since
most of the scholars were in the US at the time. Assistant Secretary of State
Patricia Harrison quoted a Fulbright scholar from Syria named Mohammad al
Kuhleel, who she felt summed up the importance of the Fulbright program at this
unique time in history.
HARRISON:
[quoting Mohammad al Kuhleel in her speech to the conference] In the end,
educational exchange is the ultimate solution to global terrorism.
PORTER: It's a
powerful statement, but it fits in with the State Department's hopes that the
scholars who come to the US will go back to their home countries with a greater
understanding of America and Americans that they'll then pass on to their
compatriots. But most of the scholars are just as interested in getting on with
their research projects, which range from the very specific, like a Tunisian
scholar's project on the "Biological Management of Wheat Root
Disease," to the existentially broad, like a Russian scholar's study of
"Concepts of Being Human in the 20th Century." Serhiv Moroz normally
studies agriculture and business in Ukraine. Now, he's based at Louisiana State
University, studying the American mortgage system.
SERHIV MOROZ: The creation of
mortgage system is a really important problem, and now our government is trying
to create proper institutions in my country. And that is why I guess that this
research could help at least in some matter to help this problem and to create some
institutions.
PORTER: Ukraine
has no mortgage system now, and Serhiv is hoping he'll be able to use what he
learns in America to help his country out. And unlike Irina from Macedonia,
he's been surprised by the similarities between his country and the United
States.
MOROZ: I'm surprised by such
similarities between our cultures. You know, I haven't expect that we have many
so common, you know. And actually our nations, our people are so close, and
this is a really good opportunity for me, for example, to understand that. And
after, to return to my home country, I'm going to share this experience and to
talk with our people and to share these ideas I got here.
PORTER: That's
just what the Fulbright program is meant for—giving regular people a chance at
diplomacy. And it's diplomacy on a much more grass roots level than diplomats
at the State Department can ever hope to achieve.
---
Sudan Sanctions
Listen to This Segment: MP3
PORTER: Early in
his Presidency, George Bush announced that he was appalled by the suffering
endured by the citizens in southern Sudan, who have been at war with their
northern countrymen for nearly two decades. Bush described the country as a
"disaster area for all human rights," and appointed former Senator John
Danforth as a special envoy to Sudan. But the Bush Administration's commitment
to resolve Sudan's conflict now appears to be a battle of wills between the
administration, and a coalition of human rights groups, Christian groups, and
African American organizations. Catherine Drew reports from Washington.
[The sound of child soldiers singing.]
CATHERINE DREW: Tens
of thousands of children have been caught up in the fighting in Sudan. This
group of 8- to 18-year-olds had been training as soldiers to fight for the
Sudan Peoples Liberation Army or the SPLA in the south. They are the lucky
ones; the United Nations has negotiated their release and returned them to
their families. The Sudan war is an intractable conflict over religion,
ethnicity, ideology, and in the past few years, oil. It pits the Islamic
government of the mainly Arab north, against the rebels fighting for autonomy
for the black Christians and animists in the south. Credible reports suggest
the Khartoum Government condones slave raids and abductions of southern men,
women and children, while also preventing humanitarian assistance from reaching
rebel areas, where famine and starvation are common. Aerial bombings and helicopter
gunship attacks like the one on a UN feeding center in the southern village of
Bieh in February are also routine, according to Professor Eric Reeves of Smith
College in Massachusetts who spoke at a recent hearing on Capital Hill.
ERIC REEVES: [speaking at a
Congressional hearing] The eyes of these young mothers, at one moment hopeful
that they and their children will receive desperately needed food aid, turn in
a flash to sheer terror as helicopter gunships of the Khartoum's National
Islamic Front regime, descend to a low hover and begin to direct heavy machine
gun fire and rockets into their midst. Dozens will be killed; many, many more
will be wounded. We know because UN personnel were witnesses; indeed some were
so close to the gunships that they could see the eyes of the pilot and gunner.
CATHERINE DREW: In
two decades such attacks and rebel counteroffensives have left two million
people dead and displaced a further four million. Some analysts fear there
could be an upturn in the fighting. John Prendergast is with the International
Crisis Group.
JOHN PRENDERGAST: Casualty rates
are skyrocketing on the battle field today, because of the increasing lethality
of weapons being purchased, particularly by Khartoum, the increasing stakes
for which this war is being fought, the increasing commitment of the government
to clearing civilians out of the oil fields, and the increasingly intense
conventional engagements that we're seeing represented in the war today.
CATHERINE DREW: But
there is some optimism that Khartoum's gestures towards the West after the
terrorist attacks of September 11th, its desire to end international isolation,
and economic hardship could prove promising influences in the push for peace. A
big leveraging factor for this desperately poor country is oil. Sudan currently
produces 250,000 barrels a day, but untapped oilfields in the south lie out of
bounds to exploration and production, as the war is conducted above. With that
in mind, the US House of Representatives has approved the Sudan Peace Act,
which, among other things prohibits foreign energy companies working in Sudan
from raising funds in US capital markets. Wall Street does not like this and
neither does the Bush Administration. Walter Kansteiner, the US Assistant
Secretary of State for African Affairs told the House Committee on
International Relations, political interference in America's capital markets
sets a dangerous precedent.
WALTER KANSTEINER: [Testifying
before Congress] It has long term repercussions. It is a important step that
our legislative branch would take. You know, Congress, I don't believe has ever
passed capital sanctions against any country for any human rights violations. I
mean this is serious, ground breaking, very long term. I think obviously both
bodies are going to think long and hard of it. We don't think its appropriate.
CATHERINE DREW: But
even professed free-trade lawmakers believe this is a precedent worth setting.
Donald Payne, a Democrat from New Jersey framed the question in moral terms for
Mr Kansteiner.
DONALD PAYNE: [Questioning Walter
Kansteiner at a Congressional hearing] Yes or no, did you oppose our
immediately cutting of Al Qaeda and many of the groups that were associated
with the murder of three thousand Americans?
KANSTEINER: [Responding to
Representative Payne's question] Absolutely, we led it.
PAYNE: [Questioning Walter
Kansteiner at a Congressional hearing] However, two million Sudanese, you don't
think that is egregious enough, you don't think it's reached the threshold yet.
You don't—what is it, four million for you? Maybe five? Maybe two and a half?
When does it become as September 11th was, when does it become for Sudanese?
CATHERINE DREW: Mr
Kansteiner insists the sanctions are pointless, as even if the Canadian or
European energy firms working in Sudan pulled out, Chinese and Malaysian
interests would take up any slack. But analysts argue western know-how is
needed to explore the oil fields of the south. Republicans in the Senate appear
to be sympathetic to the Bush Administration's position. Capital market
sanctions have been dropped from the Senate's version of the Sudan Peace Act,
which is now languishing on Capital Hill. Some Democrats suspect the Bush White
House is trying to avoid antagonizing the Khartoum Government, at a time when
it is providing information about the Al Qaeda terrorist group, and Osama Bin
Laden, who took shelter in northern Sudan for five years from the early 1990s.
Mrs. Awut Deng Acuil a southern Sudan peace activist based in Kenya says she
hopes Americans will rally to help her country and pass the strongest
legislation possible.
MRS. AWUT DENG ACUIL: I would like
to appeal to the people that the 11th September incident that happened in
America, this is the life of southern Sudanese people that they experience
every day. The ethnic cleansing around the oil fields, the war of genocide that
the Sudan government is executing in south. The people of America have to say
no, and be involved in the conflict or in the search for peace in Sudan.
CATHERINE DREW: This
division among the various branches of the US Government over whether to use
the carrot or stick approach to the Khartoum Government, comes seven months
after the Bush Administration's special envoy John Danforth launched his
mission. In that time he has negotiated four confidence building measures,
including declaring a ceasefire in the central Nuba mountains region, the
creation of tranquility zones for humanitarian work, an end to the Government's
aerial attacks on villages, and slave raids in the south. The Bush
Administration is waiting to see how each side observes these agreements before
deciding whether to get more involved in peace negotiations.
[The sound of people celebrating.]
CATHERINE DREW: Meanwhile,
thousands of miles and seven times zones away, one family celebrates the return
of a young boy, freed from fighting for the Sudan Peoples Liberation Army by
the United Nations. Now he and his family must wait to see how far America will
step into this conflict and if it can bring an end to the only way of life the
boy has known. For Common Ground, I'm
Catherine Drew in Washington.
[musical interlude]
ANNOUNCER: Common Ground is a Stanley Foundation
production—on the Web at stanleyfoundation.org.
PORTER: This is Common Ground, radio's weekly program on
world affairs.
[musical interlude]
PORTER: I'm Keith Porter.
MCHUGH: And I'm
Kristin McHugh. Coming up this half hour on Common
Ground, Britain declares "God Save the Queen."
QUEEN ELIZABETH:
[speaking at her Golden Jubilee celebration] Gratitude, respect and pride—these
words sum up what I feel about the people of this country and the Commonwealth
and what this Golden Jubilee means to me.
MCHUGH: Plus,
Russia's love-hate relationship with the United States. And balancing human
rights and the war on terrorism.
---
American Backlash
Listen to This Segment: MP3
PORTER: In the
months since last September's attacks on the World Trade Center and the
Pentagon, the United States has redefined its relationships with a number of
countries that are now its pivotal global partners. The US military offensive
in Afghanistan, for example, would have been impossible without the strategic
support of Pakistan's President Pervez Musharraf. And the US relationship with
Russia has, according to President Bush, entered a new chapter, with Washington
and Moscow sealing nuclear arms reduction agreements, exchanging intelligence
information, and cooperating within NATO. But, as Simon Marks reports from
Moscow, not everyone thinks Russia should be forging a partnership with the
country's Cold War nemesis.
[The sound of American rock on the streets of Moscow.]
SIMON MARKS: American
rock on the streets of Moscow—blasting out from a loudspeaker in the center of
the city, tunes from the other side of the Atlantic entertain moviegoers
standing in line for tickets. [The rock music continues to play in the
background.] The movie they're lining up to see: Star Wars, which has been playing
on every big screen in the city.
[The sound of a busy movie theater.]
MARKS: Once
inside, they grab a bag of popcorn, a Coke, and settle down to enjoy the show.
In every regard, it's an American experience, albeit in the center of Moscow.
But stop some moviegoers after the credits have rolled and they'll tell you
that while they love seeing American movies, they do not love the USA or
President Bush.
A RUSSIAN MOVIE-GOER: [via a translator] There is too much dictating going on from America. I
don't like Bush. I have serious doubts about his intellectual abilities.
A SECOND RUSSIAN
MOVIE-GOER: [via a translator] It seems as though America is a country that
likes to dictate its will to other countries. You have to make some decisions
taking other opinions into account. Bush is a peasant, a cowboy. Putin is much
better. He speaks better, he is more educated. Or at least that is my
impression.
A THIRD RUSSIAN
MOVIE-GOER: [via a translator] I don't like what America does. I think the
Americans should pay more attention to the opinions of other nations, the
United Nations especially.
MARKS: I'm
standing in Pushkin Square, often considered the spiritual center of Moscow,
dominated as it is by the giant statue of the poet Alexander Pushkin. And yet
today within yards of me I can see the sign showing the way to the Moscow
branch of TGI Fridays, the golden arches of McDonald's, which opened its first
Moscow branch here some years ago, and also a placard advertising the services
of the United Parcel Service. With American trademarks everywhere, the center
of Moscow today looks much like any other big European metropolis.
[The sounds of Pushkin Square.]
MARKS: But while
this generation of Muscovites follows American fashions, eats at American
restaurants, aspires to drive American cars, drink American sodas, and smoke
American cigarettes, despite all that, the Russian public remains at best
ambivalent about their country's relationship with the last remaining
superpower.
LILLIA SHEVTSOVA: Usually
Russians are very friendly towards Americans.
MARKS: Lilia
Shevtsova with the Moscow Center of the Carnegie Endowment for International
Peace.
SHEVTSOVA: There
was a poll after 9/11, and Russians were asking widely across the country
whether they would donate their blood to Americans. You know 89% of Russians
said yes, immediately, without any problems. And at the same time there are 30
per cent of Russians who are still thinking that Russia should be a superpower,
that Russia should confront the United States, that Russia should get anything,
some kind of important deliverables from the United States. So there is part of
the population—probably you've met these guys on the street—that are torn, torn
between their former reminiscences of the superpower role, and envy, probably
envy towards the only superpower, the elephant that now is controlling the
world order.
[The sound of President Putin welcoming President Bush to
Russia.]
MARKS: Into the
jungle, Vladimir Putin has stepped. The Russian leader welcomed President Bush
to Moscow earlier this year. He's emerged as Russia's most pro-western leader
since Peter the Great, agreeing arms reduction treaties with the United States,
signing strategic cooperation documents and generally backing President Bush's
war on terror. But at home, he's also perceived as an authoritarian—a tough,
ex-KGB man who has cracked down militarily in the breakaway region of Chechnya
and launched an offensive against Russia's free media. Reformist lawmakers like
Alexei Arbatov, deputy chairman of the Russian Parliament's Defense Committee,
accuse the United States of investing too much in the personality of Vladimir
Putin, and being complicit in some of his more authoritarian moves.
ALEXEI ARBATOV: I
think that the United States has not revised their international security
policy, and policy towards Russia very deeply. And they hope that having a deal
with Putin is enough, just like they hoped in the past that having a deal with
Yeltsin was enough. They do not take into account that Russia is now a
different society, there is public opinion, Parliament, mass media, and even
though Putin is now very popular that may not last forever. And if domestic
situation changes, economically for instance, or if there is some escalation of
violence in the North Caucusus, then Putin's relations with the West would be
for him a deficiency rather than an asset.
[The sound of American rock on the streets of Moscow.]
MARKS: That may
lie in the future. Today in Moscow, moviegoers are getting ready for
"Spiderman," plus visits to the city by James Brown, Joe Cocker, and even Ozzie
Osbourne. All those shows are expected to be sold out. But that doesn't imply
that many Muscovites are losing their faith in Russia's great power status, or
their concerns that their country is increasingly dancing to an American tune.
For Common Ground, I'm Simon Marks in
Moscow.
[The sound of American rock on the streets of Moscow.]
PORTER: You're
listening to Common Ground, radio's
weekly program on world affairs.
---
Assessing Human Rights
Listen to This Segment: MP3
MCHUGH: In
addition to the global war on terror, there are active smaller civil conflicts
on nearly every continent. And in light of this, human rights groups say many
of the world's hot spots have taken a turn for the worse. Kenneth Roth is the
Executive Director of Human Rights Watch. I recently had the opportunity to
talk with him about the global war on terrorism and his personal commitment to
defend human rights.
KENNETH ROTH:
Obviously, the major event from the human rights perspective was September 11
and its aftermath. The terrorist attacks of September 11 were in and of
themselves a direct affront to human rights. The idea of deliberately targeting
innocent civilians is antithetical to everything that the human rights cause
stands for. At the same time I think that those attacks present a challenge to
the human rights movement because there is a temptation on the part of the rest
of the world to respond and do whatever it takes to try to prevent another
attack, even if that means violating human rights in the process. And that is a
natural human reaction but it is also a very dangerous reaction. Because I
think it's important to recognize that the campaign against terrorism has to be
in the long-term a campaign for human rights.
MCHUGH: We feel
justified in our actions in Afghanistan. Israel feels justified in its actions
in the occupied territories. Russia feels justified in its actions in Chechnya.
Are there governments getting on the bandwagon of the war of terrorism to
basically allow their own militaries to be abusive?
ROTH: Human
Rights Watch has actually created a page on our Web site, which we call
"Opportunism Watch." And it is, we are looking at governments around the world
who opportunistically are waving the banner of antiterrorism as an excuse to
crack down on peaceful political opposition. Or even violent political
opposition, but doing it in an abusive way. For example, I suppose the most
blatant example is Robert Mugabe of Zimbabwe, who began to crack down on
journalists who had the audacity of criticizing his violent restrictions on a
free and fair electoral process, all in the name of fighting terrorism. We saw
this with Russian President Putin, who began to try to justify his atrocities
in Chechnya in the name of fighting terrorism. And unfortunately, a number of
European governments bought right into that and said there was a need to
reassess Russian conduct in Chechnya. So it is very important for governments
that claim to uphold human rights to identify this opportunism and to stop it.
MCHUGH: But there
are some who would argue, some governments around the world that would argue,
that September 11 changed everything. And, and we often say in the United
States, September 11 did change a lot of things. So therefore it is time to
reassess the situation that these governments are taking against civilians.
Whether it's in Chechnya or in the occupied territories. And, in fact, that
reassessing is a good thing.
ROTH: Clearly
September 11 is a wake-up call for everyone to be more vigilant in combating a
very serious terrorist threat. But it's important that as that reassessment
takes place that that not become an excuse. We also don't want to take actions
that are counterproductive. And if we send the signal that the ends justify the
means, if we send the signal that it's okay to abuse human rights in the name
of a laudable cause, then certainly our cause of fighting terrorism is laudable
but Osama bin Laden thinks that this cause is laudable, too. And you end up
reinforcing the logic that allows people to join the cause of terrorism and to
use its extreme means to pursue the particular political ends that they have in
mind.
MCHUGH: Human
Rights Watch monitors situations all over the world. Where would you say are
the biggest hot spots at the moment?
ROTH: Well, we
are looking at hot spots really in every region. In, in the Western Hemisphere
I think the hottest spot is Colombia. Where you have on the one hand a
significant rebel threat to the government. On the other hand, a military that
has decided to fight that threat by teaming up with a paramilitary organization
that basically uses as its tool of combat the slaughter of civilians. And so
today 75 to 80 percent of the political killings in Colombia are not committed
by the rebels. They are committed by the paramilitary group that is working in
very close alliance with the Colombian military.
MCHUGH: And
outside of the Western Hemisphere?
ROTH: If you will
look around elsewhere in the world, in Asia, in addition to Afghanistan, which
is obviously a major preoccupation, we are spending a lot of our time these
days looking at Indonesia, which faces a range of both separatist threats and
communal violence between Christians and Muslims and in different parts of this
vast archipelago. We also are spending much of our time in Africa, where there
are unfortunately a series of, of awful civil wars. I think the worst in many
ways is in eastern Congo, where a number of governments have sponsored local
rebel groups that are fighting in a way that is leading to massive loss of life.
MCHUGH: You've
talked about a lot of negatives. But there have to be some positive
developments somewhere in the world.
ROTH: Oh,
absolutely. I mean, if you stand back and say, you know, "How has the world
evolved over the last decade?" If you look at most of Latin America there are
problems in many of the countries, but most of the countries are now firmly
committed to democracy. There are genuine efforts to assert the rule of law
over militaries that had been very abusive. So that's a very positive area.
Much of Eastern Europe, what had been the Soviet bloc, is today well on its way
to, to being democratic and respectful of human rights, to the point that Human
Rights Watch has stopped working in most of those countries because we're not
needed. There are strong enough local organizations to carry the burden on
their own. Parts of Southern Africa are today doing much better than they were
a decade ago. Certainly South Africa, Mozambique.
MCHUGH: You
talked about how you operate around the world. And this is you don't really ask
permission. You just go in and investigate. And several governments would say
that's a biased position. How can we know that what you are saying is true?
ROTH: Well, there
are two different points there. In terms of bias, Human Rights Watch is
scrupulous in maintaining our objectivity. We instill this into all of our
investigators. Each of them is extraordinarily careful to interview all sides
to a dispute, to get eyewitness testimony, to cross-examine eyewitnesses to
ensure that they're telling us the truth or to discard their testimony if they
are not. So we are very, very careful that our fact finding is objective,
thorough, comprehensive, and not tainted by the various political agendas that
inevitably parties to a conflict will have. And I think that our work speaks
for itself. Something like the Jenin Refugee Camp report, which had to be
issues in one of the most divisive political contexts imaginable, has largely
been well received by all sides. I have not seen factual critiques of it.
People accept that what we did was a fair account of what happened.
Now, as to whether we should seek governmental permission,
our view is that international human rights law makes clear that the way a
government treats its people is not an internal matter. In the olden days one
heard governments saying that to talk about their human rights practices is to
interfere in their internal affairs. I don't buy that for a second. In fact,
the whole idea of international human rights treaties, which every government
of the world has ratified at this stage, is to make clear that a government's
human rights conduct is deserving of public attention. And if a government
falls short of respecting those standards, the international community has a
right to examine what happened, to denounce it, and to try to change it.
MCHUGH: How long
have you been examining human rights around the world? Personally?
ROTH: Personally,
I've been working in the human rights movement for over 20 years now. I've been
at Human Rights Watch for over 14 and have been directing the organization for
nine.
MCHUGH: I'm sure
then that you have witnessed unimaginable horror over and over and over again.
Is there ever a time when you just want to say, "I give up. I throw in the
towel. There is no hope?"
ROTH: You know,
no. And I suppose part of that is my personal makeup. In that clearly it's a
frustrating process in that you don't always win by any means. You see lots of
horrors. And at a certain level one has to deal with that personally. And
different people have different defense mechanisms. For me I think what keeps
me pushing forward is that I see over and over that when Human Rights Watch
enters the scene we can make a difference. That we can be successful in
increasing pressure on governments to respect human rights. And so we see how
in the lives of the victims who are facing imprisonment, who might risk torture
or even murder, that we can play a critical preventive role. And it's that
possibility that keeps me going. I see that governments indeed do react to our
intervention, so we can make a difference. And so even though we can't stop
human rights abuse, knowing that we can curb it, that we can save victims from
or prevent their persecution, is more than enough to keep me going.
MCHUGH: Kenneth
Roth is the Executive Director of Human Rights Watch. I spoke with him in New
York.
---
Queen's Jubilee
Listen to This Segment: MP3
MCHUGH: England's
Queen Elizabeth is marking her 50 years on the throne with pomp and
circumstance. For months, British media speculated the Queen's Jubilee would
hardly raise an eyebrow among the public. But, that's not how things turned
out. The royal family is experiencing a new wave of popular support. Suzanne
Chislett looks back at the changing fortunes of the Queen.
[The sound of Big Ben chiming.]
CHISLETT: As 2002
dawned, the thinking across much of Britain was that the Jubilee year would not
see celebrations similar to the national street parties of 1977 to mark the
Queen's 25-year reign. Opinion polls were suggesting that anti-royalist
feelings were running high and of those who did support the monarchy many
wanted to see Prince William, the Queen's grandson be crowned the next king.
[The sounds of heralding trumpets.]
CHISLETT: On
March 30th Britain was shocked by the news that Queen Elizabeth, the Queen
Mother, had died peacefully at the age of 101. The centenarian had been ill
since before Christmas, but there was nevertheless a huge sense of loss. And
not just among older people who remembered her time as Queen alongside her husband,
the late King George VI. Some said the royals appeared to have learned a few
lessons from the death of Princess Diana, and instead of remaining silent
senior members of the family were quick to pay public tribute to the royal
matriarch. Prince Charles granting a rare interview to remember the woman he
was so close to.
PRINCE CHARLES: [speaking
about the Queen Mother] And me, she meant everything. And I had dreaded,
dreaded this moment along with, I know, countless others. Somehow I, I never
thought it would come. She seemed gloriously unstoppable.
CHISLETT: In the
days that followed, thousands of Britons queued for hours to witness the Queen
Mother's lying in state. When her four grandsons stood watch at her coffin,
when the Queen made a national address to thank everyone for their sympathies
and when Princess Anne broke with royal tradition to join the male members of
the family to march behind the Queen Mother's coffin at her funeral, the signs
of a change in attitude towards the Queen herself were easily detectable.
Just a few short weeks after the death of her mother, Queen
Elizabeth began a Jubilee tour of Britain. She traveled to major cities, small
towns, the islands off the far north coast of Scotland. And wherever she went
was greeted by favorable crowds that seemed to increase in number. The
celebrations culminated in two concerts held in the gardens of Buckingham
Palace over the four-day Jubilee weekend at the start of June.
[Music from a classical concert.]
CHISLETT: The
first would showcase the world's best classical artists in a "Prom at the
Palace." The second called "Party at the Palace," was to feature leading pop
artists from the five decades of the Queen's reign. Buckingham Palace officials
carefully controlled the hype surrounding the two open air events. The names of
the scheduled performers were slowly leaked to the media, while 12,000 tickets
for each event were handed out following a lottery draw of all those who'd
requested them. The Queen then traveled through the streets of the City of
London for dinner as the guest of the Lord Mayor, where she thanked all those
around the world who were marking her Golden Jubilee.
QUEEN ELIZABETH: [speaking
at her Golden Jubilee celebration] Thank you all for your enthusiasm to mark
and celebrate these 50 years. Gratitude, respect, and pride—these words sum up
what I feel about the people of this country and the Commonwealth and what this
Golden Jubilee means to me.
[applause]
CHISLETT: The
list of stars performing at the Party at the Palace was impressive. Sir Elton
John, Sir Paul McCartney, Tom Jones, Ricky Martin, Dame Shirley Bassey but more
so were the massive crowds who gathered in central London to watch.
[The sound of parade music.]
CHISLETT: A huge
Commonwealth parade saw 30,000 people from 54 Commonwealth nations pay their
own tributes to the Queen a day later. Again, more than a million people
watched on the streets of London alone. The popularity of the royals was on a
high at home and abroad. Even apparent rifts among the family itself appeared
to be healing. The long-term mistress of Prince Charles, Camilla Parker Bowles,
sat in a royal box for the concerts. Newspaper headlines across Britain
declared the festivities a massive success, royal watchers pronounced amazement
at the public reaction, and opinion polls showed an overall change in heart
towards the Queen. There are still plenty of people across Britain that would
like to see the monarchy end; in a recent poll 32 percent said they believed
the monarchy was out of date. And among young people more would like to see
Prince William crowned the next king than his father. But, in a year in which
the Queen lost both her mother and her sister she has also found a new wave of
support from her public. And in a series of public comments has said she fully
intends to remain on the British throne for many years to come. For Common Ground, I'm Suzanne Chislett in
London.
PORTER: That's
our show for this week. If you have questions or comments about today's
program, visit our Web site at commongroundradio.org, or e-mail us at
[email protected] Please drop us a line. We'd love to hear
from you. For Common Ground, I'm Keith Porter.
ANNOUNCER: Common Ground is made possible by the Stanley Foundation. The Stanley Foundation promotes public understanding, constructive dialogue, and cooperative action on critical international issues.
Copyright © Stanley Center for Peace and Security