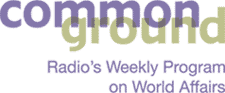 Week of January 21, 2003
Program 0303
Segments
Kosovo Power | Transcript | MP3
Kosovo Reconstruction | Transcript | MP3
Border Colonias | Transcript | MP3
Russia Press Pressure | Transcript | MP3
China | Transcript | MP3
This text has been professionally transcribed. However, for timely distribution, it has not been edited or proofread against the tape.
---
AVNI KRASNIQI: Lately, it's been four hours without, two with power.
MCHUGH: Four hours without?
KRASNIQI: Without power and two hours with power.
MCHUGH: Every day?
KRASNIQI: Every—more or less every day.
KRISTIN MCHUGH: This week on Common Ground, Kosovo's power crunch.
KEITH PORTER: Plus, determining Kosovo's place in the world.
MUSA DAKA: [quoting his nephew] He said, "I'm the only one in Europe without citizenship, maybe the only one on the face of the earth." What should I say to my nephew, what kind of citizen he is?
PORTER: And housing problems along the US-Mexican border.
FRANK DESALES: We are the richest country in the world, we're off fighting wars and providing more services, food, you know, to different areas, Africa, like that. But then of course, one thing that we're not doing is actually looking in our own backyard. Our own backyard, meaning the Texas-Mexico border.
MCHUGH: These stories—coming up next.
---
Kosovo Power
Listen to This Segment: MP3
MCHUGH: Common Ground is radio's weekly program on world affairs. I'm Kristin McHugh.
PORTER: And I'm Keith Porter. The war that devastated Kosovo nearly four years ago has largely disappeared from the headlines. Today, the slow process of rebuilding the region continues. But as Kristin and I learned during a recent visit, Kosovo's recovery efforts are hampered by the lack of something we take for granted in the Western world—reliable electricity.
[The sounds of an electrical generator.]
MCHUGH: Walk anywhere in Kosovo and this is the sound you will likely here.
[The sounds of an electrical generator.]
MCHUGH: It's the hum of a gasoline-powered generator and it's a sign Kosovo is in the midst of a power crisis.
JOSEF RIEDER: [via a translator] One is 18 and the other is 19 years old.
MCHUGH: Josef Rieder, a German national, is the new Managing Director of Kosovo's Electric Company, KEK. He says Kosovo's two unreliable and outdated power plants are the main cause of the energy shortage.
RIEDER: [via a translator] We also have the sector A, the thermo central producer. It is the older power plant. The older section of the power plant is 40 years old. Where the youngest plant in that sector is 20 years old.
[The sound of jet aircraft, exploding bombs, and antiaircraft fire.]
MCHUGH: In 1999, Slobadan Milosevic's drive to ethnically cleanse Kosovo of all Albanians and other non-Serb minorities was crushed by a 78-day, NATO-led bombing campaign. Damage from the bombing raids was, for the most part, limited to military installations, roads, bridges, and other infrastructure. But Kosovo's two power generating facilities near Pristina survived. Some say that was a mistake.
TERESA CRAWFORD: It's funny because my husband was a KFOR soldier. And he was helping with the development of the protected targets list. So the list of the facilities that NATO would bomb during the bombing campaign. And they very specifically said that the power plant is a protected target, so don't bomb the power plant. Well, when they got here and they realized how bad the power was, they wished they had bombed the power plant.
MCHUGH: Teresa Crawford is Technical Director of the Advocacy Project and a board member of IPKO, Kosovo's first post-war Internet provider.
CRAWFORD: Just in case the power goes out and the generator hasn't turned on yet, there's a really big generator downstairs that runs the power for the lab.
MCHUGH: Kosovo's two power generating facilities, Plants A and B, were once part of Yugoslavia's vast energy grid. But now, even on the rare occasion both are fully operational, the two can't generate all of the power needed to meet demand. Three years ago, Kosovo's peak power consumption was 500 megawatts. This winter that figure has jumped to 800 megawatts. The consequences are clear—rolling blackouts throughout Kosovo.
[The sound of a busy Kosovo restaurant, the Metro Café.]
MCHUGH: This is the Metro Café, a trendy diner not unlike those in New York or London. Here, Pristina's hip youth and fashionable executives gather to drink coffee, catch up on the latest news, or to watch MTV on satellite television. All of this requires electricity.
AVNI KRASNIQI: Lately, it's been four hours without, two with power.
MCHUGH: Four hours without?
KRASNIQI: Without power and two hours with power.
MCHUGH: Every day?
KRASNIQI: Every—more or less every day.
MCHUGH: Metro Café owner and operator Avni Krasniqi.
KRASNIQI: You know, it does affect the business a lot. Before, yes, we had a small generator, we couldn't cook, we couldn't get, you know, coffees ready. You know, that's why people here. There was no heating. But, since we got the massive generator there are no problems.
[The sounds of an electrical generator.]
MCHUGH: Kosovo's electric company maintains a load shedding schedule, a complicated grid designed to help businesses and residents determine when they will and will not have power. But as Keith and I quickly discovered, power outages are often unpredictable.
[The sound of a city street, then a busy Kosovo restaurant, the Café Monaco.]
MCHUGH: It's a typical Friday evening here in downtown Pristina and Keith and I are now headed to dinner. The power is on. We'll see if it stays that way.
[The sound of a busy Kosovo restaurant, the Café Monaco.]
MCHUGH: We are sitting here at the Café Monaco and we were enjoying a nice drink of diet Coke, waiting for our dinner to be served. We've ordered a local pizza and the power just went out. And so now we have one temporary light and a bunch of candles and we're waiting to see what happens at this point. And I'm not sure we're going to get dinner tonight.
[The sound of a busy Kosovo restaurant, the Café Monaco.]
MCHUGH: Well, it's about 9:10 and we just finished our dinner and we enjoyed a wonderful pizza by candlelight. Actually, the power has not come back on here in the restaurant. Now, Keith, you just had an interesting experience.
PORTER: Yes. We asked for the dessert menu and he was able to tell us what was for dessert. And I also asked for a macchiato, a coffee drink with a little chocolate in it. And he told me that that's unavailable now because of the power outage, they're not able to make one of those.
[The sound of a busy Kosovo restaurant, the Café Monaco.]
MCHUGH: It's now 9:20. They just served me my dessert and the power just came back on. We've been sitting here probably about 25 minutes in the dark with just candlelight.
MCHUGH: Roughly $500 million has been spent to renovate and update Kosovo's aging power plants. Much to the chagrin of local officials, stop anyone on the street and most will tell you it was money wasted.
SIMON HASELOCK: They are basically breaking down every minute. We're keeping these together with a wing and a prayer.
MCHUGH: Simon Haselock is Public Information Director for the United Nations Mission In Kosovo, or UNMIK.
HASELOCK: That requires a lot of money, a lot of investment, and some people are, you know, would question whether investment was wise or not. That, the decision was to rehabilitate the existing infrastructure. And that has been difficult. People need to understand the cost of these things. You know, they say, how much money has been wasted on rehabilitating these power stations. Firstly, if you had wanted a new power station built here it would have taken a lot more than has been spent currently on rehabilitating it. Secondly, it would have taken a couple of years to build, so you'd have still had to invest in the existing system. And you are in the land of the conspiracy theory here. And there is a conspiracy about every possible thing you could possibly wish.
MCHUGH: And there are plenty of conspiracy theories swirling around the power situation. All have a common theme—corruption. Last summer, a massive fire swept through one of Plant B's generating units. Officially, lightning sparked the fire. But Metro Café owner Avni Krasniqi says conspiracy theorists insist the fire was a criminal cover-up.
AVNI KRASNIQI: You know, people talk about how there is somebody behind it. There is people who don't want this thing to work. But, I just think it's too old, and probably they should get into the system and maybe buying, rather than using the old system that we have.
MCHUGH: IPKO's Teresa Crawford wants to believe the official investigation of the Plant B fire—but even she has her doubts.
THERESA CRAWFORD: I don't, I mean, there's always a conspiracy theory about everything so, I'd like to believe it was just an explosion and it wasn't that somebody set something there, or, you know, did something. I don't believe this theory that it was lightning. Somebody said, "Oh, it was a lightning hit." I said, "Oh, I really don't think could cause quite that much damage."
JOSEF REIDER: [via a translator] What reason would they have not to tell the truth?
MCHUGH: KEK Managing Director Joseph Reider insists Mother Nature is to blame for the Plant B fire.
REIDER: [via a translator] International professionals did the research, and established that this was an accident caused by the lightning. The examples where control rooms burned are not only in Kosovo. I know two other cases where this happened in Germany.
[The sound of a city street, then a busy Kosovo restaurant, the Café Monaco.]
MCHUGH: That's little comfort to shop owner Avni Krasniqi. His last electric bill was $890 Euros, roughly $900. The generator he must have to operate his business can run twice as much.
KRASNIQI: We spent about 11,000 Euros in the generator. It costs 5 Euros an hour. Plus, you have the service that you gotta pay every 200 hours the generator works is another 100 Euros, that's how much it works. There is no guaranteeing it. If it goes wrong, you gotta pay still for the parts.
[The sound of city traffic.]
MCHUGH: [reporting from the city] Just behind the UNMIK headquarters in downtown Pristina there is a wall which has been hastily painted over with white paint. Underneath the paint you can faintly see what used to be graffiti, and it says something to the extent of, "In Kosovo we used to have power but now…." Obviously folks here are frustrated with the power situation.
MCHUGH: [now narrating again] KEK is purchasing electricity from Bulgaria to try to ease the energy gaps, but even this, it seems, is generating more talk of corruption than actual power. Last month, a former KEK official was arrested and charged with stealing and misusing more than $4 million worth of international aid. The money was originally earmarked to purchase power from Bulgaria.
MCHUGH: [reporting from the city] Well, it's after dinner and we are headed back to the hotel. It's very, very dark. So I just now took out my flashlight so we can make our way back without tripping.
MCHUGH: [now narrating again] Officials estimate it will cost more than a billion dollars to replace Kosovo's aging power plants but it's unlikely KEK will find the money among the many international donors currently contributing to Kosovo's reconstruction.
[The sound of a busy Kosovo restaurant, the Downtown Café.]
MCHUGH: Just down the street from one of the Kosovo Electric Company's administrative offices, the Downtown Café's band plays on while a countless number of generators hum their own tune across Kosovo. KEK Managing Director Josef Reider is hopeful Kosovo's aging power plants will be operational at full capacity some time this year. But he knows this is only a short-term solution in a region desperately trying to repair the damage of war. For Common Ground, I'm Kristin McHugh, Pristina, Kosovo.
---
Kosovo Reconstruction
Listen to This Segment: MP3
PORTER: The economic development problems in Kosovo can never be fully addressed until the region's final political status is determined. Kosovo remains a trouble spot, where an uneasy peace is enforced by both the United Nations and NATO forces. Currently run as a UN protectorate, the small province is calling for the international community to grant it independence. The Bush Administration agrees with many European diplomats that the question of Kosovo's status is too explosive an issue to deal with currently. But as Catherine Drew reports, regional experts who gathered at a Washington conference agreed that continuing uncertainty over Kosovo's future status is damaging the fragile peace.
CATHERINE DREW: Technically, Kosovo makes up what is left of Yugoslavia, along with Serbia and Montenegro. But since the war ended in 1999, Kosovo has been under the complete control of the United Nations, while it waits for the UN Security Council to puzzle over whether Kosovo should become an independent nation, return to the Yugoslav federation, or find some other path.
[The sounds of a busy conference.]
DREW: Differences of opinion over Kosovo's future were brought sharply into focus at a recent conference hosted by Washington's Center for Strategic and International Studies. Around 100 people gathered to hear Kosovar Albanian political and civic leaders discuss the province's future. They, in turn were keen to hear what members of the Bush Administration had to say about the question of Kosovo's final status. This sentiment was captured in a question from Musa Daka, a member of the National Albanian American Council who had just returned from visiting family in Kosovo. He spoke to Donald Braum, who is Deputy Director for South Central European Affairs at the State Department.
MUSA DAKA: [questioning Mr. Braum] I would like to ask Mr. Braum same question that my nephew asked me. He said, "I'm the only one in Europe without citizenship, maybe the only one on the face of the earth." Will you answer me sir, what or anybody in the panel, what should I say to my nephew, what kind of citizen he is?
DONALD BRAUM: [answering Mr. Daka] I'd say that he certainly is a citizen of Kosovo and he should put forth very strong efforts to develop, again, the institutions of Kosovo, the economy of Kosovo, to begin the process at his own independent level of reconciliation to the extent that he can.
DAKA: [responding to Mr. Braum] Thank you.
BRAUM: [answering Mr. Daka] And that this will help resolve the larger legal question of his status.
DREW: This message of patience was not one that the Kosovo Albanian visitors wanted to hear. However, Mr. Braum went on to say that the newly instituted government structures of Kosovo must prove they can govern the province before the question of independence is addressed.
BRAUM: Certainly we need to be thinking about final status, but it's really not the time to begin discussing final status or actually even a road map to it. I think we're going to know when the right time comes, when that time comes. But what we need to know now, is to continue to build the preconditions so that we can have a process for final status and we can have a discussion on that.
DREW: Mr. Braum says Pristina must begin a dialogue with Belgrade, while much more progress is needed on the return of Serb refugees driven from the province after the war. He says Kosovo needs to ensure it is a multiethnic society in practice, not just in principle. To some observers, the refusal of the US and the international community to begin to examine the issue of Kosovo's final status is becoming detrimental to the province. Louis Sell, a Professor at the University of Maine and longtime expert on the Balkans region, says the international community must not put-off this issue for long.
LOUIS SELL: The failure to, at least to begin addressing the issue of final status is becoming itself destabilizing. Certainly there are destabilizing potentials for an independent Kosovo, but the failure, the refusal to even begin talking about it, I think, is now even more destabilizing than beginning the process, which will be difficult and at times could be potentially dangerous, but it needs to get underway.
DREW: Professor Sell says lack of movement on the final status question fosters fear and distrust on the part of the ethnic Albanians, while allowing Serbs to falsely believe they might return to power. This viewpoint has the support of Democratic Congressman Eliot Engel who is the founder and co-chair of the Congressional Albanian Issues Caucus on Capital Hill. The lawmaker said he is planning to introduce a resolution in the United States Congress in support of independence for Kosovo. Congressman Engel told the gathering he fears some European nations will try to appease Serbia, and that the US must be a champion for Kosovo's independence.
US REPRESENTATIVE ELIOT ENGEL: If the United States pulls back, if the United States isn't there to play a forceful role and say, "Independence is really the only solution," I'm afraid that the consensus of Europe will not be realistic.
DREW: Congressman Engel says he hopes his congressional resolution will prompt the Bush administration to work along with Europe and the United Nations towards giving the people of Kosovo a secure and independent future. For Common Ground Radio, I'm Catherine Drew in Washington.
PORTER: Making ends meet on the US-Mexican border, next on Common Ground.
[Musical interlude]
---
Border Colonias
Listen to This Segment: MP3
MCHUGH: Millions of people reside in underdeveloped neighborhoods called colonias on both sides of the US-Mexican border. Although some initiatives are underway to meet the housing and infrastructure needs of these communities, the demand for basic services is still a burning issue. Kent Paterson recently traveled the borderlands and files this report.
[The sound of a car driving through busy traffic in Ciudad Juarez, Mexico.]
PATERSON: Architect Jesus Gamiz drives his car through the rough and tumble hillside neighborhoods of Ciudad Juarez, Mexico. Exploding in population from 300,000 people in 1970 to more than one million today, Juarez attracted new migrants drawn by the hundreds of maquiladora export assembly plants in the city. But many arrived only to encounter no housing or utility services. Building up improvised neighborhoods called colonias, the new residents went to work constructing their own homes.
JESUS GAMIZ: [as translated and paraphrased by Mr. Paterson] Gamiz says economic and cultural factors led to a shift back in the 1970s away from traditional adobe houses to ones made out of concrete block. Gamiz says this new construction style presents problems in a climate like Juarez's, where extremes in temperatures often predominate and where many people don't have air conditioning or natural gas connections built into their homes.
GAMIZ: [via a translator] When it's hot outside or inside the home, the concrete block heats up and causes the house to be hot in the summer, or inversely, cold in the winter. And this causes people to spend more on gas and electricity so they can have a comfortable environment.
[The sound of a car driving through busy traffic in Ciudad Juarez, Mexico.]
PATERSON: To keep cool, people purchase portable fans. To stay warm and cook, they use propane gas tanks, which are sometimes unsafe and explode. Some colonia residents still lack running water and sewers. The spread of colonias in Juarez grows out of a housing deficit currently estimated to be from 60,000 to 80,000 units. Across the river from Juarez is El Paso, Texas, another place where the lack of affordable housing has encouraged the formation of colonias. An estimated 80,000 people currently live in colonias in El Paso County. Across Texas there may be more than 600,000 people living in colonias.
[The sound of hammering and construction.]
PATERSON: First settled in the 1950s, the predominantly Mexican-American community of Sparks became the model of US colonias. Even though fancy, site-built homes are intermingled with run-down dwellings and trailers, two-thirds of Sparks' 900 or so families live below the poverty level.
[The sound of Guadalupe Ortega speaking in Spanish.]
PATERSON: On a steep hill above Sparks, Guadalupe Ortega talks in the living room of her family's old mobile home and self-built extension. After her husband left, Ortega says she and her children lived for many years without basic furnishings.
GUADALUPE ORTEGA: [via a translator] When people finally came to help me, I didn't have any gas. I didn't have a heater and the room had a lot of holes in it. It didn't have anything. Me and my girls were freezing.
FRANK DESALES: Well, very unfortunately, you know, as the richest country in the world, we're off fighting wars and providing more services, food, you know, to different areas, Africa, like that. You know, to be a competitive world power. But then of course, one thing that we're not doing is actually looking in our own backyard. Our own backyard, meaning the Texas-Mexico border.
PATERSON: Frank Desales directs the Sparks Housing Development Corporation, a non-profit organization that helps neighbors like Guadalupe Ortega improve their home construction.
DESALES: You know, we have people who come over here and they say, "Wow, is that, is this Mexico, or is this a third world country." No, this is the United States, but we are living in third world living conditions. You know, but like I said, you know, we should work with different government entities to actually combat this problem.
PATERSON: Nowadays, colonias on both sides of the border are prominent features of one of the world's fastest growing regions.
DR. PETER WARD: Let me just say that in both cases what we are seeing here is essentially a rational response from low income people to the lack of a housing policy, to rapid urbanization often.
PATERSON: Dr. Peter Ward is a Centennial Chair in the LBJ School of Public Affairs at the University of Texas-Austin. Ward has studied and written about colonias in both Mexico and the United States.
DR. WARD: Throughout Latin America and in Mexico, we're talking about a process of self-build. People will occupy their lots, they'll put a shack on there and then they'll gradually over a period of 10 or 15 years, they will improve that shack, substituting the shack for 1, 2, 3, 4 rooms, brick built dwellings, gradually will perhaps put in a second story on there, put a concrete roof on—you'd have to do that if you're gonna build upwards, at the household level through what's called self-help. And at the community level would be lobbying officials to put in basic services. Now in the United States, it's very, very different. There is some level of politicking of local officials, but that's really very weak because local officials usually don't have the resources to put in terms of county officials. But in terms of the actual sort of house that you put on your lot, it's very, very different. One finds a certain modest amount of self-help, particularly among original Mexican migrants, who've done that or their parents did that back home. But more usually what you find is that people will put a trailer on their lot and aspire to upgrading or substituting that trailer for a manufactured home.
SCOTT STORMENT: There's some similarities in the sense that the people you're dealing with are, they're trying to make the best of a tough situation. I mean they're very, very strong-willed, very capable, very proud people.
PATERSON: Scott Storment is a Senior Program Development Officer with the North American Development-Bank—NADBank—a bilateral institution set up in 1994 by the North American Free Trade Agreement to fund infrastructure improvement projects along the US-Mexico border. In its early years, the bank concentrated on funding water and wastewater projects in colonias, often serving as a source of leveraging other financing.
STORMENT: And also we've been called the funding of last resort, you know that when a project doesn't quite have all of its finances together, let's say a water utility and they need that last piece they can come to us and we'll work with them. We do have grant funds as well as low-interest loan funds to provide them resources to get the water and wastewater infrastructure into the colonias.
PATERSON: By early 2002, the NADBank had authorized spending about $379 million from its funds to help finance 43 projects in Mexico and the United States. Storment says the bank has also expanded its original mandate and is funding other needs stemming from the proliferation of colonias.
STORMENT: We have several projects. One in Agua Prieta, Sonora, Ciudad Juarez, Chihuahua. Two projects that are gonna be targeting lower income, poor, colonia-like situations on the Mexican side of the border where they don't have adequate paving—they don't have any paving—and so the dust is a huge public health problem as well as it's a huge contributor to the overall air quality non-attainment issues on both sides of the border.
PATERSON: Accidents of geography, economics, and history are encouraging some border communities to cooperate.
[The sound of a train passing through a crossing.]
PATERSON: Here in the twin cities of Nogales, Sonora, and Nogales, Arizona, the daily train rattles residents on both sides of the border as it ships goods from Mexico to the United States. Like Ciudad Juarez, Nogales's hillsides are sculpted with colonias. And on the United States side, the federal government has declared Nogales, Arizona, a colonia eligible for additional federal funding. Connecting the sister cities is a storm drain tunnel.
MIRIAM DAVIDSON: It's not a sewer tunnel, though there is a lot of run-off from outhouses and shantytowns and stuff like that. So the water is dangerous, plus there is run-off from maquiladoras. The water in the tunnel supposedly has heavy metals and toxics in it. There's been spills of gasoline into it. It caught fire on the Mexican side a few years ago.
PATERSON: Miriam Davidson is the author of a book about the two Nogales titled Lives on the Line.
DAVIDSON: But there is also a separate sewer line that runs south to north across the border, because all the effluent from Mexico is treated at a sewer plant that is about 8 miles north of the border. And then the water is released and flows, continues to flow north to Tucson. So the two sides have this complicated history of cooperation on the environment because of the way the land slopes here, downhill from the Mexican side to the US side. And so it's required them, and also the many hills in the area, it's made it very complicated for them in terms of water and wastewater systems. So they've had to work very closely together and that's helped them in terms of dealing with other issues in a cooperative way.
[The sound of Nogales traffic.]
PATERSON: Despite examples of bilateral cooperation in Nogales and other places, rapid population growth and commerce along the US-Mexico border has outpaced infrastructure investments. No Marshall Plan for the colonias and adjoining areas exists. The North American Development Bank estimates that almost $2 billion will have to be spent during the next three years just to keep up with border infrastructure needs. Whether Mexico and the United States will be able to meet the challenge at a time of austere budgets is a question with deep implications for millions of border residents. For Common Ground, I'm Kent Paterson reporting.
PORTER: This is Common Ground, radio's weekly program on world affairs.
KEITH PORTER: I'm Keith Porter.
KRISTIN MCHUGH: And I'm Kristin McHugh. Coming up this half hour on Common Ground, new pressures for the Russian media.
MASHA LIPMAN: I think this is his deep belief that goes back to his earlier career as a KGB officer, that press which dares looks into the performance of the government or its institutions, which dares criticize, which dares investigate, is the enemy.
MCHUGH: Plus, the changing relationship between the United States and China.
PETER YEO: Our relationship generally is in a much stronger position because of September 11th and because of the strong cooperation that has been between the US and China on counterterrorism issues.
---
Russia Press Pressure
Listen to This Segment: MP3
PORTER: It's been several months now since more than a 120 people died when Russian special forces launched a massive operation to free hundreds of hostages in a Moscow theater. Russian lawmakers accused the media of failing to give fair coverage to the incident and proposed several amendments to the country's media law, curtailing many core press freedoms.
MCHUGH: The amendments were not signed by the Russian President Vladimir Putin, but he too, said journalists made serious mistakes while covering the events surrounding the theater crisis. As a result, the Russian media now finds itself less and less free from government control. Anya Ardayeva reports from Moscow.
[Sounds of gunfire.]
ANYA ARDAYEVA: It all started in October, when several dozen Chechen guerrillas, armed with guns and explosives, took more than 800 people hostage during the performance of the hip Russian musical Nord-Ost. Their main demand was an end to the war in Russia's breakaway province of Chechnya. After a three-day long siege of the theater, Russian forces stormed the building. The gas they used to disarm the militants also killed 129 hostages.
[The sound of a Moscow TV station reporting on the siege of the theater.]
ARDAYEVA: The high civilian casualty figure provoked a wave of criticism in the Russian media. According to many reports, doctors who were treating the hostages overcome by the gas, did not know what type of gas was used in the special operation and so could not prescribe the best treatment. For more than a day, neither the media nor the patients' relatives were allowed into the hospitals, sparking a wave of anger among the Russian public. One of the newspapers that covered the hostage drama was the weekly newspaper Versya. Just hours before its post-crisis issue went to press, six investigators from the Russian Federal Security Service, or FSB, walked into the newspaper's office and said they were taking the computers and personal files of the newspaper's journalists.
They claimed Versya had published some information considered to be a state secret—something the newspaper had already been accused of about a year ago, when it published a series of articles containing information about the sinking of the Russian nuclear submarine Kursk. However, none of the journalists were arrested and the newspaper continued to publish after the computers were given back by the FSB. Editor-in-chief of Versya newspaper, Rustam Arifjanov.
RUSTAM ARIFJANOV: [via a translator] I think that FSB investigators came to us, both this time and previously, only because they are very interested in the information we have and where we are getting this information. That's why they are taking away the main server, personal files, etc.
ARDAYEVA: Whatever reasons the FSB officials had, Russia is not the safest place for mass media to operate these days.
[The sound of the Moscow TV station NTV reporting on the takeover.]
ARDAYEVA: A year and a half-ago, several media outlets of Russia's largest private media holding was taken over by the state-owned gas monopoly Gazprom. Among them was the NTV network, known for its criticism of the country's current government. NTV's journalists resigned and went to work for a much smaller network. Now all major Russian television networks are owned by the state and their news coverage don't offer a very wide spectrum of views. And following the hostage-taking incident in Moscow, Russia's top officials, including the country's President, Vladimir Putin, said the media lacked objectivity in covering the crisis, and claimed it had made a lot of dangerous mistakes.
VLADIMIR PUTIN: [via a translator] On the day of the storming, just minutes before in fact, television pictures on one of the national channels showed the movement of special forces with a voice explaining what was going on in the building. That could have led to a massive tragedy.
MASHA LIPMAN: I can't see any major mistakes made by the press.
ARDAYEVA: Journalist Marsha Lipman used to work for a weekly magazine Itogi, also shut down by the state. She says the authorities have very little reasons to blame journalists.
LIPMAN: All the damage to human lives during the siege and the following operation was inflicted by the authorities. The mistakes, or I would say, crimes, were committed by those who let the terrorists in, who made it possible for the terrorists to travel across the country and then across its capital with the whole arsenal of weapons and explosives and, especially and most tragically, those are to blame here in this terrorist attack who have left the people after the terrorist attack without appropriate medical aid. Compared to these mistakes—or rather crimes—I think it's criminal negligence at best. Any errors made by the press pale.
ARDAYEVA: What alarms the government the most is that incidents like the Moscow theater crisis always lead to public debate about the course of the Chechen war. Some Russian media suggested that the siege was a clear sign that it was time to end the 10-year long conflict in Chechnya and start negotiating with Chechen leaders, something Russian president Vladimir Putin strongly opposes.
LIPMAN: If we look back at the beginning of a Chechen war when a Radio Liberty reporter was persecuted and seized by the special services, kept incommunicado, President Putin spoke very derogatorily about the reporter, and more or less likened him to the terrorists themselves. I think this is his deep belief that goes back to his earlier career as a KGB officer that a press which dares look into the performance, which dares look into the performance of the government or its institutions, which dares criticize, which dares investigate, is the enemy.
ARDAYEVA: The editor-in-chief of the Versya newspaper says the government simply wants to make sure that journalists in Russia know they are being watched, as the Kremlin makes it easier to control the press and therefore, public opinion.
ARIFJANOV: [via a translator] Investigators are simply showing to the other media, "See, this is what could happen you. We will start the investigation, take your computers and you will simply not be able to publish anything." We learned from our past experience with the FSB how to publish our newspaper without computers. But what if we weren't prepared? We wouldn't have published anything and wouldn't have been able to tell our readers anything.
ARDAYEVA: Although the Russian President repeatedly claims his government's actions towards the media are always strictly based on the law, few here believe that. Russian journalists feel they are being increasingly pressured by the state, and since the Russian President is gearing up for his reelection campaign, that pressure is unlikely to weaken. For Common Ground Radio, I'm Anya Ardayeva in Moscow.
PORTER: Coming up next on Common Ground, the US-Sino relationship.
MCHUGH: You're listening to Common Ground, radio's weekly program on world affairs.
[Musical interlude]
---
China
Listen to This Segment: MP3
MCHUGH: The relationship between the United States and China has long been a roller coaster ride of ups and downs. Just before the events of 9/11, the two countries were still licking their wounds over the EP-3 spy plane incident.
PORTER: But the war on terrorism has changed the dynamics in the relationship. To discover how, I spoke with two American experts, first Bonnie Glaser of the Center for Strategic and International Studies.
BONNIE GLASER: I think that both sides realized that after the EP-3 incident that there was a dangerous downward spiral in the relationship that really needed to be reversed, and that both sides needed to have a more substantive dialogue than they had had in the first six months since President Bush took power. And then with the occurrence of the attacks on the World Trade Towers and the other terrorist attacks on the United States September 11th, this presented new opportunities to really advance the pace of and the momentum in improving the relationship. And the Chinese grasped that, those opportunities and in grasping those opportunities I think that the Chinese did a great deal to stand on the side of the United States and cooperate with the US in the war against terrorism.
PETER YEO: I think that prior to September 11th—I think the Bush administration was trying to figure out which direction it wanted to head in terms of China.
PORTER: Peter Yeo works for the US House of Representatives' Committee on International Affairs.
YEO: There were certainly high ranking officials in both camps, both the engagement camp as well as the, you know, "China is a strategic competitor, we must be more aggressively challenging China in the security and trade and political fields." And I think that September 11th helped solidify the power of those who were arguing for constructive engagement with China and for arguing basically for positive relations. And as a result I think that US-China relations are at higher plane than they have ever been at. And I think that if we would have another EP-3 incident we'd be much better able to weather the storm. And I think the fact that there have been for instance, Taiwan statements that were viewed by Beijing as unhelpful and yet it didn't cause a major rift in terms of the US-China relationship. I think that we're just, our relationship generally is in a much stronger position because of September 11th and because of the strong cooperation that has been between the US and China on counterterrorism issues.
PORTER: Peter, the United States and Russia have had a much closer relationship since September 11th, 2001. Does this worry the Chinese at all?
YEO: I think the Chinese obviously would prefer that our relationship with Russia be more strained in the sense that they don't want a relationship with Russia to be too strong. But on the other hand I think that the Chinese leaders appreciate that a strong US-Russia relationship will contribute to stability on a whole host of international problems and issues that China has an interest in. Whether it's Iraq or whether it's, you know, economic policy, or to some extent, for instance the North Korea situation, the ongoing North Korea situation. I think that you'll find a lot of Chinese officials prepared to acknowledge that a strong US-Russia relationship can, in fact, promote China's interests as well.
PORTER: Bonnie, your thoughts?
GLASER: A lot of interesting debates in China among experts on Russian affairs about US-Russian relations. And in the past I think many of them were quite nervous about losing Russia as a means of obtaining some leverage over the United States and as a means of advancing China's broader, more longer term agenda of creating a multipolar world. And there was a great deal of cooperation with Russia, for example, in the rhetorical realm of opposing the revision of the ABM Treaty. And that fell apart. And the Chinese were worried when the Russians began to sign on as a partner of the United States. And I think that they were very concerned that this would end up eclipsing their own role and making it more difficult for China to advance its own international agenda.
I think that the Chinese have adjusted to the changes in the US-Russian relationship. They are no longer as fearful as they were. And I think that they recognize that a good relationship between the US and Russia does not necessarily have to be at the expense of China and does not have to be damaging to Chinese interests. And I think we are still in this process of adjustment and Chinese diplomacy and its perspective on the world and the international pattern are evolving in a more mature direction. And this is something that, I think, that is very welcome.
YEO: And in fact if you just look over the last four to five years of Chinese foreign policy, you know, under Jiang Zemin, under Qian Qichen, under China's foreign policy establishment, you see a real mature vision about how China should be postured in the world, multilaterally and bilaterally, that you didn't necessarily see 10 years ago, which was much more subject to ups and down based upon political campaigns. I think you have a trained and seasoned foreign policy leadership that has made a strategic decision that positive relations with the United States and with many other countries are ultimately going to be in China's economic interests. Which is, you know, their primary objective.
PORTER: Bonnie, it seems like not that long ago human rights and Taiwan were the two things that sort of dominated any discussion of US-Chinese relations. Are those issues on the back burner now as far as US-Chinese relations go?
GLASER: Well, from the perspective of China, Taiwan remains the most important security concern. And so it is very much a component of any high-level dialogue that the Chinese have with the United States. And it is something that they, they raise not only with President Bush but the Chinese also raise Taiwan and demarché the United States whenever the US government is pursuing any particular policy that they object to. But their concerns have become somewhat more muted. They do not want to upset the entire relationship over the issue of Taiwan. And they are not reacting as much in the, to, to small-scale things that are taking place, but are trying to look at the bigger picture. And understanding that the United States does have an interest in maintaining peace and stability in the Taiwan Strait and that that really does mean that the United States does not support Taiwan independence. And so I think the fact that they have really processed that and accepted that has made it easier for them to not press the United States as strongly as they did in the past. And I think that they recognize that pressing strongly could be very counterproductive for them. So the Chinese have, have probably—although as I said it remains a central issue in the bilateral relationship and very important for China—it is only one of many issues.
On human rights I would say that it remains very much part of the US agenda. It may not be linked to other issues as some administrations did in the past. But I do think it remains very important to this President and particularly in the area of promoting religious freedom in China.
PORTER: Peter, you spend your days on Capitol Hill. Do the people there still talk about human rights in China and Taiwan? Are these still important issues?
YEO: Of all the issues in the US-China relationship in terms of what Congress focuses on, certainly human rights and Taiwan are the primary focus. In terms of human rights, you know, there's not a week that goes by without a resolution of support in terms of China human rights or letters on behalf of individual presenters of conscience in China. This is something that a broad swath of members understand and are interested in and focusing on. Whether it's Tibetans or whether it's China Democracy Party activists that have been locked away, you'll often find members of Congress willing to advocate on behalf of individual cases. And obviously to advocate on behalf of some sort of systematic change in China.
PORTER: The world is still trying to figure out what to do about the nuclear weapons program in North Korea. From the Chinese perspective what's the best outcome? What are they hoping will happen with North Korea?
GLASER: The Chinese would like to see an outcome in which there are no nuclear weapons on the Peninsula. In which there is improvement in US relations with North Korea, eventually leading to normalization of diplomatic relations. And a peace treaty on the Peninsula. And North Korea establishing diplomatic relations with Japan and becoming more integrated in the international community and pursuing an economic reform program that would make it a more prosperous economy and society so that it could feed its own people. Because North Korea has really posed a very large burden on China in recent years, particularly in the area of energy and food aid. So I think that that would be the most desirable outcome. Certainly the Chinese want to see an outcome that is reached through diplomatic means. And I think that they are very fearful of an outcome that results from a unilateral US decision and even in worst case, US use of force to take out the North Korean nuclear weapons program.
And the United States and China share some very important interests in this regard. I think the Chinese like to say that the US and China share three particular interests in, as regards the Korean Peninsula. We want to see, both sides, want to see no war, no collapse, and no nuclear weapons on the Peninsula. And so those are our shared interests. But the means that the Chinese would support to achieve the goal of eliminating a nuclear weapons program in the North might be very different than the United States. And my understanding is that the Bush administration very much would like China to use its economic aid and its energy aid as leverage over the North Koreans, and I think the Chinese will be very reluctant to do that because they worry that if they do they will be creating instability and then increasing the likelihood of that other problem of a potential collapse in North Korea. And the Chinese have been very close to North Korea in years past. They have stood by them and I think that they will try very hard to work with the Bush administration but they will resist, I think, trying to use their own economic aid as leverage over the North Koreans.
But the, the policy that the Bush administration has been pursuing since this information has come to light about the North Korea's new nuclear weapons program, I think that China likes this approach and China hopes that it will, that the Bush administration will continue to work with South Korea, with Japan and with China and North Korea to find a diplomatic solution.
PORTER: Peter, I'll give you the final word. How does North Korea play out in the US-Chinese relationship.
YEO: All I can do is hope that the seasoned foreign policy professionals that we've seen in China will really end up deciding it's in their best interest to use their economic and food leverage to obtain a different policy from the North Koreans. Because ultimately until North Korea gives up its nuclear program there will be no stability in the Korean Peninsula. And I hope the Chinese leadership makes the decision to use whatever leverage it has—and it has enormous leverage over the North Koreans for this purpose. And if they don't, I think one of the problems that we might see is we've seen people jumping fences in diplomatic missions—North Koreans jumping fences in diplomatic missions trying to get out of North Korea—and the last thing that China would want to see more of is, you know, those numbers increasing ten-fold, a hundred-fold. And I think that if you have an unstable situation in North Korea you might see that happen. And that's something that China should want to avoid as well.
PORTER: Peter Yeo is Deputy Staff Director for East Asia and the Pacific at the US House Committee on International Affairs. And Bonnie Glaser is a Senior Associate at the Center for Strategic and International Studies.
Our theme music was created by B.J. Leiderman. Common Ground was produced and funded by the Stanley Foundation.
Copyright © Stanley Center for Peace and Security