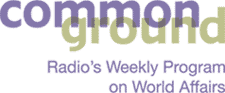 Week of February 3, 2004
Program 0405
Segments
Iran Election Preview | Transcript | MP3
Iraqi Women | Transcript | MP3
Iraqi Orchestra | Transcript | MP3
Cuba Music Schools | Transcript | MP3
Marketplace Development | Transcript | MP3
Sal Landau | Transcript | MP3
Global Citizen: Peter Carey | Transcript | MP3
This text has been professionally transcribed. However, for timely distribution, it has not been edited or proofread against the tape.
---
MEISAM SAIDI: [via a translator] In our country, one of the factions doesn't want a lot of people to take part in the election because it will lose if the majority participates.
KRISTIN MCHUGH: This week on Common Ground, a preview of the election battle between conservatives and reformists in Iran.
KEITH PORTER: Plus, Iraq's women face an uncertain future in the post-Saddam era.
NADIN KHATTAB: [via a translator] I didn't want the former regime to stay in power. But I didn't want this either. A country can't come in here preaching liberation, and then talk about liberation when you have all the criminals on the streets. This is a disaster.
PORTER: And Cuba's music schools sing the blues.
BEN TREUHAFT: They have to chop a little bit of these trees down for a little more illumination. They say the roof is, leaks, you know, and these are the things that have to be fixed.
MCHUGH: These stories, coming up next.
[Musical interlude]
---
Iran Election Preview
Listen to This Segment: MP3
MCHUGH: Common Ground is radio's weekly program on world affairs. I'm Kristin McHugh.
PORTER: And I'm Keith Porter. Conservative and reformist forces in the Islamic Republic of Iran are gearing up for the country's controversial parliamentary elections on February 20th. Reformists are trying to hold on to their majority. Hardliners, whom many accuse of blocking the push for reforms, are determined to win back the control they lost in the 2000 elections. But many voters say they don't plan to vote because they have become disillusioned with the slow pace of change. And as Roxana Saberi reports, some analysts say it's too hard to guess now what might happen at the polls.
ROXANA SABERI: The 2004 Parliamentary election in the Islamic Republic of Iran has observers asking: Will most Iranians turn out at the polls or not? And, does it really matter? Judging by what these Iranians say, it's difficult to predict what will happen in February.
UNIDENTIFIED TEHRANI WOMAN: [via a translator] It depends on the candidates, how they think I myself believe in voting because I think as an individual in this society, I must make known what I think.
UNIDENTIFIED TEHRANI MAN: [via a translator] I haven't thought about it because we are disappointed with everything. For example reformists themselves are financially corrupt. Not much has changed since they came to power.
SABERI: The current Parliament is dominated by reformists, who gained control from conservatives in the 2000 election. Reformists have won all major national elections since 1997. But their plans for reform have been largely blocked by hardliners, who hold most of the real political power here. Voter participation in the last parliamentary election was around 67 percent. Some predict the February turnout will be lower—between 40 to 60 percent. But others are forecasting a much poorer turnout, as many Iranians have become increasingly disillusioned with the slow pace of change.
DR. HERMIDAS BAVAND: If the situation is going to continue as it is, I think the people, they take negative resistance through nonparticipation. They declare their protestation against the system as a whole, disregard of conservatism or reformist group.
SABERI: Dr. Hermidas Bavand, a political analyst in Iran, believes low voter turnout will result in a victory by default for the conservatives. He said their supporters, fewer in number but highly dedicated, will be the ones more likely to vote. A clear warning was given to reformists during the country's municipal elections in February of last year. Back then, turnout hit a record low in a country more used to seeing participation figures that would impress many Western countries. In Tehran, only 12 percent of voters showed up, allowing conservatives to regain control of the city council and mayor's post they had lost to reformists four years earlier. Reformist members of parliament are trying to prevent a repeat on the national level by encouraging Iranians to vote. Mesiam Saidi is one of the 210 reformists in the 290-member parliament.
MEISAM SAIDI: [via a translator] In our country, one of the factions doesn't want a lot of people to take part in the election because it will lose if the majority participates. But the reformists, Supreme Leader, and also the top authorities of the country, all advise an increase in participation.
[The sound of a large crowd chanting Moslem prayers]
SABERI: Indeed, the country's Supreme Leader, who directs all foreign and domestic policies, has called on Iranians to vote. Ayatollah Ali Khamenei wants them to show their support for the Islamic Republic, a system created through a revolution in 1979.
AYATOLLAH ALI KHAMENEI: [via a translator, while giving a speech] Elections are one of the arenas of national participation for our people. I see from right now that those who are in the centers of global power do not want the Iranian nation to prove their presence and resistance with another exciting and glorious election.
SABERI: Some observers believe a low voter turnout will give hawks in Washington more fuel to discredit the Islamic regime, while higher participation may influence the White House to adjust its stance toward engagement and dialogue. Tehran has recently come under international pressure, led by the US, to prove its not pursuing nuclear weapons, supporting terrorism, or suppressing human rights—all charges Iran has denied. But there are many Iranians who believe whether they vote or not won't really matter—that the reformist parliament they elected four years ago, which was supposed to work with reformist President Mohammad Khatami, has failed to bring about needed changes. Many of the potential voters, like this recent college graduate, are young people, who can start voting at age 16. Around two-thirds of the country
IRANIAN STUDENT: Now it's better than 10 years ago or 12 or before, but it's not enough. Now the world is changing and everything has changed, but here is the speed is very, very slow for democracy. I can see something to go much better, but I don't think so, it's, these changes it's be enough.
SABERI: Many Iranians have become frustrated with a weak economy, the shutting down of many reformist newspapers, and the jailing of political dissidents. The problem, say many reformists, is a conservative-dominated governmental body, called the Guardian Council. It has the power to veto parliamentary bills, as well as electoral candidates it believes are not committed to Islam and the Islamic Republic. In the 2000 Parliamentary elections, the group barred only around 8 percent of the candidates who wanted to run. But this year, conservatives indicate that the council will be more stringent.
[The sound of a Reza Zav-vâarei giving a political speech]
SABERI: One of the group's 12 members, Reza Zav-vâarei, told a gathering of representatives from various political parties, that vetting candidates is the council's duty.
REZA ZAV-VÂAREI: [via a translator] National patriotism commands the Guardian Council that the most deserving people should go to the Parliament. All of you know that Article 3 of the election law says that the widespread and sanctioning oversight of the council is present in all stages of elections. The law gave the council this right.
SABERI: Reformists unsuccessfully tried last year to push through legislation that would have curbed the role of the Guardian Council. But the reformists' plans were vetoed by the very same council.
[The sound of candidates signing up for the election]
SABERI: Nevertheless, many candidates, like those at this Tehran registration site, are taking their chances. Thirty-two-year-old Dr. Soltani is one of them. The law student says he's not a member of any party.
DR. SOLTANI: [via a translator] I'm taking part in this election so that I take a step—matter how small—to increase the participation of the people in this election, which is a very important election for my country.
SABERI: More than 8,000 candidates have signed up for the election. The Interior Ministry will release the final list of candidates 10 days before the election. As one member of Parliament put it, "Two things are unpredictable in Iran—soccer and politics. For Common Ground, I'm Roxana Saberi, in Tehran.
PORTER: Since this report was filed, Iran's powerful Guardian Council has disqualified thousands of reform candidates in the upcoming parliamentary elections. Among those disqualified are dozens of current members of Parliament, including the President's brother. The Council's actions prompted resignations and threats among the President's cabinet and a sit-in at Iran's Parliament building. Analysts are calling this the worst political crisis to face Iran in years. The parliamentary elections are scheduled for February 20th.
[Musical interlude]
MCHUGH: The uncertain future of Iraq's women, next on Common Ground.
[Musical interlude]
---
Iraqi Women
Listen to This Segment: MP3
MCHUGH: As the United States moves ahead with plans to transfer power in Baghdad back to an Iraqi government, many women in the country say they're no better off than they were under Saddam Hussein. A spiraling crime wave, the growing influence of Islamic fundamentalists, and economic uncertainty are all contributing to the rising tide of anxiety for many Iraqi women. Common Ground's Simon Marks reports from Baghdad that freedom for Iraq has not yet brought liberty for women.
[The sound of music at a busy Baghdad restaurant]
SIMON MARKS: It used to be a city that would swing until the small hours. Today, nightlife is slowly returning to downtown Baghdad. Nine months after the fall of Saddam Hussein, the fish restaurants that line the ancient Tigris River are gingerly reopening. Their patrons are once again lapping up generous portions of mazgouf—carp cooked over traditional wooden fires. But while this restaurant is once again doing brisk business, there's still something missing—women. On a Thursday night in the center of Baghdad the restaurant is packed with an entirely male clientele.
UNIDENTIFIED BAGHDAD RESTAURANT PATRON: [via a translator] We try to talk and laugh and drink. But we can't even enjoy all this. We are out at our own risk.
[The sound of music at a busy Baghdad restaurant]
MARKS: The men dining in the restaurant say it's too risky for their wives to join them—too dangerous, they say, for women to take to the city's streets after dark. That's because a spiraling crime wave in Baghdad, fuelled in part by Saddam Hussein's decision to empty his jails shortly before the war began, has led kidnappers and robbers to prey on the city's female population. The difference between the Saddam era and today according to doctor's wife Rafwan Abdul Raffour, is the difference between living and getting by.
RAFWAN ABDUL RAFFOUR: [via a translator] Now when you go out into the street you see very few women in the street driving. No one drives any more. We only do the most basic things. If you could see it before the war, most of the drivers you'd see in the street were women drivers. We'd go out, we'd work, we'd go to clubs, we'd take our kids places. But now, nothing. No driving, shopping only for the basics, and you have to cover your head. It's hard. It's very difficult.
[The sound of a busy Baghdad street]
MARKS: And so, on the streets of Baghdad today, there are far fewer women than there were just one year ago. And those who are out-and-about are unenthused about the risks that they're taking. Nadin Khattab is a Baghdad student.
NADIN KHATTAB: [via a translator] I didn't want the former regime to stay in power. But I didn't want this either. A country can't come in here preaching liberation, and then talk about liberation when you have all is criminals on the streets. This is a disaster.
MARKS: And another student, Farah Jawhar, says she'll only go out now in the company of her parents and her fiancé, and only for short periods of time.
FARAH JAWHAR: [via a translator] Even when we're in school, we're scared because of the crime that is happening, even sometimes on campus. We are not seeing anything getting better. It's all getting worse.
[The sounds of a US Army patrol in Baghdad]
MARKS: That is not the case according to Captain Jeffrey Leslie of the 1st Armored Division.
CAPTAIN JEFFREY LESLIE: [speaking from his vehicle while on patrol in Baghdad] This is kind of known for being a pro-Saddam area.
[The sounds of a US Army patrol in Baghdad]
MARKS: As he patrols the center of Baghdad in a US Army Humvee, he insists the crime wave is being brought under control.
CAPTAIN LESLIE: Now, when we got here at the end of May, there were no police anywhere. But now, they're all over. They respond really fast to everything, they're always there, and they're taking a really proactive role.
MARKS: But not proactive enough to satisfy many Iraqi women. Doctor's wife and mother of two Rafran Abdul Raffour says life under Saddam Hussein wasn't good, but life after him also needs to improve.
RAFWAN ABDUL RAFFOUR: [via a translator] Yes, we were suppressed, and the job opportunities for women were limited. But you know we would go out a lot, because there was security. Even though Saddam was there, at least there was security. And now it's impossible. It
[The sound of music at a busy Baghdad restaurant]
MARKS: It'll be easy to see when that security and confidence returns. Once again women will take their rightful place enjoying a night out in the Iraqi capital. For Common Ground, I'm Simon Marks in Baghdad.
[Musical interlude]
---
Iraqi Orchestra
Listen to This Segment: MP3
PORTER: Late last year, the Iraqi National Symphony Orchestra traveled to Washington to play a joint concert with America's National Symphony Orchestra at the Kennedy Center. Washington's biggest political stars came out for the event. But as Judith Smelser reports, the concert was about a lot more than music.
[The sound of an orchestra tuning up]
JUDITH SMELSER: Members of the Iraqi National Symphony tune their instruments in preparation for one of the most important concerts of their lives.
[The sound of an orchestra rehearsing]
SMELSER: The orchestra began its final rehearsal as press photographers clicked away. In just a few hours the musicians would be playing for President Bush himself, along with Secretary of State Colin Powell, Defense Secretary Donald Rumsfeld, and other top American officials. For the instrumentalists, the event was all about the music and the opportunity to play with one of America's leading symphonies in one of the country's most famous venues. But to many others in the audience, it was political symbolism at its best. Secretary of State Powell spoke to the audience at the beginning of the concert.
US SECRETARY OF STATE COLIN POWELL: This wonderful orchestra is a symbol of normal life returning to the people of Iraq and of their reconnection to the world of music that is a living cultural legacy for them and for all mankind.
SMELSER: Press accounts of the event were full of criticism that the orchestra was being used as a political tool to boost the image of a US military mission which, at the time, was quickly losing popularity. The President of the Kennedy Center, Michael Kaiser, denied that charge.
KENNEDY CENTER PRESIDENT MICHAEL KAISER: Well, no one in this orchestra would say that things are back to normal for this orchestra. What we can say is that arts play a very important role, particularly when a nation is trying to heal, and that what we're doing with this concert is not political at all. It's rather to say, we need to put a spotlight on the need to have a healthy arts environment in Iraq.
[Sounds from the crowded lobby at the Kennedy Center and the sound of a beeping metal detector]
SMELSER: But it was hard to deny the politicization of the event, when orchestra patrons had to go through metal detectors just to get into the concert hall. Bob Lynch is the President of Americans for the Arts, an advocacy organization based in Washington. He says there were definite political overtones to the orchestra's State Department-funded trip.
BOB LYNCH: There's a very, very obvious reason that the Iraqi symphony was brought here than any other symphony in the world. They didn't spend money to bring the Bangladesh Symphony here or the China symphony right now. However, if there were issues on the table with those other countries, they might choose that.
SMELSER: Lynch wishes the US government's investment in cultural exchange programs was motivated by more than the political crisis of the day. But aside from that, he doesn't think that the political aspect of the Iraqi Symphony's visit here made the trip any less worthwhile.
LYNCH: I had the impression that it was just a wonderful opportunity for artists from another country. In this particular case, a country that we're closely involved with right now, to come to America as a symbol of arts exchange and as an opportunity for, I hoped, people to meet those artists and to get a little bit more of a connection and an insight into this other culture, the culture of Iraq.
[Sounds of the Iraqi National Symphony playing an Iraqi composition]
SMELSER: To that end, the orchestra played a couple of pieces by contemporary Iraqi composers, as well as items from the traditional European repertoire. Kennedy Center President Michael Kaiser hopes the orchestra's visit will also encourage more private funding for the arts in Iraq. Even before the concert, he said, some groups and businesses had stepped up to the plate.
KAISER: Each member of the orchestra is getting a new instrument and the music library of the Iraqi National Symphony Orchestra is going to be replenished with 500 complete scores as a result of an effort on the part of music librarians across America.
SMELSER: The instrument donations were made possible by corporations like Yamaha and Steinway. And as for the political use of artistic exchange, Bob Lynch with Americans for the Arts points out that's nothing new. In many cases, he says, other countries have sent artists to the US in hopes of changing negative perceptions about their nations.
LYNCH: A good example, I think, of that is work that I've done over the years with Northern Ireland. In Northern Ireland for a long time, the images that we would see on television were only of a burning building or only of the terrorist acts. So, the British consul tried to get, in concert with the Irish Arts Council in the Republic of Ireland more opportunities for American artists and arts administrators to come to Ireland, see firsthand what the art was like there but at the same time, see what the country was like there. And simultaneously, to try to get artists from that country-from Northern Ireland in particular-to come to America and to talk a little bit about what it was like working in a community that had struggle but also had wonderful things as well.
SMELSER: Lynch says that was a positive experience for all involved. He maintains that no matter what the political motives behind artistic exchange, audiences tend to judge the art itself on its own merits. Judging from the audience response to the Iraqi Orchestra, though, it seems the political and emotional significance of that event was never far from anyone's mind that night.
[The orchestra ends one of its pieces, followed by loud applause]
SMELSER: For Common Ground, I'm Judith Smelser in Washington.
MCHUGH: Cuba's rich musical traditions, next on Common Ground.
[Musical interlude]
---
Cuba Music Schools
Listen to This Segment: MP3
MCHUGH: Cuba produces some of the finest musicians in the world, in part because the island has a musical history going back over 100 years. Today, talented students attend specialized music schools free of charge. But as Reese Erlich reports from Havana, they also face significant problems.
[The sound of conga drums]
REESE ERLICH: Here at the National Music School, conga drummers compete with clarinetists in a cacophony of individual practice sessions. Fifteen-year-old Giselle Garia exudes the enthusiasm typical of students at this specialized high school.
GISELLE GARIA: [via a translator] I want to study at the Superior Art Institute, the music university. I want to get my degree in piano music. Piano, piano, piano—always piano! That
ERLICH: The school's assistant director Violetta Perez says music education starts at the elementary level. Then her high school, and similar ones in other provinces, recruit the most talented students for intensive education.
VIOLETTA PEREZ: [via a translator] Art in Cuba is for everyone, without barriers. Starting at age eight, they can study piano, violin, and cello. At age 10 they can study percussion and guitar. We recruit from around the country based on competitive exams. The ones who do the best are the ones with the most talent. And then they are qualified to study here.
[The sound of Chucho Valdez playing a solo piano piece]
ERLICH: These schools have graduated some of the country's finest musicians, including pianist Chucho Valdez.
[The sound of Chucho Valdez playing a solo piano piece]
VIOLETTA PEREZ: [via a translator] We prepare the students not just to be musicians, but teachers as well. They study a full range of courses from aesthetics, to psychology and Spanish. They study music theory, as well as their own instruments.
[The sound of a trumpet hitting a high note]
ERLICH: When the Soviet Union collapsed in 1991, which eliminated subsidies to Cuba, the island's economy tanked. Music schools could no longer pay for new instruments, or even piano wire imported from abroad. While the situation has improved since the 1990s, student Garia says problems remain.
GARIA: [via a translator] The quality of the pianos aren't very good. laughs Some are okay. But others have various problems. Some are really old. Others are out of tune.
[The sound of a tinny piano playing montunos]
ERLICH: Ben Treuhaft, a piano tuner visiting from New York, offers his professional opinion about this tinny upright wedged into a small practice room.
BEN TREUHAFT: If you were a piano, you'd be tinny too after like, some Cuban monster was playing on you for like a year, and the tuner hasn't been around. [laughs] That's a Russian piano by the way. That's not gonna sound so good. But it needs hammer shaping. It needs a couple of days of hard work.
ERLICH: Treuhaft first visited the National Music School in 1995 when he delivered a container-load of pianos and spare parts. He dubbed the campaign "Send a Piana to Havana." Treuhaft says many pianos got distributed at the school and to the provinces, but there was corruption as well.
TREUHAFT: Things were bad for the first few years. All the stuff we brought sort of filtered out into the street. And I was able to buy a set of hammers that belonged to us for $20.
ERLICH: But Treuhaft says the situation improved markedly after 1998 when new supervisors took over and numbered the parts so they couldn't be sold on the black market. Today he proudly strides the halls with a bandana tied on his head, looking like an overweight extra from Pirates of the Caribbean. He stops in the hall to greet old friends.
[Mr. Treuhaft speaks with a woman in Spanish, followed by the sound of an in-tune piano]
ERLICH: [Now interviewing Mr. Treuhaft directly] Is that one of your pianos?
TREUHAFT: Yep, it's a Dorian Clark upright. I think it came about a year ago.
EHRLICH: Now, how does it sound? The tuning?
TREUHAFT: It sounds okay, not so bad. Just a little piano, but you see how useful it is.
ERLICH: Yeah. And it's a much less tinny sound than that other one we were hearing.
TREUHAFT: Than the Russian piano? Yeah. We hope so. [laughs]
ERLICH: Treuhaft's next project is to help the music school refurbish part of an old building on campus, turning it into a piano tuning school, at an estimated cost of $80,000.
TREUHAFT: They have to chop a little bit of these trees down for a little more illumination. They say the roof is, leaks, you know, and these are the things that have to be fixed.
ERLICH: [Now interviewing Mr. Treuhaft directly] Now what, what is the shape of the building?
TREUHAFT: It's a serpent, it's a snake and we're in the head of the snake. It's amazing. It's got, you know, I mean I guess it's hard to fix because nothing is straight.
ERLICH: The building also needs new wiring and a host of other repairs. Treuhaft hopes to raise money for the project from some unusual sources.
TREUHAFT: Oh, we're going to approach industrialists who have made money off Cuba like Archer Daniel Midlands, Wim Wenders, and people who have made megabucks—Ry Cooder. And we're going to also approach famous musicians like Woody Allen and Bill Clinton, who knows a lot about Cuba and is also a famous saxophonist.
ERLICH: Whether or not the aforementioned luminaries actually donate money to the project remains to be seen. But by hook or crook, Treuhaft hopes to raise enough money for the piano tuning school to start in about a year. In any case, Cuba's music schools will continue to benefit from donated pianos. And, if history is any example, they will be churning out world class musicians as well.
[The sound of Chucho Valdez playing a solo piano piece]
EHRLICH: For Common Ground, I'm Reese Erlich in Havana.
[The sound of Chucho Valdez playing a solo piano piece]
PORTER: This is Common Ground, radio's weekly program on world affairs.
[Musical interlude]
KRISTIN MCHUGH: I'm Kristin McHugh.
KEITH PORTER: And I'm Keith Porter. Coming up this half hour on Common Ground, the private sector thinks outside of the box to help the world's poor.
MICHAEL KUBZANSKY: The idea is to take risk, is to take an informed risk, take a chance, take a risk on a well-executed idea that could have a huge development path down the line.
PORTER: Plus, cultural and political commentator Saul Landau speaks his mind.
SAUL LANDAU: It's been ironic that so little attention has been given to the causes of 9/11. A lot of intellectuals wrote about how our policies in the Middle East have led to this event. But that's pretty vague. I think indeed our policies in Saudi Arabia led directly to this event.
PORTER: And our global citizen of the week is Australian author Peter Carey.
---
Marketplace Development
Listen to This Segment: MP3
MCHUGH: Raising chili peppers to protect crops from marauding elephants; using rats to detect disease in humans; and recycling the coconut husks that litter Brazilian beaches. These are just some of the ingenious ideas selected to receive funding in a global competition run by the Washington-based World Bank. The Development Marketplace, as it's known, aims to promote new and effective ways to improve the lives of the world's poor. As Malcolm Brown reports, the approach borrows from the private sector for the public good.
[Sounds from a busy conference]
MALCOLM BROWN: It's the hum of ideas. One-hundred eighty three finalists from 63 countries gathered at the World Bank HQ in Washington for a competition designed to encourage small-scale and creative ways to tackle the effects of poverty. Inside the building's soaring atrium, it looks a lot like a trade convention, with small booths and delegates wearing ID badges.
[The sound of applause]
BROWN: The moment of truth comes with the announcement of the winners.
CONFERENCE EMCEE: [announcing a prize winning project] Carbon neutral bio-diesel fueled energy systems from India!
[Applause]
BROWN: In the end, 47 projects are chosen by a jury to receive seed money totaling $6 million. Among the winners was Chris Morris, representing a South African project, which aims to use wireless networks to put rural clinics in touch with urban hospitals.
CHRIS MORRIS: What this technology will enable is the clinic sister now, using the technology for data, voice, and video, to communicate with a doctor real-time and a tele-consultation will take place whereby the doctor can advise the clinic sister on exactly what to do.
BROWN: Listen to the announcement of a selected few other winners and you get some sense of the diversity and imagination involved.
CONFERENCE EMCEE: [announcing a prize winning project]: Fly fishing for bio-diversity conservation from Mongolia. [applause] Dress for development and success, from Bolivia. [applause, cheering] HIV awareness project for the deaf—Kenya. [applause] Training African rats as a cheap diagnostic tool, from Tanzania. [cheers, applause]
BROWN: Yes, you heard right—rats. Michael Kubzansky manages the Development Marketplace program at the World Bank.
MICHAEL KUBZANSKY: Apparently, the African giant pouched rat has a finely articulated sense of smell and has been successfully used in landmine detection in Mozambique.
BROWN: So, the proposal suggested using that sense of smell, to detect tuberculosis in human saliva. If it works, it will offer a faster and cheaper alternative to sending samples to a lab.
MICHAEL KUBZANSKY: Here is another possible, you know, extension if you will of a technology that could have a huge payoff in terms of rapid, low-cost detection of TB.
BROWN: Applicants are described as social entrepreneurs
KUBZANSKY: The idea is to take risk, is to take an informed risk, in a way that the World Bank shouldn't be doing in its larger lending, but to really seed, take a chance, take a risk on a well-executed idea that could have a huge development payoff down the line.
BROWN: There's also a payoff for the way the World Bank itself operates, according to Managing Director Mamphela Ramphele.
WORLD BANK MANAGING DIRECTOR MAMPHELA RAMPHELE: The Bank used to be a very static place, very traditional, no thinking out of the box. This creates a positive energy about thinking out of the box and if we can see poor people being able to innovate we with so much resources should be innovating more. So, we are learning from all of these people.
BROWN: And the participants from all over the planet say they are also learning from each other. For those who secure funding, it could be just the start. Past winners say that success here provides prestige and credibility, which translate into further funding from other sources down the road. For Common Ground, I'm Malcolm Brown in Washington.
[Musical interlude]
---
Sal Landau
Listen to This Segment: MP3
PORTER: As the Presidential election approaches, commentators say George W Bush's campaign is set to be markedly different from the one he waged four years ago. The 2000 election was fought predominantly on domestic issues, but this time the commander-in-chief's foreign policies are taking center stage. While supporters of the Bush administration say the President took necessary actions following the terrorist attacks of September 11th, some analysts are skeptical. Cultural and political commentator Saul Landau is one of those critical of current US foreign policy. He spoke with Common Ground's, Steve Mort.
STEVE MORT: There is little doubt that, like President Clinton before him, President Bush has the ability to stir up passions on both sides of the political divide. As noted on the cover of a recent edition of Time magazine, he
SAUL LANDAU: Well, the President appears to be not just on an imperial mission, but a holy one as well. That is, he appears to infuse his imperial rhetoric with all kinds of religious over- and undertones. He has now said a couple of times that he thinks God has designed that he, George Bush, should have led the United States in this enterprise over these, over this period of time.
MORT: With US troops still active in Iraq, Afghanistan, and elsewhere, foreign policy is dominating the political landscape. From the war in Iraq to America
LANDAU: It's been ironic that so little attention has been given to the causes of 9/11. A lot of intellectuals wrote about how our policies in the Middle East have led to this event. But that's pretty vague. I think indeed our policies in Saudi Arabia led directly to this event. I think that the people who died in the 9/11 airplanes, 15 of the 19 of them as far as we know, were Saudis.
MORT: But for the Democrats, tackling President Bush on his foreign policies is proving easier said than done. The capture of Saddam Hussein in Iraq helped boost the President's approval rating, and Howard Dean's campaign, while striking a cord among many grassroots Democrats, has yet to resonate among Republican voters. Many of the Bush administration's detractors, while finding plenty to criticize, have sometimes been short on alternatives. Saul Landau says Bush opponents need fresh ideas and should strengthen their case by focusing on the failure of countries occupied by past world powers like Great Britain.
LANDAU: One doesn't have to look only at Iraq. Look at Zimbabwe—a terrible, terrible shame. Or Nigeria or Algeria. All of these places which had independence struggles and have gone so sour. You don't have to look even that far. Look at Jamaica which achieved independence in the early 1960s and today is a shabby place.
MORT: But most of all, he says, foreign policy from both sides in America is lacking a historical context.
LANDAU: Just as Americans are ignorant of history, the people who are fighting for their independence throughout the world, or are fighting, if you like, in this anti-globalization movement are inspired by historical forces. We too in the United States have a very strong historical determinant in our behavior and if we stay ignorant of it, it
MORT: Saul Landau argues that in the current climate, patriotism is being used as a way of stifling debate in Congress and the media. He says democracy itself is being threatened by America's actions overseas. But with sometime to go until election day, few in the Bush administration are willing to appear confident just yet that the democratic process will deliver the President a second term in office. For Common Ground, I'm Steve Mort in New York.
[Musical interlude]
MCHUGH: Coming up next, our global citizen of the week. You're listening to Common Ground, radio's weekly program on world affairs.
[Musical interlude]
---
Global Citizen: Peter Carey
Listen to This Segment: MP3
MCHUGH: Peter Carey is arguably Australia's greatest living novelist. He has won the Booker prize twice, once for Oscar and Lucinda and once for The True History of the Kelly Gang. He has also won the Commonwealth Prize and the Miles Franklin Award. This week he is our global citizen profile. Peter Carey is known, among other things, for his deep sense of irony. Australia's search for self-identity beyond its colonial past underpins much of his writing. His latest novel, My Life as a Fake is based on a famous Australian literary hoax. Peter Carey has been based in New York for the last 12 years. Nina-Maria Potts caught up with him recently in Washington. DC, and talked to him about why he doesn't like the notion of global citizenship.
NINA-MARIA POTTS: What does the term "global citizenship" mean to you and to what extent do you consider yourself to be a global citizen?
PETER CAREY: It makes me a little anxious, actually. Sort of the first sort of thing I start to think about is—well, it's not a sort of response to that. I start to think of sort of international marketing departments of publishing houses and the notion of an international literature, and a global citizen is really someone who doesn't belong anywhere too much. And so it triggers most of my sort of anxieties about myself, I suppose you could say. And that because if you asked me who I am I would say I am an Australian who lives in New York City. So it's an upsetting and rather threatening notion in all sorts of ways for me.
POTTS: Can I ask you about your formal citizenship? Have you considered becoming an American citizen?
PETER CAREY: Yeah, Ive considered it because—I've considered it really to do with, with dying, an estate, and my children—you know, where it's sort of a little bit more difficult if you're not a citizen. And now one can have dual citizenship, which Australians couldn't have for a long time. But it's a difficult, it's a difficult issue. I mean there are people I think that can change citizenship as lightly as changing their clothes, and for others it's more difficult. I don't know.
POTTS: Does the Australian flag move you? Does the American flag move you?
CAREY: Well, the Australian flag totally irritates me beyond belief, you know, because I keep on being embarrassed by that great Union Jack that's sitting there, and you know it would be so easy to take it out and just to twist those stars around so the big star was sitting where the Union Jack is and we'd have it all solved and it would mean so many different things to us. I mean I certainly don't think that Australians should deny or attempt to erase their historical connection with Britain. 'Cause how could you? And what a wealth of cultures, culture has come with it. But it's also rather pathetic to see it there.
And the American flag I sort of read in all sorts of different ways. And although almost everybody I know quite correctly I think was sort of upset by sort of, the resurgence of the American flag all over New York City after 9/11. To me at the time—and it was a very, very emotional time—it seemed okay, it seemed like the thing that people had put there that connected them and they were in extremis and upset so on. That is if, you know, when I see an American flag flying in the countryside and I see that sort of incredible patriotism that goes with it, I feel uneasy about it. I feel uneasy about a sort of a slightly dumbed-down nationalism. But at the same time, I think, that my own country, we couldn't take ourselves seriously enough to take our flag seriously enough if we had one.
So, and so when I think about those issues of flags, and I mean the normal Aussie condition is of modified self-hatred. And although that's difficult to explain to Americans, I mean—I'm sorry, I wish in a way, Australians and Americans could meet somewhere in the middle, and you know, that would be nice if we had a little bit more an American self-importance and self-confidence and it would be nice if, if they had a little bit more, you know, ironic detachment about themselves. And the flag summons up all that. I mean the American flag is an imperial flag, but that's got, it has got a very clear history of rebellion and hope written into it as well. So it's a complicated icon.
POTTS: You wrote a book called Thirty Days in Sydney. Writing about quintessentially Australian themes do you find it slightly easier from a distance?
CAREY: Australians really hate it when people go away. You know, it's sort of like, if somebody successful leaves to go somewhere else that sort of seems to trigger a feeling that Australia's not good enough. And so my friends when I was coming to live in New York City gave me this excuse. And they said, "Oh well, Peter, I suppose it'll help you see your own country better." And I knew they were giving me an easy ride, so I sort of couldn't accept it. And in fact it wasn't why I was doing it, I was doing it for quite personal reasons and certainly not that reason. And I suppose it's true, I mean, but I didn't do it for that reason, and I can't see what it would have been like otherwise. So I can't really know. That sort of compare and contrast thing, between the two countries, does help me see the weirdness of where I come from, and that's not uninteresting. But of course what comes with it is to come back, you know, to that very-when you started talking about a global citizen, fills me with a terrible anxiety, 'cause I really do think people come from a place, literature comes from a place. I don't know what comes from, you know, a global culture.
When I left Australia I didn't leave it because I didn't like it. I really, as I said I left it for personal reasons. Which has nothing to do with my dissatisfaction with Australia nor, to be frank, any great love of the United States. So I don't carry any sort of bitterness about Australia. I mean there are things I'm probably softer about Australia, I'm probably even on the edge of being and a little sentimental about it-which is hard to do these days. And I know that if was there I would be involved in the daily fight of what it means to be an Australian in the arts or an intellectual, or anybody, just a citizen, because it's not a very-it seems to me to have become not a very pretty place. And one, would I think living there, would be daily involved in a battle that I escape by being here.
POTTS: The notion of the global village, the electronic age, that it would change everything-do you think it's a surprise that nation states and boundaries have so stubbornly stuck around?
CAREY: Well, of course it's a surprise to us-well, a surprise to someone of my age because we hoped something different was going to happen. And, I mean there's lots of optimistic things I thought 30 years ago. At a certain time in the '60s, for me to believe that we were absolutely improve-able, we were cultural animals, and we could be anything, was something I believed. And likewise in the sense the feeling that, that you know, we could get past these sort of, our tendency to form into groups and dispute each other one way or another, would go away. But you know, we all know, don't we, the old thing about the—I don't know whether this is apocryphal or not, but the, where the, it's an experiment where, you know, they are meant to call out like 200 people into a room, to be addressed by somebody or about something, and no one turns up and then about two hours later, they've divided into two groups, elected leaders, and are disputing each other. So, it's not maybe—and given the fact that I think there is a way, the probably optimum human group is probably something like 10 people, that's probably not so weird that we, you know, split like amoebae. And at one level at least we work better like that. So it is I suppose, not the way I thought things were but it's the way I'm beginning to think that they are.
POTTS: This weeks Global Citizen is Peter Carey, whose latest book is My Life As A Fake. For Common Ground, I'm Nina-Maria Potts.
Our theme music was created by B.J. Leiderman. Common Ground was produced and funded by the Stanley Foundation.
Copyright © Stanley Center for Peace and Security
---