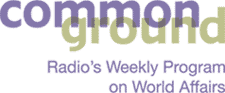 Week of December 30, 2003
Program 0352
Segments
Radio/TV Marti | Transcript | MP3
VOA Zimbabwe | Transcript | MP3
Russian Press Pressure | Transcript | MP3
Guatemala Eco Radio | Transcript | MP3
Beijing Talk Radio | Transcript | MP3
China Internet | Transcript | MP3
This text has been professionally transcribed. However, for timely distribution, it has not been edited or proofread against the tape.
---
JOE O'CONNELL: After Radio Marti, there's more information, Cubans know more about what's happening in the world. They know more about their own government and their own lack of freedoms.
KRISTIN MCHUGH: This week on Common Ground, we take the pulse of the global media, starting with America's Cuban news service Radio and TV Marti.
KEITH PORTER: Plus, broadcasting to Zimbabwe.
VOICE OF AMERICA ANNOUNCER: Good evening. Zimbabwe is 17 hours 30 UTC, 7:30 pm in Zimbabwe. And you're listening to Studio Seven.
PORTER: And new pressures for the Russian media.
MASHA LIPMAN: I think this is his deep belief that goes back to his earlier career as a KGB officer, that press which dares looks into the performance of the government or its institutions, which dares criticize, which dares investigate, is the enemy.
MCHUGH: These stories and more in our spotlight on world media issues, coming up next.
---
Radio/TV Marti
Listen to This Segment: MP3
PORTER: Common Ground is radio's weekly program on world affairs. I'm Keith Porter.
MCHUGH: And I'm Kristin McHugh. A free press is guaranteed in the United States Bill of Rights. But that's certainly not always the case in other parts of the globe. This week we take a look at issues facing the world's media.
PORTER: A recent prodemocracy crackdown in Cuba has reignited the debate in Washington over the United States' policy toward the communist island. The actions of the Castro regime have sparked calls for America to step up its longstanding public diplomacy campaign aimed at promoting democracy in Cuba. Washington's increasing investment in transmitting US-generated TV and radio programs to the Middle East has left some politicians in Washington demanding a similar strategy toward America's communist neighbor.
MCHUGH: The United States has a long history of broadcasting to Cuba. Radio Marti transmitted its first program to the island in May 1985 from its studios in Washington, DC. As Steve Mort reports, 18 years later the service is on the air twenty-four hours a day, seven days a week.
[The sounds of Radio Marti.]
STEVE MORT: Radio Marti, now broadcasting a mix of news, music, features, and analysis from its studios in Miami, is virtually the only source of information available to Cubans other than official government broadcasts. The station employs 108 people, and its budget this year is $15 million.
JOE O'CONNELL: After Radio Marti, there's more information, Cubans know more about what's happening in the world. They know more about their own government and their own lack of freedoms.
MORT: Joe O'Connell is the Director of External Affairs for the US government's International Broadcasting Bureau which was established when President Clinton signed the International Broadcasting Act of 1994. The bureau oversees the day-to-day operations of Radio and TV Marti. O'Connell says the services have broad, but important goals.
O'CONNELL: I think the principle objectives of Radio and TV Marti are to provide the people of Cuba with uncensored, straight information about Cuba itself and about Cuba in the world and about the United States and about the larger world, to sort of reach over the Cuban government and try to reach the people of Cuba directly, particularly with our support of freedom and democracy on the island.
MORT: Radio Marti was the result of three years of bipartisan efforts in the US Congress that resulted in the Radio Broadcasting to Cuba Act of 1983.
[The sounds of Radio Marti.]
MORT: Now, having moved its operations from Washington to Miami, it broadcasts hourly newscasts in Spanish and even transmits President Bush's weekly radio addresses. Supporters say it's not just a source of objective information, but also a lifeline for the people of Cuba. Ambassador Dennis Hays is the Executive Vice President of the Cuban American National Foundation and the former Coordinator for Cuban Affairs at the State Department. He says Radio and TV Marti could potentially do even more than just provide news to the island.
DENNIS HAYS: Being able to get a message in and tell people accurate, timely information can save lives, in addition to helping move things forward through the transition.
MORT: In 1990, the Office of Cuba Broadcasting was established, and with it TV Marti. And it's the television operation that has attracted the most criticism. The government of Fidel Castro spends millions of dollars a year jamming the signals of Radio and TV Marti in order to prevent people seeing them. This has prompted claims that the US is throwing money down the drain—nearly $10 million this year in the case of TV Marti—paying for a service that nobody sees.
US REPRESENTATIVE JEFF FLAKE: We've spent over $150 million on Television Marti, and there's no evidence that any Cuban has ever watched a minute of it.
MORT: Republican Representative for Arizona, Jeff Flake, a member of the House Subcommittee on International Relations and Human Rights, which recently held a hearing on the effectiveness of broadcasts to Cuba, is one of the services' most vocal critics.
FLAKE: That's a huge waste of resources. Now those who say that we ought to continue it, part of the reason they say is that if we stop, then Fidel Castro will claim victory. Now, my guess is he laughs himself to sleep every night knowing that we're spending over $10 or $11 million a year broadcasting a signal that nobody sees. How this would give him a victory that he doesn't already have, I don't know.
MORT: But Joe O'Connell from the International Broadcasting Bureau says the fact that the Cuban government tries to block the US signals proves it has something to fear.
[The sounds of Radio Marti.]
MORT: In fact the IBB claims Radio Marti is one of the most popular radio stations in Cuba. But that's disputed by Congressman Flake, who says the station has suffered since its move from Washington to Miami. He says at that point it effectively became a mouthpiece for the Cuban-American community. He believes the base for US broadcasts to Cuba should be returned to the nation's capital.
FLAKE: The content is simply so bad. It's become so stridently anti-Castro; not that anything said isn't true, it's simply that the Cubans have heard it before, they're living it. They want an unbiased source of news and they're not getting it, and so they're tuning out.
MORT: But many say the Martis should be the voice of American public diplomacy, and an anti-Castro slant to programming is the only way to increase US influence on the island.
[The sound of Radio Marti.]
MORT: Radio Marti has also come under fire for failing to target a young audience. In fact, Congressman Flake says the station's entertainment programming alienates the younger set.
FLAKE: Radio Marti airs a lot of nostalgia programs from the 1950s. Most Cubans weren't born in the 1950s and those that were, that remain in Cuba, don't have particularly fond memories. It wasn't exactly a wonderful regime in place. They want something better. They're looking forward, not backward.
MORT: But the station's managers, like Joe O'Connell, say things are improving. He says the Director of the Office of Cuba Broadcasting, Salvador Loew, is looking at ways of extending the reach of the broadcasts.
O'CONNELL: He's committed to change and to broadening the appeal of the programming. He's increased the content of news, the amount of news. He said recently that he has doubled it from 2-and-a-half to 5 hours a day of pure news, as opposed to other forms of public affairs programming.
MORT: With relations between the United States and Cuba very much in the public spotlight since former President Jimmy Carter's recent visit to the island, the issue of Radio and TV Marti is again attracting a lot of attention in Washington. Many lawmakers are calling for money earmarked for TV Marti to be shifted to the radio station, which has a greater reach. Others are demanding a shake up in the both stations' programming, and others want both services to be scrapped. Those who run the broadcasts to Cuba say crucial changes are being made, including the introduction of new prime time TV transmissions. For now the government appears to believe that the broadcasts are an important part of America's public diplomacy campaign in the last communist nation in the western hemisphere. For Common Ground, I'm Steve Mort.
[Musical interlude]
---
VOA Zimbabwe
Listen to This Segment: MP3
MCHUGH: Two years ago, Zimbabwe gained a place on the list of the top ten worst places to work as a journalist, due to government intimidation and violence according to the Committee to Protect Journalists, a New York based independent press freedom watchdog. President Robert Mugabe introduced draconian laws curtailing press freedoms after his contested reelection last year. The offices of independent newspapers have been bombed, journalists prosecuted, and some have been tortured in police custody. As a result, many independent media outlets have closed down. Hoping to help fill the gap in the free flow of information is the Voice of America, the US government funded worldwide broadcast service, which has begun a half-hour radio show specifically for Zimbabweans, in a bid to provide balanced world, regional, and local news. Catherine Drew compiled this report earlier this year on the new service.
VOICE OF AMERICA ANNOUNCER: Good evening. Zimbabwe is 17 hours 30 UTC, 7:30 pm in Zimbabwe. And you're listening to Studio Seven, news for Zimbabwe, coming to you from the Voice of America in Washington.
[music from the Studio Seven program]
CATHERINE DREW: Two Zimbabwean journalists anchor the half hour show, called Studio Seven, from the VOA headquarters in downtown Washington, DC.
VOICE OF AMERICA ANNOUNCER ROY CHOTO: Thank you for joining us, live from Washington. I am Ray Choto.
VOICE OF AMERICA ANNOUNCER NDIMYAKE MWAKALYELYE: And I'm Ndimyake Mwakalyelye. Coming up on tonight's show, President Robert Mugabe speaks out against Britain and the United States.
DREW: Behind the scenes, four other producers, reporters, and editors make up the small team which begins work before seven o'clock in the morning to make sure the half-hour lunch time show makes air. In Zimbabwe it's half past seven in the evening.
VOICE OF AMERICA ANNOUNCER ROY CHOTO: Later on in the program we'll update you on world news and sports—coming up on Studio Seven.
[The sounds of the reporters, editors, and producers working together behind the scenes to prepare the broadcast.]
DREW: The time difference is just one of the challenges facing the team, which must also deal with bad telephone lines and slow Internet communication with their stringers in Zimbabwe. And as cohost Ndimyake Mwakalyelye explains, many government officials with the ZANU-PF ruling party are not particularly enthusiastic to talk to the Voice of America.
NDIMYAKE MWAKALYELYE: A lot of times we're received with a lot of caution, which is understandable I guess, you know. A lot of people have this preconceived notion of what VOA does. So it's very frustrating. And, in fact, I was just speaking to somebody from the Ministry of Information today, and I was trying to explain to him, "This is the problem, you know. If there's breaking news and I'm trying to call you and you tell me to fax you a request. Deadline, you have to respect that. I can't wait for your opinion, if that's the case, I have to go with who can speak there and then, and that's how I'm going to do it." But then it comes back to bite us because it looks as though we're not being objective. So it's a double-edged sword. It's very hard to try and reconcile but you know, we just have to do the best we can.
[The sound of a stringer calling in a report from Zimbabwe.]
DREW: The program has five or six stringers working from Zimbabwe, mainly in the capital Harare. While some do not use their real names, the VOA believes the Zimbabwean government may be aware of them, and says as with all its stringers, it is concerned for their safety.
[The sound of anchor Ray Choto reading the news.]
DREW: Someone who knows about the dangers of reporting in Zimbabwe, is anchor Ray Choto. Formerly he was a reporter for the Standard newspaper, an independent publication in Harare. He and his editor were arrested in January of 1999 and severely tortured after he reported that a group of military officers had tried to stage a coup. He refused to reveal his sources, and eventually the government dropped criminal charges against him. He says this stand for press freedom helps Studio Seven today.
ROY CHOTO: When I was arrested they tried to afflict pain on me, by way of torturing, to force me to reveal my sources. I refused to reveal my sources. That stance really got a lot of backing from the international community, local journalists, and other media organizations so my association with Studio Seven will actually make the station a credible one in Zimbabwe.
DREW: And this credibility issue is important. While the Voice of America charter states its mission is to provide balanced and accurate reporting, the service is funded by the US government. The VOA provides about a hundred hours a week of programming in seven languages to Africa, which is usually aimed at different regions. But the VOA does have a handful of country-specific projects, in nations where the independent press face particular challenges—for example in Angola and Rwanda. Mr. Choto says critics of the service will realize it's objective when they listen to the show.
CHOTO: People have got the right to judge what type of information that they are getting. They might say this is propaganda but if they listen to that, obviously by the end of the day they will realize that the information they are receiving is not propaganda. It's just genuine information, which is needed in the country. So the propaganda issue, I think it will fade away with time.
DREW: Gwen Dillard, who oversees the VOA's Africa services say they do have an agenda.
GWEN DILLARD: The agenda is to give Zimbabweans credible, balanced, objective, disinterested news and information. The point of this project is not to bash the Zimbabwe government or to criticize Zimbabwe as a country. It's to provide Zimbabweans with the information that they need to make their choices about their country and their future.
DREW: Gwen Dillard admits that it's sometimes difficult for some of the Africa service staff, many of whom have come from areas of conflict, to be completely objective. Mr. Choto says it's something he's very aware of.
CHOTO: As a journalist, as a professional journalist, when I am doing my work I try to make sure that I sort of distance myself from whatever subject I am dealing with. As a journalist I see myself as a mirror, and a mirror is there for society to look at, it's both ugliness and beauty.
[The sound of co-host Ndimyake Mwakalyelye reporting the news.]
DREW: But his cohost Ndimyake Mwakalyelye, who left Zimbabwe 11 years ago says she does find maintaining journalistic objectivity a challenge at times.
MWAKALYELYE: I'm aware of so much that's going on. I mean I hear my family saying this and I hear people saying that and I'm reading that. And you know, a nation of 12 million there's some truth in there somewhere. So definitely I think, you know, like the role we have here, it's hard sometimes to keep a balance. But of course, even as we're being objective, we try to really show that you know, it's not all dandy and it's important that issues must be addressed.
DREW: While the Zimbabwean Ambassador to the United States has been interviewed on the show several times, he rejects the premise that there is any need for such a service, insisting there is a free flow of information in Zimbabwe, with both a private and government owned press. Ambassador Simbi Veke Mubako says the real reason the service was introduced was to give the American government an outlet for its propaganda in his country, and he rejects the VOA's insistence it is editorially independent from its funder.
ZIMBABWE AMBASSADOR SIMBI VEKE MUBAKO: If you are owned by a government, you are there to put across the policies of that government. Within that kind of parameter, you may be allowed some latitude of objectivity. But every country has got the right to own its own media. The United States does it. The British government has got the BBC. The Zimbabwean government has got its own media. So there's nothing wrong with that. But the only question is that one shouldn't claim that one is independent and completely objective. You can't be independent to the extent of differing from the policies of the government that pays for you.
DREW: The Ambassador says he has not had time to listen to the show yet, which is available on the VOA's Web site. All of the Studio Seven staff are only too aware of the grim and seemingly intractable problems facing Zimbabwe—the current drought and famine, the violent land reform process which has brought food production to a standstill, alleged government corruption, and alleged intimidation of the opposition party, Movement for Democratic Change, and their supporters.
DILLARD: We don't want to be known as the VOA grim half hour.
DREW: Gwen Dillard says the team tries to address these issues, while at the same time not overwhelming the audience with depressing topics.
DILLARD: A lot of the issues that are affecting Zimbabwe are grim issues. We cover those issues. But I think about fifty percent of the program is what might be called pleasant listening that anyone would want to tune into just because it's enjoyable to hear. We do a lot of music. We do sports. We're going to begin to carry contests because people like to participate in contests.
[The sound of musical programming from Studio Seven.]
DREW: Anchor Ray Choto says the program has got positive responses from listeners so far. He says many have written in to express pleasant surprise that the program is not critical of the Zimbabwean government or people. While it is a temporary project, the VOA hopes the program will continue for as long as it is useful to the Zimbabwean people. So far audience figures are not yet available. Program producers say they hope to extend their reach into rural Zimbabwe, where support for the ZANU-PF Government is traditionally strong, and where the VOA says access to independent information is difficult. In a bid to help this process, the VOA will soon begin broadcasts in two other local languages, Shona and Ndebele. However, Ray Choto admits that even when these services are up and running, the VOA will still face great challenges just to reach the Zimbabwean people.
CHOTO: The penetration needs to be done in the rural communities and, unfortunately, it's not easy for everybody to have access to a radio. Also the batteries, if they have the radios, batteries are quite expensive. The economy is just in tatters and people cannot afford to go and buy batteries. They would rather prefer to go and buy food, so that is the biggest challenge we are likely to continue facing.
[The sound of a Studio Seven broadcast.]
DREW: The VOA says it hopes eventually to be broadcasting three hours of programming every day of the week—one hour in the three different language services. For Common Ground Radio, I'm Catherine Drew in Washington.
---
Russian Press Pressure
Listen to This Segment: MP3
PORTER: It's been nearly a year since more than 120 people died when Russian special forces launched a massive operation to free hundreds of hostages held by Chechen separatists in a Moscow theater. Russian lawmakers accused the media of failing to give fair coverage to the incident and proposed several amendments to the country's media law, curtailing many core press freedoms.
MCHUGH: The amendments were not signed by the Russian President Vladimir Putin, but he too, said journalists made serious mistakes while covering the events surrounding the theater crisis. As a result, the Russian media now finds itself less and less free from government control. Anya Ardayeva reported this winter from Moscow.
[Sounds of gunfire.]
ANYA ARDAYEVA: It all started when several dozen Chechen guerrillas armed with guns and explosives took more than 800 people hostage during the performance of the hip Russian musical Nord-Ost. Their main demand was an end to the war in Russia's breakaway province of Chechnya. After a three-day long siege of the theater, Russian forces stormed the building. The gas they used to disarm the militants also killed 129 hostages.
[The sound of a Moscow TV station reporting on the siege of the theater.]
ARDAYEVA: The high civilian casualty figure provoked a wave of criticism in the Russian media. According to many reports, doctors who were treating the hostages overcome by the gas, did not know what type of gas was used in the special operation and so could not prescribe the best treatment. For more than a day, neither the media nor the patients' relatives were allowed into the hospitals, sparking a wave of anger among the Russian public. One of the newspapers that covered the hostage drama was the weekly newspaper Versya. Just hours before its postcrisis issue went to press, six investigators from the Russian Federal Security Service, or FSB, walked into the newspaper's office and said they were taking the computers and personal files of the newspaper's journalists.
They claimed Versya had published some information considered to be a state secret—something the newspaper had already been accused of when it published a series of articles containing information about the sinking of the Russian nuclear submarine Kursk. However, none of the journalists were arrested and the newspaper continued to publish after the computers were given back by the FSB. Editor-in-chief of Versya newspaper, Rustam Arifjanov:
RUSTAM ARIFJANOV: [via a translator] I think that FSB investigators came to us, both this time and previously, only because they are very interested in the information we have and where we are getting this information. That's why they are taking away the main server, personal files, etc.
ARDAYEVA: Whatever reasons the FSB officials had, Russia is not the safest place for mass media to operate these days.
[The sound of the Moscow TV station NTV reporting on the takeover.]
ARDAYEVA: A year and a half-ago, several media outlets of Russia's largest private media holding was taken over by the state-owned gas monopoly Gazprom. Among them was the NTV network, known for its criticism of the country's current government. NTV's journalists resigned and went to work for a much smaller network. Now all major Russian television networks are owned by the state and their news coverage don't offer a very wide spectrum of views. And following the hostage-taking incident in Moscow, Russia's top officials, including the country's President, Vladimir Putin, said the media lacked objectivity in covering the crisis, and claimed it had made a lot of dangerous mistakes.
VLADIMIR PUTIN: [via a translator] On the day of the storming, just minutes before in fact, television pictures on one of the national channels showed the movement of special forces with a voice explaining what was going on in the building. That could have led to a massive tragedy.
MASHA LIPMAN: I can't see any major mistakes made by the press.
ARDAYEVA: Journalist Marsha Lipman used to work for a weekly magazine Itogi, also shut down by the state. She says the authorities have very little reasons to blame journalists.
LIPMAN: All the damage to human lives during the siege and the following operation was inflicted by the authorities. The mistakes, or I would say, crimes, were committed by those who let the terrorists in, and, especially and most tragically, those are to blame here in this terrorist attack who left the people after the terrorist attack without appropriate medical aid. Compared to these mistakes—or rather crimes—I think it's criminal negligence at best. Any errors made by the press pale.
ARDAYEVA: What alarms the government the most is that incidents like the Moscow theater crisis always lead to public debate about the course of the Chechen war. Some Russian media suggested that the siege was a clear sign that it was time to end the 10-year long conflict in Chechnya and start negotiating with Chechen leaders, something Russian president Vladimir Putin strongly opposes.
LIPMAN: If we look back at the beginning of a Chechen war when a Radio Liberty reporter was persecuted and seized by the special services, kept incommunicado, President Putin spoke very derogatorily about the reporter, and more or less likened him to the terrorists themselves. I think this is his deep belief that goes back to his earlier career as a KGB officer that a press which dares look into the performance, which dares look into the performance of the government or its institutions, which dares criticize, which dares investigate, is the enemy.
ARDAYEVA: The editor-in-chief of the Versya newspaper says the government simply wants to make sure that journalists in Russia know they are being watched, as the Kremlin makes it easier to control the press and therefore, public opinion.
ARIFJANOV: [via a translator] Investigators are simply showing to the other media, "See, this is what could happen you. We will start the investigation, take your computers and you will simply not be able to publish anything." We learned from our past experience with the FSB how to publish our newspaper without computers. But what if we weren't prepared? We wouldn't have published anything and wouldn't have been able to tell our readers anything.
ARDAYEVA: Although the Russian president repeatedly claims his government's actions towards the media are always strictly based on the law, few here believe that. Russian journalists feel they are being increasingly pressured by the state, and since the Russian President is gearing up for his reelection campaign, that pressure is unlikely to weaken. For Common Ground Radio, I'm Anya Ardayeva in Moscow.
MCHUGH: Since this story first aired, TVS-Russia's last independent news channel went dark and was replaced with a government-owned sports network. Officials pulled the plug in June, citing financial problems, but critics argue the Kremlin's desire to control all major television channels ahead of upcoming elections is the real reason for the closure. Russia now has three national television news networks. All are partially or fully owned by the state.
PORTER: This is Common Ground, radio's weekly program on world affairs.
[Musical interlude]
KEITH PORTER: I'm Keith Porter.
KRISTIN MCHUGH: And I'm Kristin McHugh. Coming up this half hour on Common Ground as we continue our focus on global media issues, we'll hear how radio helps save the environment in Guatemala.
LIZA GRANDIA: I think the secret of the radio show is that we don't want to preach to people—that we want to make the show fun. So it's a variety show. There are jokes, there are songs, there are different characters.
MCHUGH: Plus, meet Beijing's answer to Dr. Ruth. And China's tight control over Internet access.
---
Guatemala Eco Radio
Listen to This Segment: MP3
PORTER: The idea of Central American rainforests may conjure up images of lush vegetation, colorful birds, and ancient ruins. But there are people in those forests too—and in Guatemala's northern Peten region, a population influx over the past four decades has led to increasing deforestation and environmental degradation. An organization called ProPeten has been working to promote grass-roots conservation in the region, and parts of its program include advocating organic farming methods. As Judith Smelser first reported earlier this year, ProPeten has taken to the airwaves to get its message out.
SMELSER: The Peten occupies the northern arm of Guatemala—a kind of inland peninsula bordered by Mexico on two sides and Belize on a third. Once home to only 15,000 people, the region now has a population of roughly 500,000, due to a '60s-era government resettlement policy. And over the past two years, that population has been hearing a new voice on the region's airwaves.
[The sound of a radio program, first music, then the program host speaking in Spanish.]
SMELSER: That's Eric Mena, host of Peten's number-two radio show, Mi Amigo, El Agrónomo—or My Friend the Agronomist.
[The sound of Mr. Mena hosting the show.]
SMELSER: When Eric joined the environmental NGO ProPeten as the staff agronomist, he never dreamed he'd end up a radio star. The idea for his show grew out of ProPeten's previous association with a similar program produced by a regional university. A ProPeten study found that people were learning more from that show than from the organization's environmental education programs. And Executive Director Carlos Soza says ProPeten knew then that it had to get into the radio business.
PROPETEN EXECUTIVE DIRECTOR CARLOS SOZA: We realized, you know, if that is happening, so we need to take care more of the informal education through radio programs. We have such a powerful instrument here that we're not taking in account. So that's why we started to promote this program that was specifically talking about a organic agriculture or things related to agriculture, a traditional agriculture of Peten in the view of people that was doing this and doing that in a positive way.
[The sound of Mr. Mena hosting the show.]
SMELSER: Each day, Eric chooses a different theme to discuss on the show and invites listeners to call or write in with their questions. Often the theme has to do with the program's main focus—organic farming using natural pesticides instead of chemical ones. But Eric says he also chooses topics from the local headlines.
ERIC MENA: [via a translator] One day we talked about a plant that's destroying some Guatemalan lakes. The people call it the extra-terrestrial plant, or the killer plant. A lot of people imagine that the plant will eat them when they go bathing in the lake. And so we asked the question, "Can you go into the lake now, or will the plant eat you?" These simple questions we address are things that rural people may not know.
SMELSER: The show has also touched on topics including domestic violence, forest fire prevention, and veterinary advice. But what makes the program popular is that it examines these heavy topics in an entertaining way.
[The sound of music from the show.]
SMELSER: American anthropologist Liza Grandia is on ProPeten's board of directors.
LIZA GRANDIA: I think the secret of the radio show is that we don't want to preach to people–that we want to make the show fun. So it's a variety show. There are jokes, there are songs, there are different characters impersonating kind of different rural accents.
[The sound of a comedy routine from the show.]
SMELSER: There are five characters on the show and Eric does them all. One is a jokester who provides the comic relief.
[The sound of one of the show's characters.]
SMELSER: Another is a macho man type who's always skeptical about the agronomist's suggestions but realizes in the end that they do work.
[The sound of one of the show's characters.]
SMELSER: There's plenty of music on the show, too. In fact, Eric says music is one way he connects with the communities in his listening area.
ERIC MENA: [via a translator] Sometimes we have local people sing and we put their singing on the air. One of the singing groups is the Tigres del Monte. They do songs that the people can identify with and they sing about the activities of the people.
[The sound of the Tigres del Monte singing.]
SMELSER: That's Tigres del Montes singing on one of Eric's broadcasts. But through all the fun and games, the show has a very serious message, especially when it comes to the use of pesticides. Again, Liza Grandia.
LIZA GRANDIA: Chemicals that might even be considered safe within the US context are not safe in the Third World context, particularly in a place like Peten, for various reasons. First of all, the products are sometimes of low quality. They're repackaged in the country, they can sometimes be sold in leaking bottles, there's no guarantee that the quality that is regulated in the United States is going to be replicated in Guatemala.
SMELSER: ProPeten also says farmers often use chemical pesticides without proper protections, like masks and gloves, and that often, there's no running water to wash off the residue. So, ProPeten and My Friend the Agronomist advocate the use of natural pesticides, like those used by the region's original inhabitants. They say farmers who've tried their recipes have been largely successful in keeping pests away. Liza Grandia says it's hard to gauge the impact of the show, but anecdotal evidence suggests their ideas are catching on. She relates the story of one gentleman she met on a bus.
LIZA GRANDIA: He asked me who I worked with, and I said ProPeten; he'd never heard of it, and I said, "Have you ever heard of this radio program, My Friend the Agronomist?" He said, "Oh yes, I was almost losing my fruit orchard, and then I tried one of the recipes that the agronomist suggested, and it saved my fruit orchard!" He was thrilled and the fact that I knew Eric made me almost, sort of famous as well.
[The sound of Mr. Mena hosting the show.]
SMELSER: It's that kind of story that ProPeten likes to hear. But the organization has a long way to go to win over farmers in a country where the so-called green revolution of the 1960s and '70s largely replaced traditional farming methods with modern technologies, including pesticides and improved seeds. And, of course, those technologies do have their advocates, who say modern methods will provide farmers with greater crop yields and more revenue. But ProPeten wants to let farmers know that there are alternatives out there. And My Friend the Agronomist is doing its best to get the word out.
[The sound of Mr. Mena hosting the show.]
SMELSER: For Common Ground, I'm Judith Smelser.
PORTER: ProPeten's Executive Director Carlos Soza, who was heard in this story, passed away unexpectedly in May. Colleagues say he will be fondly remembered for his efforts to preserve Peten's environment and develop its civil society.
MCHUGH: Coming up next, Beijing talk radio. And China's control of the Internet. You're listening to Common Ground, radio's weekly program on world affairs.
[Musical interlude]
---
Beijing Talk Radio
Listen to This Segment: MP3
MCHUGH: Nearly four years ago China's slow opening to the West allowed one British DJ the chance to be the country's first Dr. Ruth on live radio. Nina-Maria Potts quickly discovered that while China is a country like no other, broken hearts hurt the same in any language.
[The sound of the Easy FM "Love Hour" Jingle, in Chinese, followed by an American pop music tune.]
NINA-MARIA POTTS: If you think it's hard being an unhappy teenager in America, just try being Chinese. It's hard to keep a secret in a crowded country of 1.2 billion people, where family can be suffocatingly close, grown-ups are not shy to pry, and college students share tiny dorms, six to a room. Given the risks of sharing your troubles in this still highly controlled society, who do young urban Chinese turn to? The answer for many is the Internet and anonymous cyber friends. But for millions of others, a radio show broadcast on China's only nationwide English-language station, has provided the solution.
[The sound of a high-energy, English-language radio promotional spot: "Welcome, to New Easy FM, with Nina-Maria."]
POTTS: For three years I was lucky enough to work on Chinese radio, as a DJ hosting a three-hour daily drive-time show. A segment of the program, which began life as a forum for listeners' love stories sponsored by a chocolate company, rapidly turned into something quite different.
POTTS: [a clip from her radio show] You're listening to the Hour of Love on EasyFM, I'm Nina Maria, and this is where a problem aired is a problem shared, and where a problem shared is a problem solved. Or so we like to think. Thanks for tuning in. We have your love stories, love song dedications, and a little bit of love advice, coming right up…"
[An English-language love song plays.]
POTTS: I was expecting to hear typical teenage dating woes. But I also heard from listeners who were concerned they may be gay. A serious concern in a country where homosexuality was only struck off the list of psychiatric disorders last year. This listener, whose English name was Charles, called in to say his live-in partner planned to leave him and get married to a woman, as a cover for his homosexuality.
CHARLES: [speaking on the radio call-in show] I think it's a little bit embarrassing, how to say, I love a man, you know. I am a man and I love another man. He's thinking to have the normal life, you know, to get married soon, but I feel very depressed. You know, it hurts a lot, because he thinks that such kind of love, I mean between two men, is, I mean, is not, is abnormal.
POTTS: Another listener called to say she no longer had anything in common with her childhood sweetheart. Like many urban Chinese women today, she wanted to find a man who could cope with her professional development.
FEMALE CHINESE CALLER: I think I want a man who is more mature than me.
POTTS: Although their dilemmas were somewhat universal, listeners often expressed some uniquely Chinese problems. China is a country where marriage is still as much about financial security as love. But it's also a country on the move, where ambitious children end up in the coastal boom towns, hundreds of miles away from their worried and often highly traditional parents. It was still a surprise when one listener, Li Qien, wrote in to say that she'd been divorced for three years, and hadn't dared tell her mother.
LI QIEN: She still thinks that we're married. She has no idea that he left me for his girlfriend. The shame is too great because I know my mother will think that it's all my fault for being a bad wife. What should I do? The situation is driving me crazy.
POTTS: [advising Li Qien through her radio show] Li Qien, listen up, you've got to come clean, because your relationship at the moment with your mother is evolving into a living lie and a living nightmare.
POTTS: Though it was clear that a large part of the program's appeal lay in the listeners' assumption that a foreign woman would be much less judgmental and more liberal, it was not always straight forward, giving a western answer to a Chinese problem. Xiao Long wrote to say she was a lesbian living with her partner, and wondering whether to come out. Her dilemma was that in China it's very common for young women to live together, even sharing beds, and to be extremely affectionate with each other. If she didn't go out of her way to draw her parent's attention to her gay lifestyle, the chances were she would keep her cover and would save herself from a spectacular family crisis.
Sometimes it wasn't even about giving advice; people just needed to hear their problem read out, and realize that they were not completely freakish or troubled. Then there were the harder problems, some of which couldn't be read out on air, such as gang rape. Easy FM may have brought western pop music to China, from Britney Spears to Pink, but like all media in China, it's state-owned and censored. In case I forgot, there was a soldier outside the studio door.
[The sound of Western pop music.]
POTTS: Blatant political censorship was rare, and at times slightly baffling. In all my time, only one pop song was banned on political grounds. My Communist Party overseer broached the subject in the corridor looking unhappy. "That song about the fall of the Soviet Union," he said, " you can't play it." Under further prodding, he revealed that he meant Go West, by the Village People. I thought about telling him that this was not an anthem about defectors from the Communist block but a cheerful invitation to sample the gay delights of the West Coast. I decided to stay quiet.
[The sound of the Village People music clip, Go West.]
POTTS: For Common Ground, I'm Nina-Maria Potts.
[Musical interlude]
---
China Internet
Listen to This Segment: MP3
PORTER: When the Internet first began to boom in the West, political analysts viewed the wealth of information available online as something that would become synonymous with free speech and increased political freedom around the world. But that's not the case in China. China has the second largest number of Internet users in the world. But as Celia Hatton reported from Beijing, no nationwide democracy movement is in sight.
[The sound of a clacking computer keyboard.]
CELIA HATTON: President Bill Clinton once said that trying to crack down on the Internet in China would be like trying to nail Jell-O to a wall. Many agreed with him. The idea that increased Internet access would inevitably lead to a more open and accountable government seemed to be indisputable. That theory stayed alive until the Internet actually became a reality in China, a country that now has 59 million Internet users but only one political party that remains firmly in control without any formal political opposition.
[The sound of a modem logging onto the Internet.]
HATTON: This dichotomy lead many people to question: what happened to the prediction that it would be impossible for any government to control the political effects of the Internet? This is the question tackled in Open Networks, Closed Regimes, a new book coauthored by Shanthi Kalathil, a scholar at the Carnegie Endowment for International Peace. Kalathil explains how the Chinese government keeps a reign on Internet use in China.
SHANTHI KALATHIL: Well, China has essentially succeeded in creating an essentially safe Chinese Internet for people to play in. They can communicate, they can talk to each other, they can even debate a lot of subjects that may be politically significant, but the test comes when people stray towards the outer limits of what's politically acceptable. And usually what will happen when people cross that line is Beijing will arrest them and make a case study out of them, essentially to show people "Look, you should keep track of what you say and as long as you're relatively politically safe in what you say, it's fine. But just make sure that you don't cross that line."
HATTON: In China, the government uses firewalls to block Web sites that are contrary to the official government line, ranging from sites that push for the independence of Tibet and Taiwan to Western media outlets such as CNN and the New York Times. Chinese officials have also arrested thousands of people for using the Internet to mount political opposition to the state. Online chat rooms and Internet cafes are constantly monitored by government officials. All Chinese-based Internet Web sites must be pre-approved. The list of rules goes on and on. One of the most striking cases of Internet control in China occurred last year when the Chinese government shut down the online search site Google until company executives agreed to limit politically sensitive search terms so that they would lead only to Chinese-government approved sites. Again, Shanthi Kalathil.
KALATHIL: The Google case is interesting because when Google came back online, you know, the Chinese government had instituted certain filters that really allowed people to search for most terms but not all terms. And so, in a way, I think that this defines right now the Chinese approach to the Internet, which is to give people most of what they want. Maybe not all of what they want but enough so that they get a sense of the full Internet without straying into politically sensitive territory.
HATTON: But despite these strict measures, the very nature of Internet technology means that it is extremely difficult to dominate. Beijing-based IT consultant Ted Dean argues that the Chinese government still lacks control over the Net.
TED DEAN: Of the media tools that are out there, it's clearly the one they have the least control on. There is no independent voice on the evening news on TV, but there are clearly many, many independent voices on the Internet. It hasn't had a revolutionary impact yet, but it's also not simply become a tool of the state at the same time.
HATTON: As such, the government has learned to tolerate and even benefit from certain forms of political expression by Chinese Internet users. Shanthi Kalathil points to the popularity of Internet chat rooms in China as a sort of safety valve that allows Chinese citizens to relieve political frustration in a semiprivate location. Ted Dean says such chat rooms also present an opportunity for the government to gauge public opinion.
DEAN: On political issues, there is no opinion polling in this country. It's a little bit of a way for some people in the government to actually see what people are saying, to see what the issues of the day in the eyes of Internet users are.
HATTON: Dean says that the threat of the deadly SARS epidemic in China is a good example to illustrate how the Internet was used by the Chinese public to share information behind the government's back.
DEAN: One of the best examples of that is the extent to which information about the current SARS outbreak has been communicated through chat rooms. So that any doctor can go log on to the Internet and say "We actually have 100 cases in this hospital while the government is saying there are two." Some of the pressure that built up for the government to finally change its policy and at least begin to come clean about the extent of the problem here I think was, the pressure was made possible by the fact that that information could be distributed through the Internet.
HATTON: Chinese Internet Entrepreneur Hong Li has a positive view of the power of the Net to act as a deterrent for government corruption. He says that as more people in China learn to trade information online, government officials will be unable to cover up issues like the SARS epidemic.
HONG LI: Less and less examples where the government will try to hide something. Instead, they will find out that it's useless to hide something. No matter what, the people are going to know it sooner or later.
HATTON: However, Hong Li also criticizes the Western view that Chinese Internet users are somehow deprived because they cannot access a handful of politically sensitive Web sites. He says that Chinese Internet users are just like everyone else around the world—they use the Web to check e-mail, read local Chinese news, and to find out the latest sports scores—not to find ways to gain access to American news sites like CNN.
HONG LI:: Almost all the persons that I know, none of them complains, "Oh, I cannot access CNN." Why? Because what is CNN? That's just a news Web site. Life will go on without CNN or not.
HATTON: Ted Dean agrees—the sheer increase of information available on the Internet is a dramatic change from Communist China's propaganda-filled past.
DEAN: For the people who, you know, grew up in the Cultural Revolution or grew up in previous decades in China, they've already seen such a dramatic increase that whether the CNN Web site is blocked is a very, very minor point.
HATTON: Despite the general level of satisfaction that many Chinese citizens exhibit towards the Internet, the central government in China does not seem to be able to drop its defenses to allow users to freely exchange information on the Web. Shanthi Kalathil points to an incident in 1998 when Chinese citizens used Internet chat rooms to express their rage over racists riots against ethnic Chinese citizens in Indonesia. Mass anger over this incident eventually lead to protest on the streets of Beijing. Kalathil says that the government worries that this type of Internet use might eventually turn against the Chinese government itself.
KALATHIL: I think that's the sort of thing that scares the Chinese government. The sense that people might get really up in arms about a certain issue and quickly translate that from simply talking about it to actual action, protesting in the streets. And that's something that the government is very sensitive to and I think that is a real possibility.
HATTON: For Common Ground, I'm Celia Hatton in Beijing.
Our theme music was created by B.J. Leiderman. Common Ground was produced and funded by the Stanley Foundation.
Copyright © Stanley Center for Peace and Security
---