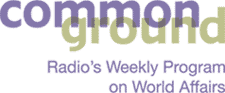 Week of April 22, 2003
Program 0316
Segments
Russia Summit Update | Transcript | MP3
Balkans Instability | Transcript | MP3
Balkans Civil Society | Transcript | MP3
International Criminal Court | Transcript | MP3
Cambodia Documentation Center | Transcript | MP3
Muslim War Reaction | Transcript | MP3
AIDS Aid Progress | Transcript | MP3
Sex Trafficking Report | Transcript | MP3
This text has been professionally transcribed. However, for timely distribution, it has not been edited or proofread against the tape.
---
ANYA ARDAYEVA: The leaders of Russia, France, and Germany reiterated their call for a multi-polar world as opposed to one controlled by the United States. Along those lines, they said only the United Nations should manage post-war Iraq.
KRISTIN MCHUGH: This week on Common Ground, the debate over who should rebuild Iraq.
KEITH PORTER: And instability in the Balkans.
ANDREW NATSIOS: What they frequently do—they've certainly done it in the Balkans—is form underground criminal syndicates that undermine free market economies. They undermine democracy, they undermine civil society.
PORTER: Plus, documenting the atrocities of the Khmer Rouge in Cambodia.
YOUK CHANG: One way to combat genocide is to know, to learn what happened. Knowing what happened is the best weapon of all, and is a peaceful way to prevent genocide from happening.
MCHUGH: These stories—coming up next.
---
Russia Summit Update
Listen to This Segment: MP3
MCHUGH: Common Ground is radio's weekly program on world affairs. I'm Kristin McHugh.
PORTER: And I'm Keith Porter. Russia, France, and Germany—the three main opponents of the US-led war in Iraq—are now welcoming the fall of Saddam Hussein's regime. But all three are calling for a stronger United Nations role in rebuilding Iraq. The three nations' leaders asserted their position during a brief summit in St. Petersburg, Russia. Anya Ardayeva reports.
ARDAYEVA: Although the three leaders claimed that the Iraqi issue was not the main reason for their meeting in Russia's second capital, the subject of the post-war reconstruction in Iraq dominated the agenda. Russia's Vladimir Putin, France's Jacques Chirac, and Germany's Gerhard Schroeder said they wanted to narrow the rift between the United States and their nations, which occurred as a result of differences over the Iraqi problem. However, it didn't seem like the three leaders were ready to compromise. They said that their position towards the military action hasn't changed. And although the Russian president Vladimir Putin admitted that no one liked the Iraqi regime apart from Saddam Hussein, he claimed that the stated goal of the United States in Iraq had not been achieved. The goal of the war was only to disarm Iraq, he said. No weapons of mass destruction have been found. And Jacques Chirac, for his part, strongly criticized US and British forces for failing to prevent looting and disorder in Baghdad. The leaders of Russia, France, and Germany reiterated their call for a multipolar world as opposed to one controlled by the United States.
Along those lines, they said only the United Nations should manage post-war Iraq. They called for a stronger United Nations role in rebuilding the country, saying that the UN is the only body that has the legitimacy and the experience needed to perform such a task. US President George Bush and British Prime Minister Tony Blair recently said the United Nations must play a vital role in Iraq's postwar reconstruction, but the antiwar trio insists it must play a central role.
However, one statement from the Russian leader indicated that the ice between Moscow and Washington might slowly be starting to melt. Vladimir Putin said Russia is ready to consider the possibility of forgiving Iraq's multi-billion dollar Soviet-era debt. The US Deputy Defense Secretary Paul Wolfowitz earlier suggested that Russia, France, and Germany could do their part in rebuilding Iraq by writing off the loans they made to Saddam Hussein. Mr. Putin said Russia has no objections to this proposal, but remarked it could only be done if Iraq obtains a legitimate government and if the process of electing that government is overseen by the United Nations. For Common Ground, I am Anya Ardayeva in Moscow.
[Musical interlude]
---
Balkans Instability
Listen to This Segment: MP3
PORTER: Hundreds of thousands of people formed a funeral procession in March for the assassinated Serbian Prime Minister, Zoran Djindic. The former Yugoslavia has had a tumultuous time trying to shed its socialist past, and many observers wondered whether the assassination would stymie progress, or offer a new stimulus for reforms. Alastair Wanklyn reports.
[The sound of screeching car tires.]
ALASTAIR WANKLYN: A car raced through Belgrade carrying the dying prime minister to the hospital.
[The sound of an ambulance siren.]
WANKLYN: The sniper's bullet that killed Zoran Djindic were paid for, police said, by a Mafia group.
[The sound of a speech by the late Serbian Prime Minister, Zoran Djindic.]
WANKLYN: Djindic had tried in recent months to root out organized crime. But analysts said he only took power with the patronage of gangsters, and he fell by their hand when he tried to turn them straight.
[The sound of singing at Mr. Djindic's funeral.]
WANKLYN: Hundreds of thousands of well-wishers attended the funeral. Some said Djindic's death shows the fight against the Mafia must continue.
UNIDENTIFIED FEMALE MOURNER AT DJINDIC'S FUNERAL: [via a translator] I feel sad but now there is no turning back. What was not done before has to be done now. This is the last and proper moment for that.
WANKLYN: It wasn't just in Serbia that Djindic's death prompted calls for the nation to clean out corruption. The European Union Foreign Policy Chief, Javier Solana, encouraged the nation to continue reforms.
EUROPEAN UNION FOREIGN POLICY CHIEF, JAVIER SOLANA: I would like to say also to the leaders of Serbia, and to the leaders of Serbia-Montenegro, that they have to continue. They have to continue moving forward—economically, socially closer to Europe. In Europe they have a place and can be sure that they will be helped. By me, but they will be helped by the institutions that the European Union represents.
WANKLYN: Yugoslavia may be gone but Serbia and Montenegro remain one state, and both have outwardly requested integration into Europe. But what progress or lack of it led to a prime minister being assassinated by the nation's Mafia? Balkan affairs journalist Gordana Igric says the changes so far have been superficial.
GORDANA IGRIC: Well, it never actually happened, really, that there was any revolution in Serbia. What really happened is that that new government, this government—just removed couple of the people from Milosevic time and inherited all the structure—in army, in the police forces, and the business structure I would say also. And tried to live beside that Milosevic structure in peaceful manner, which was not possible really because the pressure from the West was growing to deliver to Hague the indictees, to make the changes in society, to join the European union—all these things were just forced and you had really strong Mafia people who were smuggling drugs.
WANKLYN: The international community has placed a lot of pressure on Serbia and Montenegro. States are demanding that war crimes suspect Ratko Mladic be arrested and handed over within weeks for some economic aid to continue. In the past six months Prime Minister Djindic tried to acquire stronger tools with which to fight the Mafia. He created a special prosecutor for example, but it all just aggravated the crime bosses. For several weeks after the assassination Serbia lived under a state of emergency, which allowed the nation's military to help round up suspected criminals. Around 3,000 were at one point said to have been put behind bars.
IGRIC: And I think now it's interesting—the state of emergency will actually provide these tools because now most of the war criminals are actually in a prison because they are at the same time Mafia guys.
WANKLYN: Gordana Igric, who writes on Serbian affairs for the Institute for War and Peace Reporting in London, says many Serbs are hopeful for the future.
IGRIC: I am at the moment optimistic, that when I think that for 15 years the existing structures of state security, and plus, Milosevic's attitude that of all Communist ties of secret service, very powerful. This is the end of that era, now is. What I am really nervous is that this group which now in the power and can use the state of emergency to behave undemocratically; that many media could be under the attack and I am suspicious that already one newspaper is closed because it was criticizing the government in past and not because they have some kind of connection with Mafia. I don't like what I see, changes in judiciary, because arresting people and some judges who cooperated with the criminal Mafia groups, at the same time replacing those judges who fought against Milosevic and against government pressure and tried to be independent. It's not good for Serbia, in that sense. So I believe if that lasts long you will see different groups outside of the government trying to impose their own political party interests and to clean those who were opponents in the past. So it's not good and you cannot have one communist-style government after the other all the time, suppressing the opposition. That worries me a little. Judiciary changes, judiciary, treatment of the media, worries me a lot.
[The sound of a police radio.]
WANKLYN: For now armed police stand guard in streets and the government retains the power to impose swift changes. Internationally too, communities seem to be expressing guilt that they concentrated too much on say, rewarding economic reforms and talking about the future status of Kosovo, than on understanding the former Yugoslavia's law and order situation more. Now the European Union is offering rapid assistance, and the human-rights forum, the Council of Europe, has invited Serbia-Montenegro to join it at the earliest opportunity. In every corner it seems there are fears about, but determination to forestall, Serbia and Montenegro's descent into a pariah state. Alastair Wanklyn for Common Ground, in London.
---
Balkans Civil Society
Listen to This Segment: MP3
PORTER: One man who's committed to Serbia and Montenegro's success is Ivan Vejvoda. He served as foreign policy advisor to Prime Minister Zoran Djindjic before his assassination and retained that post under the new Prime Minister, Zoran Zivkovic.
MCHUGH: The Balkan Trust for Democracy will award $2 million each year to civic groups, indigenous nongovernmental organizations, local and regional governments, educational institutions, and the media in Southeastern Europe. The goal is to strengthen civil society and good governance in what is still a very troubled part of the world. Ivan Vejvoda spoke of the historic challenges confronting his region.
IVAN VEJVODA: We are a region that sociologists and historians of sociology have defined as a region where the legacy is of authoritarianism. And in my country, the even deeper legacy of a criminalized state and a criminalized society.
MCHUGH: The US government is not oblivious to these concerns. Andrew Natsios heads up the US Agency for International Development, which is contributing $10 million to the Balkan Trust. He believes Serbia-Montenegro's fight against organized crime is, in fact, a battle against the remnants of the communist-era secret police. He said these networks have haunted many countries overcoming the legacy of totalitarianism.
ANDREW NATSIOS: They never go away, even when the societies collapse. They, they stick around. And what they frequently do—they've certainly done it in the Balkans—is form underground criminal syndicates that undermine free market economies, they undermine democracy, they undermine civil society.
[The sound of background chatter at a busy reception.]
MCHUGH: After his remarks launching the Balkan Trust for Democracy, Ivan Vejvoda said the assassination of Prime Minister Djindjic has strengthened his country's resolve to expel the criminal element from all aspects of society.
VEJVODA: The fight continues now, not only with added motivation and determination, but also with, I would say, a much broader sweep and at a more accelerated pace than was foreseen before this. Because everybody in a sense feels that, to put it very simply, owes it to the late prime minister that we get to bottom of this.
MCHUGH: Vejvoda says Serbia-Montenegro has already taken many steps to fight organized crime, including the creation of a witness protection program and the passage of legislation on special prosecutors. He expects the fight to continue until the country is fully democratic and free of corruption, and he hopes outside assistance programs, like the Balkan Trust for Democracy, will help his country and others in the region integrate themselves into Europe and the rest of the democratic world.
PORTER: The impact of the new International Criminal Court, next on Common Ground.
[Musical interlude]
---
International Criminal Court
Listen to This Segment: MP3
PORTER: The world's first permanent war crimes court has been inaugurated in the Netherlands. The International Criminal Court will try people who have committed crimes against humanity. Some analysts believe though the ICC will have limited impact since the United States, Russia, and China refused to give it their support. Suzanne Chislett reports.
SUZANNE CHISLETT: It's been hailed by human rights groups as the biggest milestone for international justice since top Nazis were tried by an international military tribunal in Nuremberg after World War II.
[Background sounds of the ceremony inaugurating the International Criminal Court.]
CHISLETT: In theory, the International Criminal Court will be able to try anyone—from a head of state to an ordinary citizen—for human rights violations, including systematic murder, torture, rape, and slavery.
UN SECRETARY-GENERAL KOFI ANNAN: It is feasible to bring to impartial justice before a judiciary representing the world's great legal systems persons both high and low who are accused of crimes against humanity.
CHISLETT: Although the ICC is not officially part of the United Nations, UN Secretary General Kofi Annan gave the court his strong endorsement at its inauguration ceremony in the Dutch Parliament.
SECRETARY-GENERAL KOFI ANNAN: I think the court is going to play a key role in providing individuals the right of address, the right to be able to take action and measures against people who have committed crimes against humanity. And I think it is also a warning; it is a warning to people who will commit these crimes that impunity will not be allowed to stand and they will be made to account individually and not hiding behind a government or leader saying, "I was following orders."
CHISLETT: In practice, however, the court will not be able to try anyone it chooses. Although 89 countries have signed up to the ICC, the United States, Russia, and China have all refused to join. Initially President Clinton signed up to the 1998 treaty; his successor President Bush withdrew the signature of the US and has since been busy persuading other countries to seal bilateral agreements exempting all US citizens from the court's authority. The Bush administration is concerned the court could be used for politically motivated prosecutions of its nationals. Even so, human rights group Amnesty International believes the ICC will play a vital role in global justice. It's spokesman, Jonathan O'Donahue (?).
JONATHAN O'DONAHUE(?): The establishment of the International Criminal Court is a major achievement for the international community. Not only because it's happening a lot sooner in the process than ever—than anybody ever predicted, but the International Criminal Court will soon be functioning to have oversight of and to investigate and prosecute people accused of these crimes when they're committed.
CHISLETT: The ICC came into being in July 2002 after 60 countries ratified the four-year-old Rome treaty to set up the court. Now the 18 judges who will hear cases—11 men and 7 women—have been named, and they were sworn in at a special ceremony.
JUDGE CARL TERRENCE HUDSON PHILLIPS: [being sworn in at the International Criminal Court.] I, Judge Carl Terrence Hudson Phillips, solemnly undertake that I will perform my duties and exercise my powers as a judge of the International Criminal Court honorably, faithfully, impartially, and conscientiously, and that I will respect the confidentiality of the investigations and prosecutions and the secrecy of deliberations, so help me God.
[The sound of applause and cheering.]
CHISLETT: Dutch Prime Minister Jan Ballenende witnessed the event.
DUTCH PRIME MINISTER JAN BALLENENDE: Today the international community shows that it's still committed to justice, despite many bloody conflicts and treaty violations we have seen since the Second World War. Suspicion and pessimism often dominate international politics. But today we are showing the world that there are also grounds for joy, optimism, and hope.
CHISLETT: Prince El Hassan of Jordan, who administered the oath to the judges, insists the Court will not become the world's crucible for vengeance.
PRINCE EL HASSAN: It will provide a fair trial to those accused of having committed the gravest of crimes. Endeavor to lay bare the truth, foremost to the victims themselves, but also to the wider world community. And then do what it can to assist those victims.
CHISLETT: UN Secretary-General Kofi Annan told the 18 judges they carry a heavy responsibility.
SECRETARY-GENERAL KOFI ANNAN: All your work must shine with moral and legal clarity, bringing life to the provisions of the Rome statute and helping the state parties discharge their share of responsibility. Above all, however, this Court is for those who might be victims of the future. If the Court lives up to our expectations they will not be victims, because would-be violators will be deterred.
CHISLETT: Already more than 200 complaints of alleged war crimes have been received by the Court. The job of examining the cases and deciding which to take to trial will fall to the Chief Prosecutor, widely expected to be Argentine lawyer Luis Moreno Ocampo. But despite the naming of appointees and the swearing in of the judges, the ICC is not expected to begin hearing cases for some time. With an initial staff of just 62 and no courtroom, it could be another year before the first trials can begin. For Common Ground, I'm Suzanne Chislett, in London.
[Musical interlude]
---
Cambodia Documentation Center
Listen to This Segment: MP3
MCHUGH: Cambodia is still struggling to cope with the fallout from three decades of civil war. Nearly two million Cambodians were killed during the genocidal rampage of the Khmer Rouge. Determining how to punish those responsible for these crimes is an important key to the country's recovery. Keith and I visited Cambodia earlier this year and found one organization playing a vital role in the process of justice and healing.
[The sounds of traffic on a busy city street.]
PORTER: Just off a busy street in downtown Phnom Phen is the Documentation Center of Cambodia. The center was created by the United States Cambodian Genocide Justice Act of 1994 and much of their small budget still comes from the US Agency for International Development. The center meticulously gathers and archives any information related to the extraordinary killings which left over 20 percent of the population dead. I sat down with the director, Youk Chang.
YOUK CHANG: The Center have two main objective—to preserve memories and to seek justice for the survivor of the Khmer Rouge regime—by collecting information from the Khmer Rouge period, including documents, photograph, identifying mass grave, prison, memoir from the survivors, tape video cassettes—anything. Catalogue it, put it on the Internet so that other can learn from the Khmer Rouge period.
PORTER: Why is it important that this material be collected and preserved?
YOUK CHANG: It is very important because the younger generation will have to learn from this history. It is because that it is, it happened. It's part of us. Genocide is about crime against humanity and one way to combat genocide is to know, to learn what happened. Knowing what happened is the best weapon of all, and is a peaceful way to prevent genocide from happening.
PORTER: We're sitting here in the middle of your office. Tell me what, what's going on around us here and what these people are all doing at all these various computer terminals. There are a lot of 'em here.
YOUK CHANG: Well, actually 24 staff are now in the provinces. Those staff are locating from the Khmer Rouge, collecting the story from the perpetrators, using the documents from the Khmer Rouge period. And every three weeks of the month they come back to the office and we transcribe the interviews and we input in a database called "Promoting Accountability." And also, we have team upstairs; it's training Cambodian, local Cambodian, to write their own history. As you have a sense of only foreigner write about Cambodian history. So upstairs we train younger generation. Day by day that you can see that, you can see that the younger generation is taking over the history. They are becoming the guardian of the history.
PORTER: And then you said you have people who are doing sort of local histories or, or…
YOUK CHANG: Yes.
PORTER: …or individual people's histories, like oral histories?
YOUK CHANG: Oral history. With the former Khmer Rouge we have this special questionnaire to talk to them. Because we know who they were, who they are, and we do not want to violate their human rights. Also, we do not want to ask them to [be] self-incriminating. So the questionnaire designed especially for this group to understand who are these people and why what happened then, what they did.
PORTER: Part of the reason, I think, that you have so much documentation is because the Khmer Rouge was so meticulous about keeping records, about taking photographs. Why do you think that was? Why were they so intent on recording and documenting everything?
YOUK CHANG: I think in the eye it was glory, it was a victory. That they felt that they [were] able to destroy enemies piece by piece and every day. But to us it's horror. It's a crime against humanity. So a different eye see different thing from the same document. My job is cataloging Khmer Rouge material. Reorganizing, so that people can find it much more easier. For example, the Khmer Rouge documents contain such as telegram, report, minutes of the standing committees, confessions, personal letters, torture manual, daily activities—different kind. So we basically bring the whole thing and catalog and categorize each of the material and that so you can go directly to which one you like.
PORTER: What's the ultimate goal here of the Documentation Center? I mean, when will your work be done?
YOUK CHANG: We aiming to be, to serve as a permanent message to the genocidists, to those who commit crime against humanity. It has to be a permanent message. It's going to be a permanent center to store all this document. So that there will be a place where victim can leave behind the past; where a victim can seek information to reconcile, to just move on with their life. Where perpetrator can find a way to confess or to share their story. Where other can learn from this. Where many, many Ph.D. candidate can write Ph.D. dissertations. And also can be a resource for school curriculum, teaching Khmer Rouge history in the school in Cambodia. So, it has to be a permanent message. Otherwise it will happen and it will come back.
PORTER: There is a debate in the international community and in Cambodia about a war crimes tribunal for Cambodia, like the one for Yugoslavia and Rwanda; like the tribunals that followed World War II. If there were such a tribunal I would imagine that the material you have collected would be the centerpiece of the evidence.
YOUK CHANG: We, we will provide the information to both the defense and the prosecutors. Because we catalog only raw data. And however, I must say this—that we are not the only one who hold everything. But we hold most of the things. So altogether I hope that when the tribunal, if ever established, I can assure you that sufficient information, that the court will not start with a single page. The court would not start with a single witness; they would start with thousands and thousands of witness, and hundred thousand documents, and thousands of photographs, and couple of thousand mass graves. So it would be overwhelming information to support the process. And I think that both should access to the same material.
PORTER: You mentioned that you collect data on perpetrators, trying to find the perpetrators of these crimes. Isn't that dangerous work?
YOUK CHANG: It's not difficult. Each of the Khmer Rouge cadres, officials, they have their own résumé. And they were required to, to write, to update their résumé every six month. And we have like, about 30,000 Khmer Rouge résumé. And each of the résumé containing home address, family, cousin, grandparents, nephew—25 page. The same address they put down 25 years ago, they're still live in the same place. They not going anywhere. They are there. You go in there with all this background, with a proper training staff, understanding how to proceed. And all the staff are Cambodian-born person so they understand the culture. They can detect the local situation. And with the proper questionnaire and with all other, we have known to the villager that we do this for history. So they all know—so we have a best access to all of them. It's not difficult. We talk to them all the time. Every day in fact. And every day the staff report back to the office and we collect, we store data.
PORTER: So you have new data every day?
YOUK CHANG: Every day. Every single day.
PORTER: Youk Chang is director of the Documentation Center of Cambodia. The Cambodian government and a United Nations team have agreed to a plan that would create an international tribunal to prosecute Khmer Rouge war crimes. That plan still needs approval from the United Nations General Assembly.
MCHUGH: This is Common Ground, radio's weekly program on world affairs.
[Musical interlude]
KRISTIN MCHUGH: I'm Kristin McHugh.
PORTER: And I'm Keith Porter. Coming up this half hour on Common Ground, Muslims react to the fall of Saddam.
UNIDENTIFIED MOSLEM WORSHIPPER: The fact of the matter is President Bush, whether you like his policies or not, is the President. And at that point everyone basically has to, you know, submit to that authority.
PORTER: Plus, curbing the global spread of HIV/AIDS. And new data on human trafficking.
---
Muslim War Reaction
Listen to This Segment: MP3
MCHUGH: Muslim-Americans watched the Iraq conflict unfold from thousands of miles away, and many feel an especially deep connection to the events. Some Muslim organizations have come out strongly against the war, as many other religious groups in the United States have done. But in the Muslim community, there's also a fear that the conflict could spark another anti-Muslim backlash in the United States. Judith Smelser visited an Islamic center near the US capital to see how worshippers there were feeling.
[The sound of Muslim calls to prayer.]
SMELSER: Worshippers gather for Friday prayers at the Muslim Community Center in Silver Spring—a suburb of Washington, DC. Imam Ali Darwish does not shy away from the troubling concept of the congregation's home country fighting against a Muslim nation.
IMAM ALI DARWISH: [speaking at the mosque] This puts the Muslim in a very tight and a very difficult challenge. On the one hand, he loves and he's patriotic to his country. On the other hand, he also cares very deeply about his Muslim brothers and sisters.
[The sound of Moslems praying.]
SMELSER: Many people praying here seem to side against the war, but after the service they voice mixed emotions.
UNIDENTIFIED MOSLEM WORSHIPPER: I think that America's bad and Saddam Hussein's government is bad.
UNIDENTIFIED MOSLEM WORSHIPPER: The fact of the matter is President Bush, whether you like his policies or not, is the President. And at that point everyone basically has to, you know, submit to that authority.
UNIDENTIFIED MOSLEM WORSHIPPER: I think it's a pretext for dominating the region and plundering the natural resources in the country.
SMELSER: Community center officials are reluctant to take a position on the morality of the war, but the head of the center, Sabir Rahman, believes America's stated target—Saddam Hussein—is not the one who's suffering.
SABIR RAHMAN: He's not the one who's hurting. It's the people of Basra, people of Nassiriya, people of Karbala, people of all other places.
SMELSER: The Pentagon is talking up its efforts to help the Iraqi people, by providing humanitarian assistance, but Mr. Rahman has reservations about using the military to distribute the aid.
RAHMAN: When we shoot at them, then hand them food and insist they should be grateful. I don't think that's a very good situation. It should be a third neutral party.
SMELSER: Some Muslim organizations also feel that the war has had an impact on Muslim Americans much closer to home. Hodan Hassan is a spokeswoman for the Council on American-Islamic Relations, or CAIR.
HODAN HASSAN: There was a mosque in which two youths actually swang baseball bats and broke the windows. There was another mosque that received death threats. There's a Palestinian-American family whose van, somebody threw a stick of dynamite into it. It blew up. Luckily nobody was in the car.
SMELSER: CAIR believes these recent incidents, and others like them, were directly linked to the war in Iraq. Fearing a new anti-Muslim backlash like the one seen after the September 11th terrorist attacks, the group is urging Muslim-Americans to protect their mosques and shield themselves against possible hate crimes and police profiling. Sabir Rahman says his Muslim Community Center is thinking of beefing up security.
RAHMAN: We are thinking of installing surveillance cameras in our center, which we do not have any. We have two gates from the road into our center. We don't have any gates that we can close. We're thinking maybe we should install those gates. But that's a commentary that is against what we desire.
SMELSER: Mr. Rahman says his center has not been targeted so far but that people have expressed fears about coming to pray because of possible attacks.
[The sound of Moslems praying.]
SMELSER: The war may be over, but with the lawlessness and the looting in Iraqi cities the humanitarian concerns continue. And in the longer term how the US deals with these problems and manages the rebuilding of Iraq's infrastructure may determine how Muslims here ultimately view this conflict.
[The sound of Moslems praying.]
SMELSER: For Common Ground, I'm Judith Smelser, in Washington.
[The sound of Moslems praying.]
PORTER: Coming up next on Common Ground, a global pandemic finds new victims in new countries. And later, global human trafficking.
[Musical interlude]
---
AIDS Aid Progress
Listen to This Segment: MP3
PORTER: The reversal of the HIV/AIDS global pandemic appears to be a long ways off. In fact, it continues to get worse. The United Nations estimates the number of people infected by the disease is likely to double in less than ten years. Common Ground's Cliff Brockman recently talked to United Nations Development Program head Mark Malloch Brown about President Bush's pledge to raise the US AIDS relief budget from ten to 15 billion dollars.
UNITED NATIONS DEVELOPMENT PROGRAM HEAD MARK MALLOCH BROWN: President Bush has clearly been personally touched and seized by this issue of HIV/AIDS. And I think he looks at it as, you know, an epidemic of truly global proportions that is happening on his watch. And therefore he's responded on a scale many times greater than we have seen, not just out of any US administration, but out of any government anywhere. He's now put US funding for AIDS at a total of $15 billion over the next five years, which is a great quantum leap. I mean, $10 billion of that is new money. It's also striking in the sense that, you know, a president who is often accused of being a prisoner of right-wing constituencies has nevertheless put half the resources of this new money into treatment, which means antiretroviral drugs in large part, for people who are HIV positive. And for many of that constituency who allegedly control the president, that's not an easy thing to come to terms with. Because they've always put the emphasis on abstinence and prevention. And I think in their own minds been reluctant to reward what they see as bad behavior by the provision of treatment. So this is a major, major step forward. And a critical one, because I think the president has been persuaded by his public health advisors that without a treatment component a prevention strategy breaks down. Because you have to be able to draw people into being tested, and the way you draw them into being tested is to promise them treatment if they're positive. So he's provided a total approach which I think is thoroughly commendable.
BROCKMAN: Mark Malloch Brown is critical of President Bush in one area, though. He says the president's approach is unilateral and that he needs to look to others for help in the global fight against AIDS.
MALLOCH BROWN: He invited me to the White House to listen to his elaboration on his proposals. And you know, the president seemed to be saying, "Look, this is a really big important problem. Too important to be left to others. It needs American know-how, American leadership, American resources and focus to get the job done." And in some ways one could equate that with some of the thinking, I suspect, and some of the language which probably surrounds the issue of a military campaign in Iraq. This idea that, you know, if a job really needs to get done Americans must do it. When the reality about AIDS is you need an international coalition. You need that coalition to make sure that America's generosity is matched by others. Because if America gives $3 billion a year, that usually means you can get a total of $9 to 12 billion globally, because others match it. But if America gives its $3 billion in a very narrow, "America only" way, you lose that leverage to raise the other resources.
Second, the thing about AIDS is it's a disease defined in so many parts not just by its virulence but by the cultural issues that surround it. People's anxiety about confessing to be HIV/AIDS positive; anxiety about confessing how they have contracted the disease, because so often the contraction seems, the method of contraction seems to fly in the face of the publicly declared social norms of the country—whether it's against drug use or against sex outside marriage, or whatever. And so, you know, this isn't something which applies itself to, you know, the hard charge of an "America only" approach. It needs, you know, to be dealt with in a multicultural, highly sensitized way. So again, you know, I think it's a—my one disappointment with President Bush's announcement is that only $1 billion of the resources he puts out go to the global fund, which was an American creation but is a global fund for fighting AIDS.
BROCKMAN: What is UNDP's role in the fight against AIDS?
MALLOCH BROWN: UNDP is not a health agency. There are others—the World Health Organization, the Global Fund for HIV/AIDS, Malaria, and TB—and other vehicles which can tackle the public health items. What we are, though, is the development and the governance organization. And both are under threat because of AIDS. We are seeing economies undermined because the workforce is gone. We are seeing governments undermined because the civil servants are gone. We see service delivery by government—healthcare, education—undermined because the teachers and healthcare workers are gone. So we have a huge role here of capacity replacement. How do we train new rows of doctors, health workers, teachers, civil servants? How do we create new methods of, of economic production which are less dependent on the availability of labor than has been the case in the past? You know, we see societies that we've been partnering with for 40, 50 years, you know, now being threatened by this and undermined. And so, as a development organization, we're taking on those nonpublic health aspects.
BROCKMAN: There has been a gender shift hasn't there? Women are more affected now by AIDS, and HIV/AIDS?
MALLOCH BROWN: Yes. In Southern Africa, you know, a majority of the victims are actually women. It has become a disease of heterosexuality. Where, you know, many of the social practices, both traditional social practices of male dominance, but new social practices where so many men have to migrate such a long way to mines or long distance truck drivers or do other things which keep them away from home and their families for a long time, has, when you combine it with the demands of men on women for sexual favors, you've got this potent cocktail of modern economic factors such as migration, combining with a traditionally male dominant society, to make women enormously vulnerable to a heterosexually transmitted disease, where even their body, their physical vulnerability is greater than those of their male partners. So, you know, women are disproportionately the victims. And within that, young women who are least able to say "No," for reasons of custom, in the sort of 16-to-25 age group, are the single biggest group of victims.
BROCKMAN: How do you see it playing out? How will this victory finally be won against global AIDS?
MALLOCH BROWN: It will be won country by country and individual by individual, in that we have seen in countries as geographically far apart as Brazil, Uganda, and Thailand, that where there is a committed political and perhaps more important, social leadership which absolutely convinces a population who will listen to it of the dangers of this disease and for a need for a change in behavior, then you can dramatically bring down the incidence rates, particularly if you can support that campaign of prevention with affordable treatment options, as happens particularly in Brazil of those three countries. Then you've got a kind of winning strategy.
And let me add that, you know, a lot of very secular approaches to this have stressed condoms as, you know, the critical issue. And condoms are enormously important. But I would attribute almost as much importance to the role of churches in encouraging abstinence or modifications in behavior or faithfulness. In that, you know, you look at countries like Uganda and there just weren't enough condoms in the country to be the explanation of the dropping prevalence rates. It's clear that social and community leaders, including church leaders, were critical opinion setters in changed behavior. So I'm very much for a broad church on this.
You know, so many AIDS workers criticize the churches because they allege a hypocrisy in their messages. And the churches criticize the secular AIDS workers because they consider the promotion of condoms or even sometimes of treatment as anti the sanctity of life. My own view is we need all sides on this. And it's when you can bring all sides together around the bit of the agenda that they feel comfortable promoting, but encourage them not to criticize the bits of the agenda that they can't actively support. When you get that kind of broad coalition of support for the end goal of saving lives, then you can make dramatic progress.
BROCKMAN: Mark Malloch Brown is the administrator of the United Nations Development Program. For Common Ground, I'm Cliff Brockman.
MCHUGH: You're listening to Common Ground, radio's weekly program on world affairs.
[Musical interlude]
---
Sex Trafficking Report
Listen to This Segment: MP3
MCHUGH: People bought and sold, just like cars, jeans, or potatoes. Once, it was called slavery, but today its called human trafficking—a crime that affects primarily women and children, as many as four million annually. It's a crime that knows no borders. From top State Department officials, to the United Nations, to local activists, people are joining forces to stop the sale of humans. Priscilla Huff has more.
MICHELLE HOPE: [reading the horror stories of persons who have been enslaved] Picture a young six-year-old girl, being trotted out on the streets of Cambodia someplace, six years old—and forced to pull up the front of her tee-shirt repeatedly to show her innocence to people who walk by. For people who find her particularly interesting, she is then taken back into back rooms and abused horrifically—five, ten, or more times a day. Picture a young Czech woman who has lived with a husband who beats her constantly, who is fearful of losing her daughter. She's presented with the opportunity in a crumbling economy to make a little bit more money as a waitress in Germany, so she agrees to go—to find herself taken across multiple borders to end up in the red light district of Amsterdam.
HUFF: Michelle Hope of the Protection Project is all too familiar with the practice of one person selling another person. Her group is trying to bring an end to trafficking in humans. Hope knows it's something that happens in remote mountain villages of Nepal and right here in the United States.
HOPE: Let me say that we can tell you that women and children from 49 different countries are trafficked into the United States every year, and that's what we at the Protection Project are able to document. So it could very well be very more.
HUFF: John Miller's assignment is to tackle the issue, starting from his post at the State Department.
JOHN MILLER: What we're really about is fighting modern day slavery and the slave trade. This issue is starting to seep into the public consciousness. I think people in this country and abroad are just starting to become aware that, well—particularly in this country—slavery based on color may have ended at the end of the Civil war, but slavery based on color, on forced labor, on military impressment, and most hideously on sex, goes on in this world. And there is no country that is immune.
HUFF: At a conference on human trafficking in Tokyo, the deputy director of UNICEF described the crime, just in the Asian region, as the largest slave trade in history. Over the past three decades, in Asia, the UN estimates 30 million women and children have been bought and sold. It's a $7 billion business. Michelle Hope.
HOPE: This is a tragic yet ever present phenomenon of globalization. It's really the dark side of globalization.
HUFF: John Miller with the State Department agrees with the researchers—sex is driving human trafficking.
MILLER: The fastest growing form of slavery is sex slavery. There doesn't seem to be any question about that. That's the fastest growing. It's the one that has the most money involved.
HUFF: Young girls from Thai villages taken to Bangkok to fuel the sex tourism industry; women from Romania lured to Spain with promises of waitressing jobs; children taken from the Congo to South Africa, because there's an urban legend, sex with a virgin cures AIDS. To counter this growing problem, laws are being passed, and the United Nations established a protocol to prevent trafficking in persons, while the Bush administration is considering sanctions. Along with its annual report on human rights, the US State Department will issue a report on trafficking, one that could have consequences.
MILLER: There's three categories—you're doing well, or you're doing fair, or you're failing. And the countries that are perceived to be failing face the possibility of aid sanctions unless waived by the president, unless they come into rapid, they undertake some rapid efforts.
HUFF: Both the United Nations and the US government have held conferences, with the goal of bringing people together to learn how to combat trafficking in persons and also to raise awareness. After serving in Congress, Linda Smith founded Shared Hope International, a group dedicated to helping victims of human trafficking.
LINDA SMITH: This issue is hard but it's real important that we talk about how certain countries are fighting it, what are the best practices, and what can we, as citizens of the world, do in fighting trafficking.
HUFF: Recognizing that trafficking in persons is a crime is just the first step. Experts agree, the underlying problems are not legal, but cultural—that women and children are first victimized by being sold, and then by their communities, shunned as dirty or worthless. Michelle Hope of the Protection Project.
HOPE: It's not a quick fix—come for three months of counseling and then we'll set you back into your streets—because of the very things that you talk about—the families, the villages, no longer welcome them. So there are several centers that have been in existence around the world that understand this, where you recognize that recovery from having been trafficked takes years.
HUFF: The victims will need time to learn their self-worth is equal to any others. Law enforcement needs time to track down the criminals. And people everywhere need to learn just because a person is young or female doesn't make them property to be bought and sold. For Common Ground, I'm Priscilla Huff.
Our theme music was created by B.J. Leiderman. Common Ground was produced and funded by the Stanley Foundation.
Copyright © Stanley Center for Peace and Security