All Issue Areas
Journalists explore themes of trust at International Media Conference in Honolulu
Programs
Journalists from the United States and Asia-Pacific traveled to Hawaii for a three-day conference focused on rebuilding trust and restoring facts to meet global challenges.
"We will adapt, adjust, and thrive. As usual, we will hold power to account. We will tell the truth."
Nobel laureate and press freedom champion Maria Ressa from the Philippines shared these powerful words in her keynote address at the East-West Center's biennial International Media Conference (IMC), after revealing that her online news organization, Rappler, had just received a shutdown order. In the face of this and many other challenges to professional journalism around the world, she vowed to fight the order and to keep up her efforts to safeguard independent media worldwide.
This year's International Media Conference took place for the first time in the East-West Center's hometown of Honolulu, Hawaii from June 27-30, with roughly 250 participants attending in person. The conference theme was "Connecting in a Zero-Trust World," focusing on the challenges and opportunities for journalism and media to contribute to restoring facts in public discourse and rebuilding trust and collaboration to address global challenges. As a programming partner for the conference, the Stanley Center organized a workshop, networking mixer, and field trip for journalists attending the conference from the United States and Asia-Pacific region. We invited eight journalists from South Korea, India, and the United States to present and participate in each of our three activities, and they also had opportunities to attend the IMC's many other plenary, workshop, and panel sessions.
Stanley Center Activities at the IMC
Workshop: Ethical Challenges with OSINT in Reporting
On the first day of the conference, the Stanley Center organized a two-hour workshop, Ethical Challenges and Trust When Using OSINT in Reporting, facilitated by expert imagery analyst and journalist, Allison Puccioni. Twenty-one workshop participants came from eight Asian countries and the United States. One of the goals of the workshop was to encourage habits of discussion around ethical dilemmas and decision making among journalists who use open source intelligence (OSINT), especially when reporting on news with international conflict dynamics or specific nuclear weapons-related risks.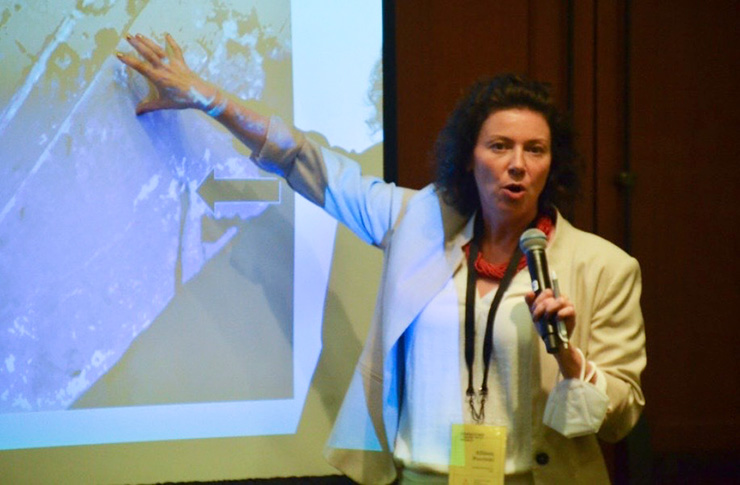 The workshop opened with takeaways from Feeling the Burden: Ethical Challenges and Practices in Open Source Analysis and Journalism, a report published by the Stanley Center and the Ethical Journalism Network earlier in 2022, and a look into the evolution of open source intelligence among analysts working on international issues and nonproliferation policy.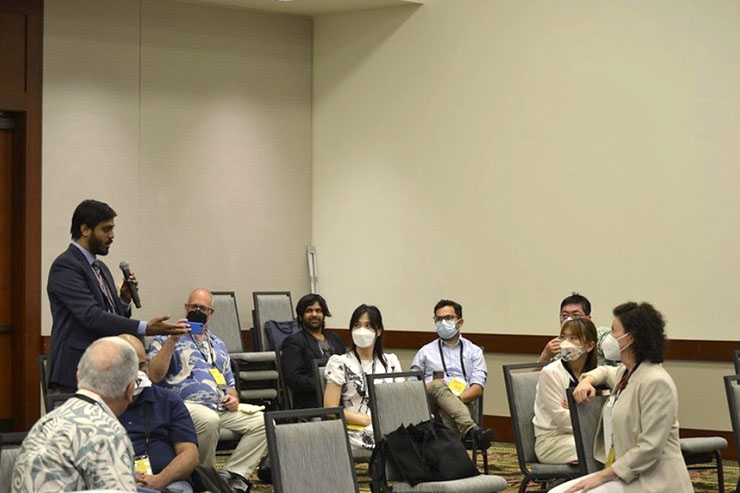 The remainder of the workshop was structured around an interactive exercise led by Puccioni that explored a real-world OSINT ethical dilemma. After presenting an ethical dilemma that she had confronted in her own career—concerning a satellite image that revealed an alarming piece of information about the 2011 Fukushima nuclear disaster—journalists were prompted to think through whether or not they would have published the information in the early days of that crisis.  The exercise sparked dynamic discussions among the workshop participants, allowing for debate, learning, and ideas for how to improve ethical decision making in similar situations in the future.
Networking Mixer and Lightning Talks
On the following day, the Stanley Center hosted a happy hour networking mixer for all IMC attendees and featured three lightning talks presented by Allison Puccioni, journalist Jon Letman, and The Fuller Project's staff reporter Disha Shetty, who was also one of our COP26 CCMP Fellows at the UN climate summit in Glasgow last year. Their lightning talks covered the use of satellite imagery in reporting, militarization and colonialism in the Asia-Pacific region, and the intersections of how climate change affects the health of women, respectively. Each talk allowed journalists in attendance to soak in ideas about these topics and ask questions in an informal, relaxed setting.
Hearing @jonletman speak about impact of militarization on the environment on the Asia Pacific region was quite an experience. He referenced Orwell's 1984 (a book I think was written on today's India!), and how it ends for the protagonist. Shivers! #EWCMEDIA #EWC2022 pic.twitter.com/a2YgsvcqVm

— Sarita Pandey (@saritapandey) June 30, 2022
Thank you @puccioni1 for repeatedly and passionately sharing your insights on OSINT using and interpreting Satellite Imagery and using available resources to conduct better and more accurate journalism in the 21st century. You never fail to enlighten or make your audiences laugh. pic.twitter.com/7gup1UuTrg

— Aekarak Sethi (@aeksethi) June 30, 2022
Field Trip: Tour of RIMPAC Navy Ships
As the conference came to an end, the Rim of the Pacific Exercise (RIMPAC) was about to get started. Organized by the United States Navy's Indo-Pacific Command (INDOPACOM), headquartered in Honolulu, RIMPAC is the world's largest international maritime warfare exercise. Its stated aim is to promote cooperation and stability among military forces across the Pacific Rim and beyond. The Stanley Center arranged an opportunity for journalists from the IMC to tour the Canadian and Republic of Korea naval ships docked near Pearl Harbor in advance of the exercise, accompanied by INDOPACOM's Deputy Director of Public Affairs. Lt. Col. Melissa J. Milner, USAF.  Journalists were able to speak to the deputy commander of RIMPAC on board the Canadian vessel, and two journalists ended up featuring the visit in published reporting after the conference:
What's behind S. Korea's deployment of largest-ever Navy fleet to RIMPAC?
Jung Da-min, July 8, 2022, The Korea Times
RIMPAC Training in the Pacific Rim
Jiha Ham, July 2, 2022, VOA Korean
Other Conference Highlights
In addition to the opening keynote from Maria Ressa, conference participants also heard from other high-level speakers, including former President of the Republic of Marshall Islands and climate champion Hilda Heine. Heine spoke about the challenges of reporting on the climate crisis, underscoring the urgency needed to protect island nations like hers from sea level rise, while also emphasizing the importance of narratives of hope and solutions stories. As an influential leader in the international climate policy space, Heine spent years sounding the alarm on climate risks to vulnerable countries, imploring nations to join together to take action to limit global temperature rise to 1.5 degrees Celsius—as seen in this video message she shared with leaders of the world ahead of a climate summit in 2018.
The conference also featured a Q&A with Meta's Head of Security Policy, Nathaniel Gleicher, who spoke about Meta's strategies and policies to deal with harmful content and mis/disinformation on Facebook. Journalists in the room challenged his comments and called on him and Facebook/Meta to do much more to address this escalating problem in many countries, where content and ads on Facebook are fueling social divisions, hate, and offline violence. While Gleicher's answers were clearly unsatisfactory to many, it was an opportunity for journalists to express their concerns directly to a Meta representative leading the platform's security policies.
The conference resonated well with participants for many reasons, and there was even time for fun, such as when an impromptu dance party broke out at the end of our networking mixer. After three days of important discussions, learning, and debate, it was a moment to unwind and enjoy the company of others who are working hard to keep independent media alive in an increasingly challenging information environment.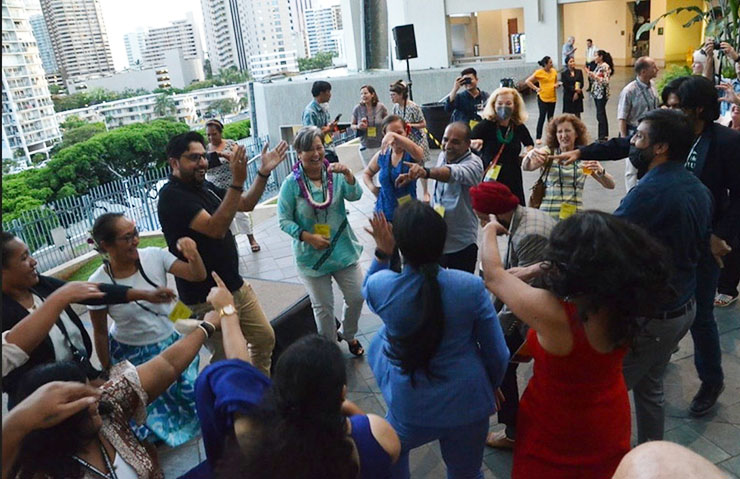 To find out more about the conference and what some of the speakers and panelists discussed, visit: