Climate Change
Collaboration with the Associated Press and Press Trust of India innovates training program to strengthen climate journalism
Programs
In the beautiful-yet-climate-vulnerable coastal city of Kochi, in southern India, journalists and editors from the Associated Press joined journalists from the Press Trust of India (PTI) in a unique collaboration to build climate journalism knowledge and skills.
India, the world's second-most populous country, is key to curtailing global warming. The India Climate Journalism Program was developed and carried out in a partnership between the Stanley Center for Peace and Security, the Associated Press, and PTI—India's largest news agency—with a goal to bolster the strength of local journalists to tell India's climate story.
The program included five days of workshop sessions and training on the ground in Kochi from March 1-5, as well as six weeks of peer-to-peer mentorship, pairing seven AP climate journalists with PTI journalists to identify, develop, and report the impacts of the climate crisis on Kochi, in the State of Kerala.
The program combined mentorship, peer-to-peer learning and practical application of international best practices in reporting on climate in Kochi. AP senior climate journalists and editors led knowledge-sharing sessions, with skills-based learning, reporting tips, and hands-on editorial guidance. PTI senior journalists and editors led the story development process and field reporting while in Kochi. The mixed method approach provided an opportunity to effectively combine knowledge and skills on assignment.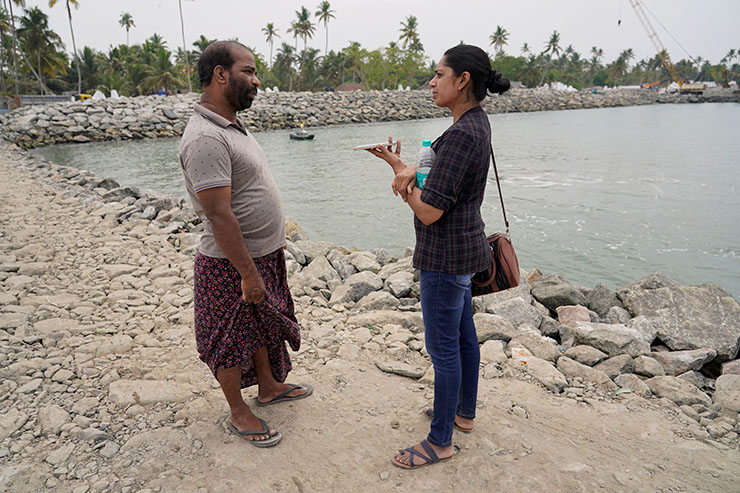 Training: On the ground
The training included sessions on the key elements of a good climate story and how to conduct research to identify strong sources and leads for stories on specific climate change topics. AP editors shared strategies for interviewing experts, communicating the science of climate change, recognizing and scrutinizing green-washing, and using storytelling techniques to engage audiences.
Sessions also focused on how to plan and pitch climate stories, how to track and report India's policy positions on climate, and how to localize international stories by connecting climate issues to the experiences and perspectives of their communities.
Group exercises led by AP mentors included training on visual storytelling—including techniques for capturing and selecting quality photos and audio-visual elements to integrate into climate stories to deepen impact.
By participating in these interactive exercises and later putting these lessons into practice during their field reporting, the PTI journalists were able to hone their visual storytelling skills and produce stories with exceptional images and video.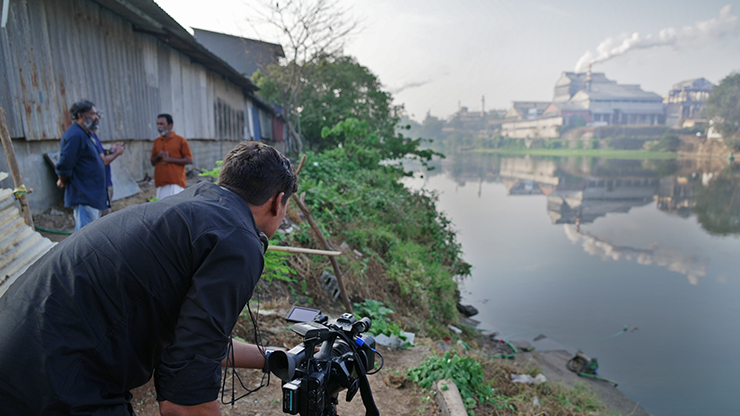 Goals and outcomes
As climate change and its impacts grow more acute–disproportionately affecting vulnerable populations and countries–quality climate journalism is crucial. Reporting can help improve understanding of the stakes and solutions, hold power to account, and spur the large-scale action and commitments needed to realize a peaceful, equitable, and livable climate future.
In addition to providing practical training and mentorship, one of the goals of the India Climate Journalism Program was to encourage journalists in India to cover climate more deeply and regularly. At the end of the program in Kochi, each PTI journalist developed their own coverage plan with at least three more stories they intend to pursue.
Importantly, AP and the Stanley Center designed the program in India as a pilot and proof of concept for future training across the Global South as part of AP's global climate journalism initiative. This initiative aims to enhance global understanding of climate change, its impacts, and solutions through quality climate journalism that is inclusive of local perspectives and contexts, and in places where climate is under-reported.
A notable takeaway from the India Climate Journalism Program came from the peer-to-peer mentorship arrangement that enabled both PTI and AP journalists to learn from each other. This two-way learning benefited everyone involved and will be key to subsequent future training.
Published reporting
The climate stories that were developed through the India Climate Journalism Program are now part of a seven-story series published and distributed by AP and PTI. Stories are rolling out this month with distribution to millions of news consumers worldwide.
Learn more and view the stories on the India Climate Journalism Program website or the AP hub for the series.
TOP IMAGE CREDIT: AP.
Today we will release a series called 'Spotlight on Kochi, India: Climate crisis, adaptation and hope'. This is part of the India Climate Journalism Program, a collaboration between @AP, @StanleyConnect and Security and @PTI_News.

Find out more ➡️ https://t.co/L57j547I8d pic.twitter.com/0HGXXe99FN

— AP Climate (@AP_Climate) April 4, 2023
Developing the India Climate Journalism Program has been an absolutely rewarding experience. Thanks to the amazing team at @StanleyConnect and our partners @PTI_News for working with @AP_Climate on this epic collab! https://t.co/xE38cO2iMq

— lagipoiva (@lagipoiva) March 3, 2023