Time Capsule Expanded and Returned
The time capsule from 1901 and 1971 discovered during renovations at 304 Iowa Avenue has been returned to the building with the addition of new artifacts from the present day.
During the course of construction of the Stanley Center's new headquarters at 304 Iowa Avenue, Graham Construction crews discovered a time capsule containing artifacts from the building's life as a public library. The time capsule included items from 1901, when the Musser Public Library was first built, and 1971, when a new library building was constructed on the site.
As the Stanley Center renovated 304 Iowa Avenue, we wanted to continue the tradition of the time capsule. In addition to keeping representative items in the capsule from 1901 and 1971, we added some artifacts that represent the work and people of the Stanley Center and the Musser Public Library. A map of present-day Muscatine businesses was also placed in the time capsule.
Some of the items from the Stanley Center include a Zoom screenshot of staff representing our years of remote work during the Covid pandemic (see below), our Sparks report, a few recent policy publications, and a poster of Sustainable Development Goals.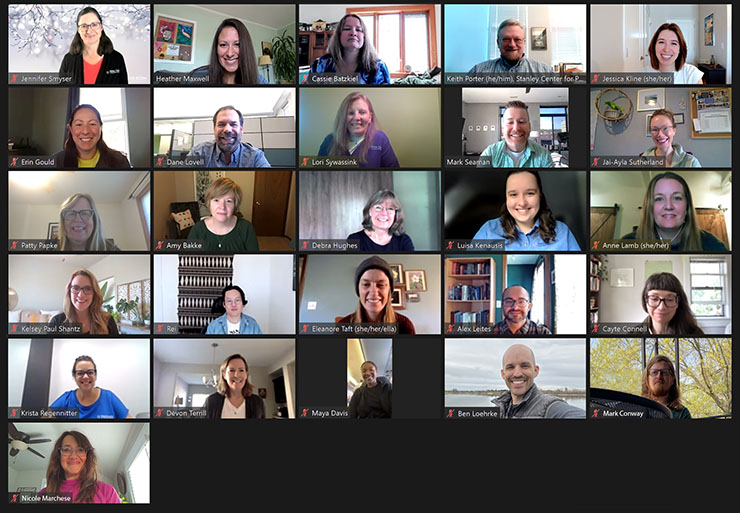 In addition to retaining select artifacts from 1901 and 1971, new items placed in the time capsule by Musser Public Library included a letter from director Robert Fiedler, a current photo of library staff, and a few Grossheim "cabinet cards".
The time capsule was placed back into the building on Monday, January 9, 2023, behind three datestones: 1901, 1971, and 2021.