A Conversation with Authors Omar Mohamed and Victoria Jamieson
Monday, May 23, 2022
6:30-8:00 PM (CDT)
When Stars Are Scattered tells Omar Mohamed's story of growing up as a Somali refugee in Dadaab, a refugee camp in Kenya. A National Book Award Finalist, the graphic novel is coauthored by award-winning writer and artist, Victoria Jamieson.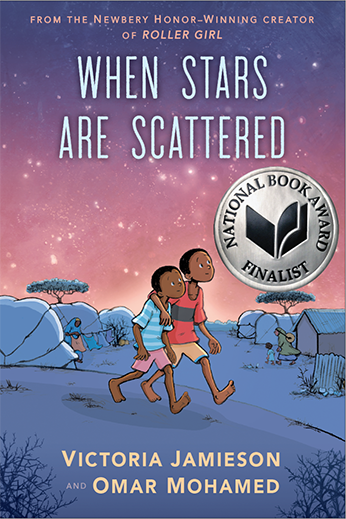 Authors Omar and Victoria met with the community in Muscatine, Iowa, on May 23 to talk about how heartbreak, hope, and gentle humor exist together in this work about a childhood spent waiting, told from the perspective of a young man who is able to create a sense of family and home in the most difficult and uncertain of settings.
As part of the Global Education Program at the Stanley Center, the community joined this conversation with Omar and Victoria both in person at the Merrill Hotel in Muscatine and virtually online. The event included a moderated discussion, Q&A, and table conversations.
The conversation was co-organized with Muscatine Community College and the Community Foundation of Greater Muscatine.
A video recording of the "Inclusive Dialogue: Journey Through Uncertainty" conversation is available to view until July 22:

Partners
"Inclusive Dialogue: Journey Through Uncertainty" is organized in partnership with: